Published in Nov-Dec 2022
The Aurora team pick their favourite ads.
Homage Appliances – Badalty Zamanay Ka Appliance Partner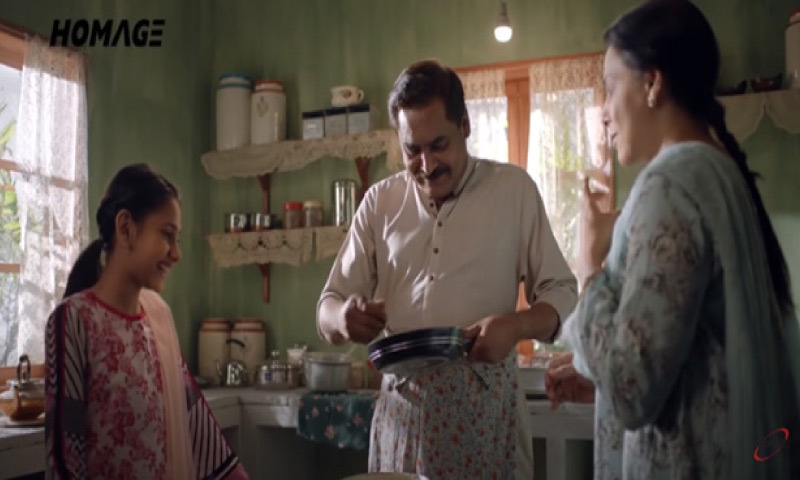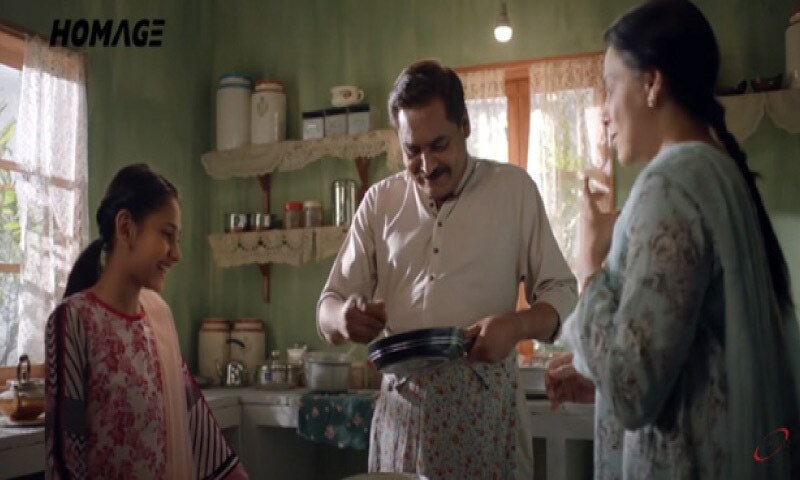 Agency: In-house
Category: Digital
A wife is shocked to see her husband cooking a 'fancy' salad, and insists on taking over (because a kitchen is no place for a man). He refuses. Shortly after, at her husband's employer's house, she sees the "sahab" cooking and realises it was him who inspired her husband to try his hand in the kitchen. The underlying, refreshing message against patriarchy is not only that men should lend a helping hand, but that one man's behaviour can positively influence another's. The details, such as the husband making an apron out of an old kameez, give the ad a warm undertone, leaving the audience with a smile.
JSW India – Independence Day – Think Beautiful Film
Agency: Conceptualised by TBWA\India
Category: Digital A motorcyclist repeatedly spits paan on a clean, white wall next to a JSW Paints store, which the store owner keeps cleaning. After three to four such occasions, the owner has an epiphany and paints the Indian flag on the wall – aptly stopping the motorcyclist from spitting. JSW India worked with TBWA\India to create this ad for India's 75th Independence Day, using a gross and much-too-relatable pet peeve (paan ki peek) combined with respect for one's nation to depict that patriotism supersedes even bad habits. Albeit temporarily…
Khairkhwah – Mere Jaise Ho Nahi Sakti
Agency: M&C Saatchi
Category: Digital
A working mom enters the house to the sounds of condescending comments by her mother-in-law's (MIL) friends, about the fact that she looks tired and only has one child (as opposed to the aunties who raised six kids and looked after the house all day). When one of the aunties says, "aaj kal ki larkian humari jaisee ho hi nahin sakti", the MIL speaks up and emphasises that women these days don't need to be like them and sacrifice their education, dreams and careers because times have changed. The ad is a strong message about the importance of family planning, women supporting women and showing women how to deal with stereotypical comments.
Lifebuoy Shampoo – Mein Choti Se Aik Larki Hoon
Agency: JWTIGREY Pakistan
Categories: TV, Digital, Radio
Lifebuoy collaborated with the Ministry of School Education Punjab to push gender inclusivity for girls in Pakistani schools and used Jameeludin Aali's iconic children's poem Mein Chota Sa Aik Ladka Hoon. A young girl is rehearsing for a school event by reading the poem out loud. The poem is told from a boy's perspective and her classmates make fun of it and her. Back home, she tells her mother what happened. The mother rewrites the poem from a female lens (it was rewritten by Zehra Nigah) and when she recites it in school, her classmates are quietly impressed. The ad reiterates the necessity of educating girls and refrains from making Lifebuoy shampoo the centre of attention.
Master MoltyFoam | Mashaadi'22 (Teaser)
Agency: In-house (Mashion)
Category: Digital
Local content barely depicts anything 'taboo' (read: important), but this year Master MoltyFoam collaborated with Mashion, once again, to reiterate an empowering message about speaking up against abuse with Mashaadi'22. Although the full ad film is rather too long, the 29-second teaser was more impactful. The scene is a happy bride in all her finery in an elaborate wedding background and a decorated baraat car. The groom enters in the first 15 seconds – followed by an immediate cut to a series of dark flashbacks depicting signs of abuse. The teaser leaves the audience reflecting on experiences they may have gone through themselves or heard people they know go through. No amount of awareness is enough for such issues.
Samsung GalaxyZ Flip 4 – Join the Flip Side
Agency: Wieden+Kennedy Amsterdam
Category: Digital
Aiming to encourage Apple users to switch to Samsung, this ad centres around a young woman who is entranced by the new, foldable Galaxy Z Flip 4 a friend is showing her. She repeats "I've always loved my phone" to herself as she goes around obsessing over foldable objects like a book, a sandwich and a bus seat, and eventually purchases a Galaxy Z Flip 4. The light-hearted tone of the ad, complete with bright, cheerful cinematography (similar to what Apple ads use) makes this one very re-watchable. Also, one gets curious enough about the new product to look it up. Albeit this is a Samsung user talking...
Nike – Sports Is Never Done
Agency: Wieden+Kennedy Amsterdam
Category: Digital
Children are engaged in different sports, while sarcastically commenting about age-old stereotypes. For instance, a kid playing soccer says, "I know mom, I'm wasting my time" as she shoots a perfect goal, while another prepares to dive into a swimming pool and declares he will jump if his friends jump too (hits home, doesn't it?) and many other one-liners that we can all relate to. The ad is superior in all its components: copywriting, cinematography and a beat that makes you want to move with it.
Shan – Different Yet Together
Agency: BBDO Pakistan
Category: Digital
Shan Foods are known for their emotionally-driven ad campaigns (read: they usually make you tear up) and 'Different Yet Together' is no exception. A white couple have adopted a 'brown kid', Meera, and are trying to make her feel at home. Since everything seems foreign and un-homey to her, they make her desi food with Shan masalas, reminding her of her biological mother's cooking, culture and home, thus putting her at ease. The ad reminds us that other than people, food always plays a pivotal role in creating a home, no matter where we are. This ad was 10 times more emotional than any other Shan Foods' ad campaign.
For feedback: aurora@dawn.com