The Ahead of the Curve Conference attracted industry leaders, advertisers, media buyers and marketers.
Kinetic Pakistan, in collaboration with Octara, Pakistan Advertisers' Society (PAS) and The Dawn Media Group organised the two-day 'Ahead of the Curve' AOTC 1.0 – Signs of Tomorrow Digital Conference on April 17 (in Lahore) and April 19 (In Karachi).
The Conference brought together industry leaders, advertisers, media buyers and marketers who discussed the evolution of OOH, as well its importance over the years given the emergence of Digital OOH (DOOH).
The conference, which was primarily attended by advertising and marketing professionals, was hosted by Dave Nelissen, Media and Communication Strategist and CEO, Mount Scott.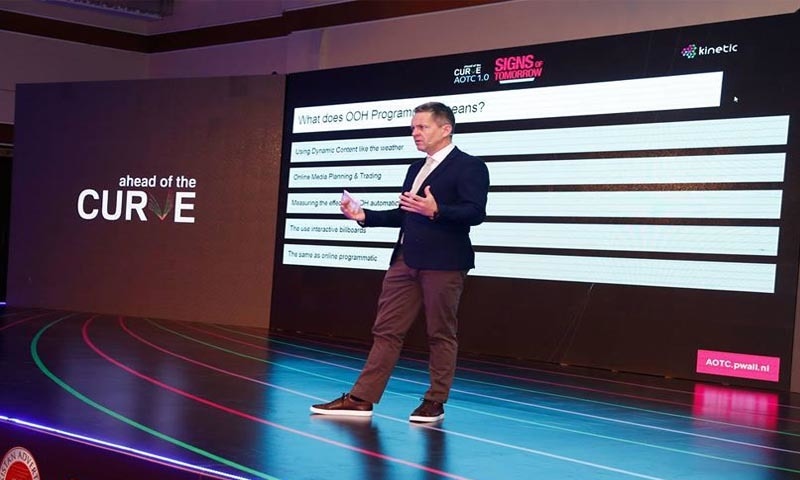 Key speakers included Dennis Kuperus, CEO, Kinetic Benelux & Nordic and Global Head of Innovation, who spoke about DOOH trends around the world via the presentation of successful campaigns by major brands, and focused on how programmatic DOOH can help them grow their business through effective planning; Peter Choo, CEO, Kinetic Malaysia shed light on the future of programmatic advertising; Sadaf Zarrar, Head of IMC Coca-Cola Pakistan spoke in depth about offline to online (O2O) marketing while Radjen Van Wilsem, CEO, CS Digital Media, focused on how brands can target specific audience segments by building effective 'digital ecosystems'.
Others important topics related to OOH were also discussed at length by the remaining speakers, including Omar Abedin, CEO, Starcom Pakistan (on media consumption habits among consumers), Maliha Haq, Shell Pakistan and Saad Khan, CEO, Activemedia (on experiential marketing) and Kiran Khan, Chief Strategy Officer, GroupM (on emerging consumer trends, with a focus on Millennials).
The attendees were also encouraged to log on to the PresentersWall (PW), an interactive tool, which allowed the panelists and conference participants to communicate in real-time. Developed and activated specifically for the conference, the PW allowed people to post questions, which the presenters answered, and to also participate in an online quiz.
"The media is evolving at a rapid speed and this requires more media collaborations in the future. Without them, it's not possible to come up an effective brand campaigns," remarked Ahsan Sheikh, CEO, Kinetic Pakistan during the course of the Conference. He emphasised the importance of conferences such as 'Ahead of the Curve' AOTC 1.0 – Signs of Tomorrow Digital', as platforms that encourage professionals to exchange views and provide insights that can help marketers to re-think their strategies and freshen their perspectives.