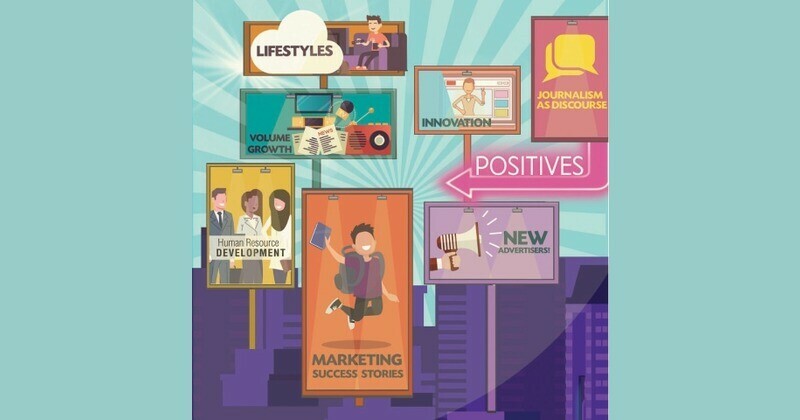 Despite significant strides made over seven decades, compelling factors are combining to tarnish advertising's shine.
Reflection over seven decades defines, in a fine symmetry of numbers, seven positive themes and seven negative trends that cover advertising in Pakistan from 1947 to 2017. At the risk of contrivance, yet purely coincidentally, the timespan also divides into seven phases (time zones overlap).
• 1947-1964: Almost two decades of economic growth starting from scratch and mainly in print media.
• 1965-2017 (53 years): Radio Pakistan begins broadcasting commercials, with private, commercial FM radio commencing in 2002.
• 1947-1971 (24 years): Economy and media in a uniquely constructed two-wing Pakistan, until East Pakistan becomes Bangladesh.
• 1972-2017 (45 years): A new Pakistan, a new economy.
• 1964-1976 (12 years): PTV begins in black and white; then becomes coloured.
• 1947-2001 (54 years): State monopoly in electronic media.
• 2002 to date (15 years): Private TV and FM radio channels, digital media and other new media.
Three principal factors shape advertising. Economy. Mass media. Context. This period witnessed major internal upheavals, fast ascents, slowdowns and descents in economic progress, external, regional and global changes and new communication technology developments. In varying measures, these impacted advertising in Pakistan.
Seven Positives
1. Human Resource Development. The seven positive directions are dominated by HR development. Several pioneers laid the foundations and made valuable contributions. In 2018, in numbers, quality, diversity, creativity and specialisation, the sector shows significant improvement. Some examples of creative expression in the first three or four decades remain unrivalled. Today, there is an abundance of gifted people and a notable enhancement of professional capacity. This is due to an increase in demand and volume, as well as competitive pressures. The visibility of women is the most socially significant advancement in HR.
2. Volume Growth. Aided by the proliferation of TV channels onward of 2002, from a single state network monopoly, the number of channels operating in Pakistan today is over 15,000 (these include the channels of 3,000 plus cable distributors, which are permitted to broadcast five of their own in-house channels). TV channels screen pirated foreign films and locally-originated content with micro-level advertising by shops, service providers and macro-level advertisers. Small-scale, localised advertising is largely undocumented and not part of published estimates. In radio, from the single state network monopoly from 1947 to 2001, to now over 150 private and university FM radio channels in 2018, advertising volume has grown dramatically. Huge increases in advertising budgets of numerous government departments have accompanied similar huge growth in private sector budgets. Hundreds of regional newspapers and dozens of urban-based journals have expanded the print media's pioneering advertising status. Plus, all the below-the-line but above-the-level new increases.
3. New Advertisers. New advertisers include political parties. In and between general elections, to mark birth and death anniversaries of leaders, announce public meetings and processions. As well as advertising by overseas aid donors, local public welfare, private charity and social service organisations which aim to mobilise funding.
4. Innovation. Innovation in form and content with the advent of the internet and digital media. Thanks to social media, a single individual has become an all-in-one; content originator, content distributor, content consumer, and content commentator. Millions of Pakistanis are simultaneously advertisers, media and target audiences.
5. Lifestyles – Better and Worse. Advertising has always had a relationship with livelihoods. More than ever, advertising in Pakistan is shaping aspirations, at the personal level and class levels. The blooming of the multiple-level middle class, reflective of high population growth and the big youth demographic has created a new linkage between advertising, social attitudes and lifestyles. The impact is nebulous. Some positive facets help demolish repressive cultural practices. But there is an adverse impact on food and diet through fast food and soft drinks; all the more ironic when UNICEF estimates that malnutrition causes enduring stunting in the minds and bodies of millions of Pakistani children.
6. Marketing Success Stories. In the past two decades, there is more in-depth attention applied. This priority underlines excessive dependence on Western textbooks and source material and the paucity of research-based textbooks focused on the Pakistani experience. With some remarkable marketing success stories of Pakistani enterprises now analysed as case studies in leading Western universities, a large vacuum in academia awaits fulfilment.
7. Journalism as Discourse. The advent of specialised journals led by Aurora, which covers advertising and marketing, with an informed understanding that neither the daily print media nor electronic media do. Aurora encourages factual reportage, thoughtful analysis, lively illustrations, stimulating exchanges on virtually all aspects of advertising in Pakistan. With the contributions of other journals such as Slogan and Synergizer, discourse becomes possible to evaluate the advertising sector.
Landmark Events
1. Like a bridge between the positive and the negative list which is about to commence, there is a dimension of the past 70 years which does not qualify for inclusion on the positive side because it comprises one-off events which have not been repeated. The First Pakistan Advertising Congress was held in Karachi in September 1979. For the first time in the country's history, all six segments relevant to advertising came together for structured dialogue. The six segments are advertisers, agencies, production services, media, government and consumers. The Congress theme stressed context rather than only a profession's narcissistic interests: 'Advertising and National Development: Challenge and Response.'
2. Ten years later, in February 1989, Pakistan hosted the 16th Asian Advertising Congress in Lahore. It was a privilege for this writer to earlier serve as Secretary-General of the First Pakistan Congress, and later as Chairman AdAsia 89. AdAsia 89 revived the rare, collaborative spirit of 1979. The work sessions featured provocative, radical thinkers like Edward de Bono and a host of eminent international professionals. Social events were spectacular displays of Pakistan's rich culture and cuisine set in resplendent historical sites. Veterans from overseas countries were unanimous that AdAsia 89, attended by about 250 foreign and 600 Pakistani delegates, was the finest-ever AdAsia until then. In the decades since, productive cooperation and global recognition have not been secured on national and international levels.
3. In partial compensation, an advertising campaign made by our own creative talent at Impact BBDO won Pakistan's first Gold Cannes Lion in 2015 and became the fifth 'most awarded outdoor work' in the world the same year.
Seven Negatives
1. Aggressive Intrusion. Advertising has become intrusive in unprecedented ways. It encroaches into spaces, forms and processes, previously reserved for non-commercial content or purposes. Large advertisements on the front pages of most newspapers (except the solitary exception of Dawn) that reverse news priorities. Frequent, long mid-breaks on TV and FM radio channels, with superimpositions and tickers on screen that diminish coherence and continuity. Commercially branded programmes and content titles. No respect for the sacred or the dead. Verses of the Holy Quran on sponsored front page panels of newspapers. Soft drink logos desecrating the walls of mausoleums of great saints. State-owned, public service institutions, like the police and the Rangers, permitting toothpaste and paint brands to be prominent parts of traffic signs, boards, barriers and banners. Billboards and poles are joined by noisy TV and FM radio spots. Ratings-based placement of advertising unhealthily shapes the tone and content of programming.
2. Greed as Creed. Going beyond meeting basic needs, advertising now promotes the consumption and possession of objects and services as legitimate self-indulgence and expressions of success, thus stoking instant gratification as an abiding value.
3. Corruption. Earlier, corrupt practices were mainly found in government-controlled advertising and some agencies omitted to charge for production services in lieu of sizable budgets. In recent decades, the private sector has bred new versions. Even some (not all) young brand managers, fresh with their MBAs, are forgetting any ethical values they have been taught and are reported to obtain kickbacks on production charges for TV commercials and media spends. Meanwhile, not to be deprived of their original path-setting role, code-breakers in government departments are credibly reported to sponsor several 'dummy' publications which receive official certificates falsely confirming high circulation to justify receiving large shares of budgets. A curious anomaly flourishes. Whereas the rates for government advertising in print media are lower than for private, commercial advertisers, the opposite applies in private TV channels.
4. Institutional Contrasts. In the institutional realm, there are sharp contrasts. Major advertisers have established the Pakistan Advertisers Society (PAS). Where previously the Marketing Association or the Management Association partly represented advertisers' perspectives, PAS (for the first and sustained time) provides a forum that exclusively focuses on the advertising dimensions of corporate interests. For their part, advertising agencies, which in times past infused a new activism and cohesion through their own representative body known as the Pakistan Advertising Association declined into fractious internal strife, to be replaced briefly by the Advertising Agencies Association of Pakistan, until descending into dormancy. This failure has, by default, strengthened media owners, particularly after cross-media ownership was indiscriminately permitted post-2002. With advertisers now compensating agencies on a creative fee basis instead of the traditional 15% commission on media spend, the capacity of agencies to counterbalance the dominance of advertisers, media and media buying houses has been weakened. This is only partially offset by some agencies opening their own media buying units.
5. Blurring Lines. Part of advertising is about illusion. However, the fifth negative feature is the erosion, in advertising content, of the line that should always separate the projection of state-owned assets or activities from the individual identities of political leaders such as prime ministers or chief ministers. Campaigns in print, electronic and outdoor media prominently project the faces and names of those who temporarily occupy public offices. These individuals may well have been responsible for policies and actions that advance development. But the funds used for development projects and for advertising are public funds entrusted to the state (not to political parties or individuals) by tax-paying citizens. Blatant misuse has blurred the lines between partisan organisations pursuing electoral agendas and state institutions and programmes, which should be neutrally associated with all citizens, regardless of partisan identities.
6. Deception. Illusion becomes outright deception. Although largely limited to TV commercials, certain advertisers, including multinationals (that claim to be more ethical), insist on the production of TV spots in India, with attempts to pass off the images and sounds as Pakistani. Those who can identify the obvious or subtle differences are not fooled. Neither perhaps is most of the audience. Technical resources and quality of services in Mumbai are certainly more proficient than what are available in Pakistan, yet using purely Pakistan-based resources, several commercials of exceptional quality have been produced. Our government policies do not permit the screening of content imported directly from India – a provision openly violated by the sham practice of importing Bollywood feature-length films from offices located in overseas, non-Indian countries, for unfettered exhibition in theatres. Notwithstanding this hypocrisy, it rankles greatly that advertisers based in Pakistan continue to use Mumbai-based facilities and faces to delude consumers.
7. Legal Vacuum. The vacuum in advertising-specific legislation and regulation may explain why some or all of the other six negatives occur. The sparse legal framework commenced with the Indecent Advertisements (Prohibition) Act, 1951. In the succeeding 65 years, other segmented laws, regulations and rules are supplemented by codes of each mass medium, censorship rules, etc. But to date, a comprehensive law has not been enacted to regulate the institutional dimensions of the advertising sector; to focus on the respective responsibilities of advertisers, agencies and related sectors; define the mechanisms for respective representative bodies; specify minimal professional qualifications for advertising practitioners; establish accountability processes and mandate public service aspects of advertising. Yet, better late than never. Sometimes good laws, however belated, ensure the continuity of positive attributes and the reduction or elimination of negative practices. And the exploration of new horizons. Let the work begin, with advocacy by the advertising sector itself calling for enlightened legislation.
First published in The Dawn of Advertising in Pakistan (1947-2017) on March 31, 2018.
Javed Jabbar is a former Senator and Federal Minister for Information; he co-founded MNJ Communications in 1969 and received the first-ever Lifetime Achievement Award from the Pakistan Advertisers' Society in 2015. www.javedjabbar.com