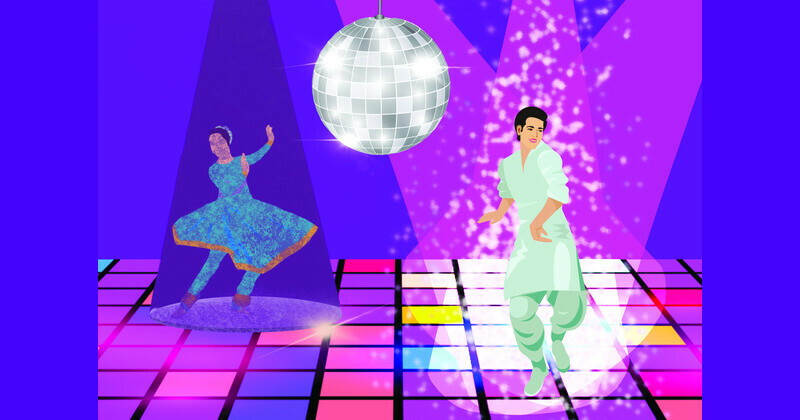 In the late eighties, Morven Gold's 'Rhythm of Unity' was generally acclaimed to be one of Pakistan's most iconic music and dance routine ads. Forty years on, Yawar Iqbal wonders why this genre of advertising now eviscerates such negative reactions.
"Why make ads with songs and dances?"
"Why do we have to sell things with thumkas?"
"These add [sic] people can only promote vulgar mujras…"
"We hate song and dance ads."
"We strongly believe that there is nothing Pakistani about them."
I read these comments on social media every time someone posts an ad revolving around a song and dance routine. People make all sorts of analogies: from our lack of creativity to tharki seths who want to see a mujra and therefore finance an ad based on one, to the notion that we have surrendered to Bollywood influences which will inevitably corrupt our values. 
And every time I read these comments – mostly from people who are not even the target audience (perhaps disgruntled ad creatives?) – I question the provenance of this hatred. 
---
How it began and what made us start to hate song and dance-based ads (a naach gaana ad in desi terms), especially given the fact that none of our celebrations are complete without a song and a dance. 
In fact, we literally have a song for every occasion, every season, every celebration. We have been raised on Indian cinema, and from Master Ghanshayam to Nahid Siddiqui, dance has been part of Pakistani culture. Be it in urban settings or in rural pockets, every corner of Pakistan has its own form of dance and music. They come with their own costumes, movements and storytelling formats; in other words, we have a diverse dance culture. Therefore, the assumption that we inherited dance from Hindi cinema is not based on fact. Ever since PTV started, we have had dance shows – Fatima Surayya Bajia produced Koel in the seventies (a show based on classical kathak dance); PIA had its own dance academy and schools in Karachi had dance classes as part of their curriculum. How then can we expect that these incredible art forms will not impact our advertising narratives? 
In the late eighties, Pakistan produced one of its most iconic ads called 'Rhythm of Unity'. It was a song and dance-based ad for Morven Gold cigarettes. The ad was conceived by Spectrum (now Spectrum VMLY&R). It was directed by Rimas Vainorius and the team included Asad Ul Haq. 
This ad changed everything for everyone. It almost became the anthem of contemporary Pakistan. 
It was about Pakistan's musical and dance heritage, and how these art forms unite the nation – hence 'Rhythm of Unity'. Each frame of the TVC had movement and sound. It portrayed a progressive multicultural country finding representation in its diverse dance forms. How beautiful and poetic. I remember seeing the ad as a child and being fascinated by the Lahore Fort, the scale, the sound, the largeness of everything. It changed me and made me fall in love with ads; ads based on songs and dances. 'Rhythm of Unity' made me choose Spectrum as my first agency; I wanted to work with the people behind that iconic campaign. 
My first memory of a song and dance shoot was for Jazz Budget – a brand that introduced the concept of using desi music in Pakistani ads. The TVC was directed by Asim Raza and conceived by Rashna Abdi and Imtisal Abbasi of IAL Saatchi & Saatchi fame. 
Although I had nothing to do with the campaign or the brand, I asked Rashna, who curated the visual language for the brand, to take me along to the shoot and she very sweetly sent me a car to take me to Eastern Studios. 
The set spanned three studios and the tiny changing rooms were filled with extras and background dancers. The main dressing rooms were dotted with Pakistan's biggest stars, and all I could hear was Joshindar's (the choreographer) voice going: "One , two, three, move," and all the girls would move in a rhythm from point A to B to the beat of 'Bol ke lab azaad hai pyaaray – Aur sunao.'
I was transformed. The power of song and dance was unparalleled. Everyone was tapping their feet. I sat behind Asim's monitor and asked Rashna a ton of things. I was in love again.
I am a creative who has been deeply nurtured and fascinated by Musarrat Nazeer and Madam Noor Jehan – and I could think of how to convince a client to do a song-based ad, not only because of my thuruk (obsession) but because these ads work. And we have the evidence to prove it. 
Jazz was a leading telco that used music as a genre. Then along came Tarang Tea Whitener. They took their inspiration from Lollywood and ended up creating an ad with an all-time highest TOM recall – and soon everyone followed. Both Jazz and Tarang were brands with leading men performing; from Wasim Akram to Fawad Khan to Ahsan Khan – and everyone was okay with that. 
But then a little later came Gala (biscuits) with an ad based on the tagline 'Mere des ka biscuit gala' owning the true taste of Pakistan. The ad had film star Noor performing in a theatrical setting, telling her story of love – while dancing with a Brazilian dancer called Felipe. The ad targeted semi-rural and rural consumers and they loved it. Every small town echoed the song; posters and memorabilia of Noor were purchased from the stores, and although end consumers were very happy with this kaleidoscopic world of colour and dance, the urban social media Nazis were deeply affected by this vulgar display of a female lead dancing on the screen selling biscuits. The most prominent comment was: "Is this Pakistan?" and "Is this a Muslim country?", while the rest condemned the dance as an Indian or Hindu art form with no connection to our sensibilities. Yet, the brand continued to grow along with the haters of music and dance.
We have the choice to appreciate Nahid Siddiqui's dance and we also have the choice to applaud Nargis and Deedar's stage dances – and the urban middle classes on social media cannot disown what is ours and will always be ours. Music is the most democratic art form. Everyone can be a part of it, so why is advertising not allowed to use it?
From Kailash to Thari women, dance is a part of our moving visual narrative.
From luddi to dhamaal, dance is what we do and what we know. From mehndis to Urs', the art of movement is how we express our devotion. 
So why do we detest ads based on dance? Maybe it's not the song and the dance that we have an issue with, it is seeing women dance. It is a gender thing. We are okay with men dancing in provincial costumes, but we are not okay with a leading female film star dancing with them. 
Maybe it is not a cultural thing, but a religious thing.
It's all intertwined, and this intertwining has killed not only the artist but the art form itself. There is no joy left in this land, but maybe one day we will learn to embrace a musical ad if not appreciate it or ask the authorities to ban it. Maybe there will be another 'Rhythm of Unity', uniting ad makers with their audiences and their brands.
Long live song and dance! Long live the musical!
*Dance my darling, and you'll get some cash
Yawar Iqbal is a working creative. yawariqbalsyed@gmail.com