The Effies were held on-ground after two years .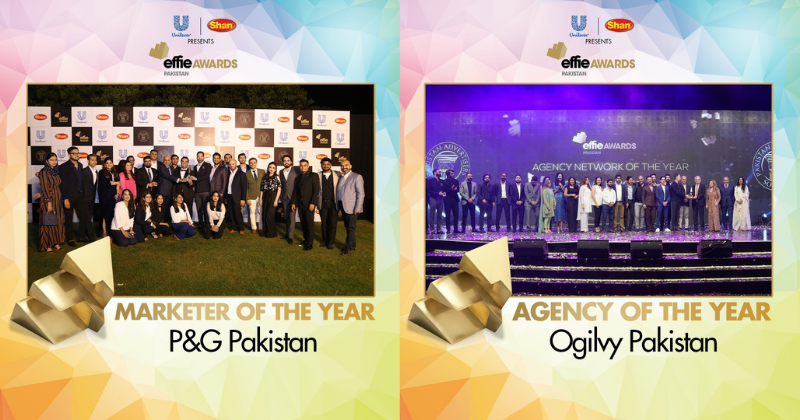 The Effie Awards Pakistan were held on-ground on April 1, 2022 after a gap of two years due to the Covid-19 pandemic at the Airmen Golf Club in Karachi.
This year's event was highly welcomed by members of the advertising, marketing and media fraternity as an opportunity to network and, of course, to be in the limelight and the venue was packed with nearly 600 people awaiting results for over 300 campaigns that were entered this year.
As per custom, presenters included well-known industry members including Sarmad Ali, Group MD and President Revenue, Jang Media Group; Asif Aziz, CCO, Jazz; Muhammad Saleem Baig, Chairman, PEMRA; Khalid Farid, CEO, Gillette; Tariq Ikram, Founding Chairman, PAS; Dr Zeelaf Munir, Chairwoman, PAS and MD and CEO, EBM; Amir Paracha, Chairman and CEO, Unilever Pakistan; Fariyha Subhani, MD, South Asia, Upfield Pakistan; Sikander Tiwana, CEO, Shan Foods and Sami Wahid, MD, Mondelēz Pakistan.
The format of the award Gala remained unchanged and a red carpet prelude was hosted by Yawar Iqbal, Executive Creative Director, JWT Grey, and entertainment included instrumental musical renditions by Lenny Massey and soulful performances by Bilal Maqsood.
Atiya Zaidi, Executive Creative Director, BBDO Pakistan comments, "Effie Award Pakistan on-ground Gala was a big hit. The entertainment segment was fantastic and a treat for us. It was a step-up from previous functions; smooth and quick."
The awards included 30 'regular categories' such as Automotive, Beverages, Education and Training, Fashion, Finance, Home Furnishings and Appliances, Packaged Food and Personal Care among others, 19 specialty categories (including Branded Content, E-Commerce, Influencers, Marketing Disruptors, Marketing Innovation Solutions, Media Innovation, Non-Profit, Renaissance and Topical Marketing among others) in addition to four special awards. New categories included Brand Experience (Live and/or Digital), Small Budget and Social Media, and agencies received a total of 19 Gold, 25 Silver and 21 Bronze awards.
The four special awards included the Effie Grand Prix awarded to Generation/Greenstar 'The Veil of Care' developed by BBDO Pakistan making them the only agency so far to have won the Grand Prix for the fourth consecutive year, the Effie Pakistan Marketer of the Year was awarded to P&G Pakistan for scoring the highest points through Gold, Silver and Bronze awards; the Effie Pakistan Agency Network of the Year award went to Ogilvy Pakistan who maintained their winning streak for the fourth consecutive year and bagged 10 Gold, six Silver and two Bronze awards (for Bank Alfalah Limited, Lifebuoy, Molty Foam, Nestlé, Pakistan Polio Eradication, Peak Freans and Telenor Pakistan). The PAS Lifetime Achievement Award was presented to Mujahid Hamid, who has built some of the most recognisable brands in personal care including Lux, Lifebuoy, Surf and Ponds.
The advertising agency that scored the second-highest number of awards was Adcom Pakistan with two Gold (Durex in E-commerce and Social Media categories), three Silver (Gillette in Brand Experience [Live and/or Digital], Mortein in Household Supplies and Services and Always in Personal Care category) and eight Bronze awards for Ariel, Always, Pampers, Peek Freans, Safeguard, State Bank of Pakistan and Sunridge Foods.
In the gold category, campaigns worth mentioning include Changan Alsvin's '#DriveYourDream' by Ishtehari and Amreli Steels' 'Mothers' Strength' by Arey Wah.
Umair Kazi, Partner, Ishtehari says, "Changan Pakistan is, like Ishtehari, a challenger brand. We're glad that together we were able to create a campaign that could not be ignored in an otherwise formulaic auto marketing industry. I'm super proud of our creative team for dreaming up outlandish ideas, and grateful to Changan for letting us execute them."
Qamar Abbas, Executive Director, PAS, adds: "Although the virtual awards were good and very successful, having an on-ground event and celebrating with people in-person after two years was great; the work that has been produced is priceless. One could see the energy and excitement; this is the way it should be, and hopefully will be in the future."