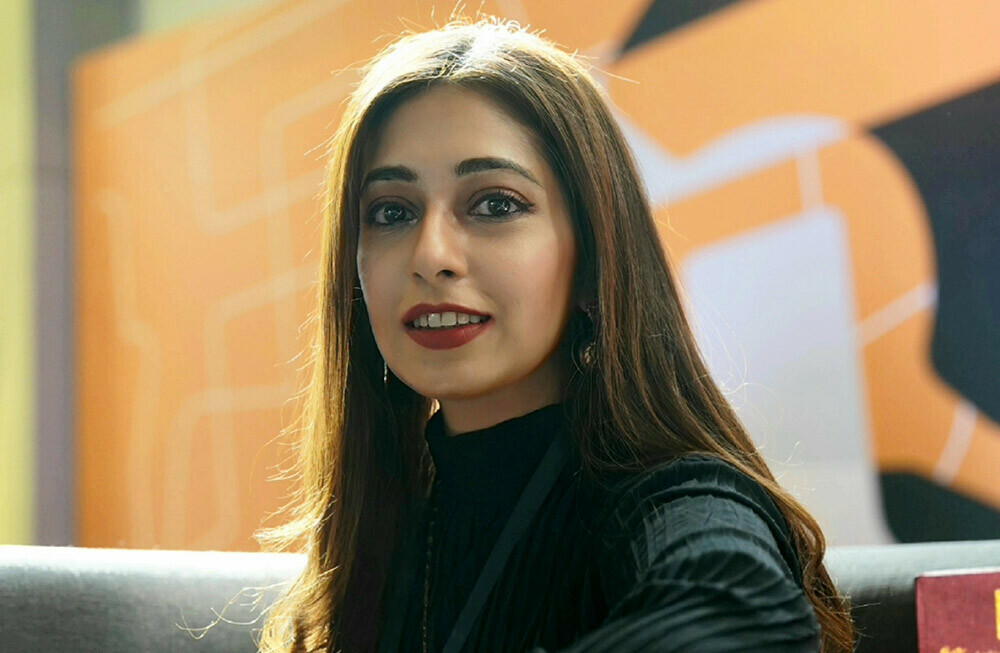 M. Hussain profiles Mina Salman, Founder, Bagallery.
Beauty and South Asia tend to go hand in hand. The pursuit of beauty is ingrained in South Asian existence and has long been a way of living. From textiles to skincare to clothing and grooming, every act is conducted with the conscious need of keeping beauty at the forefront.
Born and bred in Karachi, 40-year-old Mina Salman, like millions of other women, grew up with beauty as a core element of the desi girl experience in Pakistan. "I was very much inclined towards beauty despite the fact that there were very few avenues when it came to exploring beauty concepts, although that did not prevent me from wanting to experiment with things like makeup."
Fresh faced, flawless skin, a mane of flowing hair and a youthful glow that defies her age, Salman, founder of Bagallery, is a vision. Although she exudes a calm persona, I sense that underneath lies a fun, bubbly personality ready to shine through.
Salman began her career at Mindshare as a media planner. In 2007, she married and relocated to Saudi Arabia and in 2008 she gave birth to her son. "I wanted to continue with my career, but the opportunities were limited for mothers returning to work after having a baby. Eventually, I thought about delving into the world of e-commerce."
---
"I am extremely passionate about beauty not only as a business; I also like to study it and dissect skincare ingredients and understand what makes them beneficial for us."
---
At the time e-commerce was still an emerging trend in the region, but this did not deter Salman from indulging in an activity she clearly enjoyed – shopping – and eventually she and her husband decided to build an e-commerce platform that would sell luxury handbags sourced from the US, UK and Europe. They named their e-commerce business Bagallery, and Salman and her husband went from being a married couple to becoming business partners as well, embarking together in the great unknown of a fast-evolving digital realm.
They soon learn their first lesson; the luxury business, no matter how big or small, is intrinsically risky because the orders tend to be sporadic and there is always a degree of uncertainty regarding when the next order will come through. Salman also realised that if she was going to be successful, she would have to step out of her comfort zone. "Your customers are not going to be your friends and family. You have to get out into the open sea and swim in it."
By this time, the couple had moved from Saudi Arabia to Dubai and this was when she truly began to sparkle. "Saudi was a dark box and in those days wearing the abaya was still a must and although everything was open and vibrant, life in a compound had its challenges, including its seclusion from the rest of the city. Dubai is my home now and I love the life and convenience it provides," and with greater freedom and independence, Salman was able to indulge her interest in beauty more fully.
Then in 2017, two things happened. Beauty blogger and entrepreneur Huda Kattan burst upon the scene and social media took over the business of beauty. It was at this point that Bagallery decided to include beauty products in their portfolio of offerings. "People were exposed to new brands such as Too Faced, Huda Beauty, Tarte and The Ordinary – and they wanted to buy these products."
However, despite beauty being a core element of the Pakistani woman's identity, the commodification of beauty on a large scale in Pakistan remained untapped, with hardly any players venturing into the idea of packaging beauty as a product. But then along came social media and the emergence of 'influencers', and the game changed. Platforms such as Instagram, TikTok and YouTube acted as links between beauty products and their potential customers, teaching them how to use products, perfect makeup techniques and learn about skincare.
Initially, Bagallery offered their imported shoes, handbags and beauty items from a single site, but to grow and scale, Salman realised that she needed to partner with local brands. She also understood there was a need to get 'personal' with her clients and started to 'converse' with them through BeauteousBlog (https://www.instagram.com/thebeauteousblog/).
Introducing personal elements such as her own love for makeup and for exploring skin care products – and her love of shopping – she started to build personal relationships with her clients, busting beauty myths and talking about her own experiences with various products. Rather than just sales, the focus was on establishing connections on the basis of a shared love of beauty. "I am extremely passionate about beauty not only as a business; I also like to study it and dissect skincare ingredients and understand what makes them beneficial for us."
In 2020, Bagallery secured their first VC funding and in 2021 the second round came through. This said, the journey was far from easy. "The fundraising process is intensive and it took eight to nine months of back and forth, putting together the numbers, doing the evaluations, handling the legal aspects and passing the due diligence."
Despite Bagallery's success, Salman points out that 90% of sales in Pakistan are done on a cash on delivery basis. "People don't trust businesses and they want the product in hand before paying for it." She adds that a lot of the growth within the beauty category is now fuelled by the access that beauty apps provide to users to experiment from the comfort of their homes and the increasing number of content creators who focus on what works for whom and on new product launches and trends. However, at the end of the day, the secret to the success of a beauty-based business is authenticity and the reason why Bagallery has managed to maintain consistent growth.
Comfort is something which Salman puts a great deal of emphasis on in terms of living a life of value. Her interests revolve around building a life that fuels the nourishment of the mind, body and soul. Cooking, working out, creating content for her blog and focusing on self-care are how she unwinds and relaxes.
Having mastered the digital space, the future surprisingly is going towards brick-and-mortar. This partly stems from the "original shopping experience" which many people in Pakistan enjoy. The joy of going to a physical store and experiencing products in terms of touch and feel, seeing how the colours of makeup work on one's skin and actually applying the products.
"In March 2022 we held a huge GlamFest in Karachi at the Expo Centre and we converted our entire website into a 'mall' by collaborating with local players like WB by Hemani, Sara Salon, Conatural and working with beauty influencers. We repeated this concept in Lahore and in both cases, the response was mind-blowing and people just loved it. So much so, that we are now considering a brick-and-mortar presence in the shape of pop-ups."
Bagallery has come a long way from being a fashion brand to becoming a beauty institution. And to think it all started off with an act – shopping – which many people dismiss as a frivolous activity without realising the potential it can have in a developing country with a young population like Pakistan. Today Bagallery is the leading e-commerce site for all things related to beauty and fashion. Looking at Salman today, it is clear that she has managed to strike the balance between work and play. A mix of beauty and brains, Mina Salman is sitting pretty.
M. Hussain is a Dubai-based freelance writer.