Published in May-Jun 2015
Sinuous limbs, flowing hair, bright colours – this year's lawn campaigns offer nothing unique or refreshing.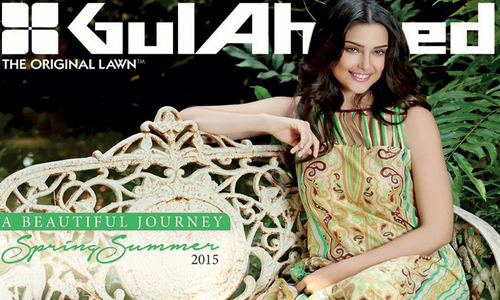 Let's keep things honest. I am not a lawn connoisseur by any stretch of the imagination. People who know me are aware of my abysmal lack of fashion sense (or interest). I don't do designer anything, really – bags, shoes, jeans or lawn. I reserve my snobbery for other arenas.
This actually makes me ideal for such an article. I can approach campaigns with stone-cold neutrality and judge them on merit alone, rather than any affinity toward a particular brand. So, let's dive in!
Every year, spring brings with it a merry hysteria. Cities are inundated with gigantic billboards bursting with colour, heralding the much-longed-for arrival of your lawn brand of choice.
It is virtually impossible to escape this advertising.
It is easier, however, to confuse these ads with one another simply because they are virtually identical – sinuous limbs, flowing hair, bright colours. Last year for example, you could have put a gun to my head and quizzed me about Gul Ahmed versus Alkaram, and I would have ended up dead because no matter what, I would not have been able to differentiate between the two.
What of this year? Has the industry developed enough for brands to attain a degree of uniqueness?
First on the list, Gul Ahmed – 'A beautiful journey'. This one checks many boxes: gorgeous model, lovely settings, glossy packaging, beloved, iconic song… Unfortunately, 'boxes checked' does not equal 'mission accomplished'. Nothing in this campaign sets it apart from other brands. The scene and wardrobe changes remind me of Indian film songs, which have followed this tradition for decades. In fact, the song distracts from the message, precisely because it is so iconic. The prints – the actual product – are lost somewhere in between. Clearly a lot of money has been spent on the campaign and it is lovely to look at, but that's it. The tag line could have been used for anything from a car to an airline; this is how utterly generic it is.
Next, Alkaram's Rangon ki duniya. You know what? If I were as lazy and uninspired as these brands seem to be, I would simply copy paste the paragraph above here. That is how interchangeable these two campaigns are. Literally – gorgeous model, lovely settings, scene and wardrobe changes… you get the drift. The only distinction between Alkaram and Gul Ahmed is the fact that one has an Urdu tagline, the other an English one. That's all I can discern, anyway. It seems wasteful, spending exorbitant amounts creating something that can be replaced by a rival with nary a blink.
This is the point when I commenced a frantic Google search, hoping to find a lawn ad, however obscure, that had a hint of originality. It was a largely fruitless exercise: Khaadi, Wardha Saleem, Sana Safinaz… if I were to attempt to analyse each of these, we would be in for a lot more copy pasting.
And with this, we come to J. by Junaid Jamshed (Caveat: I am no fan of the person behind the brand for a variety of reasons. However, in the interest of neutrality, I shall focus on the campaign alone).
Surprisingly, this campaign is a significant improvement on the ones mentioned earlier. For one thing, there is not a gorgeous model in sight (well, unless you label a vintage car thus). Of course, this is not a result of bold creativity as much as blatant conservatism (see Shan ads for reference). Still, points for breaking the clutter and even more for encouraging the audience to focus on the actual product/prints. Overall, this is a breath of fresh air after the formulaic campaigns we have discussed.
J. by Junaid Jamshed broke clutter with its vintage cars themed campaign.
To sum up, I think the entire lawn industry is a victim of the 'execution over concept' fate.
We have seen this singular villain many times in our industry (usually masquerading as a 'slice of life' campaign), from milk brands to biscuits to hair products and beyond. Heck, I have written about this right here more than once, which indicates what a permanent plague it is. Brands spend all their time, resources and attention on what the ad will look like; not what the ad is about, or what it says. The lingering result of such advertising is a severe lack of differentiation that eventually leads to price wars, desperate attempts to forge imaginary USPs and finally, to a dispirited, lacklustre rehash of the past (see the UHT milk industry for a textbook example of this – Nestlé is talking about what they used to talk about nearly two decades ago. As for Olper's, I am flummoxed). Therefore, I cannot wait to see these lawn campaigns again in about five years! Yay!?
So why do brands keep doing this?
It's a no-brainer. Opting for this route means you can put your feet up and chill. All you need is a huge pot of money with which you can get the latest 'top model' on board, fly to a number of exotic locales for a lengthy, luxurious shoot, and pat yourself on the back for a job well done. The agency keeps bleating about originality, but who cares about the agency anyway? And if your efforts are mocked for being pedestrian, unimaginative – or worse plagiarised – what does it matter outside the tiny insular social media-driven space where such things are noted? The vast majority of your audience won't have a clue.
I am sure one can respond to this claim by asserting that an ad for clothing aimed at women should necessarily have a model showcasing the same. After all, brands around the world have employed the same 'beautiful model who looks ethereal in our clothes' strategy for eons, and done it well. And I agree: if you do it well.
However, I also think there are many innovative avenues open to all brands – not just lawn – if they truly seek them out. No models in a clothing ad (like the one mentioned above) is only one route. Crafting an actual story rather than relying on a series of high-class shots is another. I could go on, but why should I give any ideas, however lazy, to this industry?
Instead, I'll see you here next year, around this time!
Sara Qureshi is Head, Marketing – Exams at The British Council. saraqureshi75@gmail.com