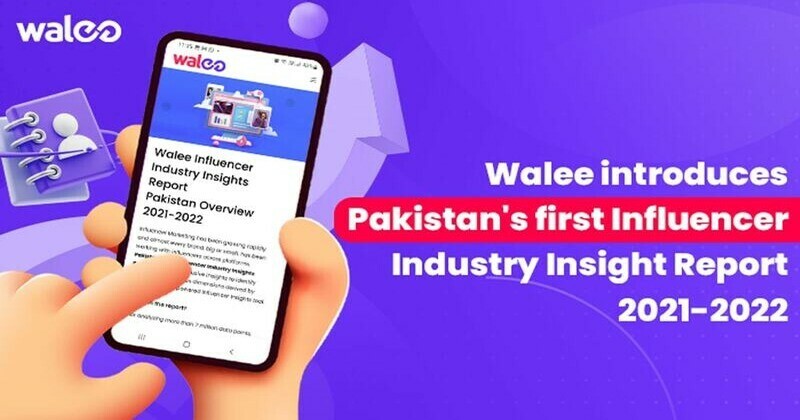 Walee releases the Industry Insights Report 2022.
The first Pakistani Influencer Industry Insights Report, titled Pakistan Overview 2021–2022, was released by Walee.pk in August 2022. Over 150,000+ big influencers have registered on the influencer marketing platform Walee, which connects businesses and media agencies with influencers for the implementation of online campaigns. The platform wants to frequently offer marketing information to marketers through these reports so they can improve, nurture, and assess their influencer marketing efforts. The co-founder and CEO of Walee.pk, Muhammad Ahsan Tahir, claims that "the influencer marketing industry of Pakistan has seen a 60-70% YoY growth in the last three years."
The report highlights key trends in influencer marketing related to brand type, industry, content, campaign and gender context based on data collected from Instagram. "Successful influencer posts were gauged purely on the basis of machine learning – images or videos of the influencer's posts were compiled with the type of comments and engagement they garnered from the target audience. Using this methodology, over 1,000 Instagram posts by Pakistani and brands were analysed over a period of 12 months – August 1, 2021 to August 31, 2022," says Tahir.
The objective of the report is to increase transparency in influencer marketing by allowing advertisers to base their spending decisions on concrete numbers that measure influencer performance and reveal brands' ROI (return on investment).
Major Findings
1. Industry-wise Success: Industries that dominated the Pakistani influencer marketing scene in FY 2021-22 were predominantly fashion (23.6%), beauty (22.2%) and FMCGs (15.6%). With higher AERs (Average Engagement Rate – a measure of how many of the influencer's followers are actively engaging with the content, thus displaying the influencer's authenticity and authority). Overall the transport (26.8%) and telecommunications (20.3%) sectors generated the best-performing campaigns with high AERs.
2. Influencer Gender Context:
The highest female influencer representation was seen in airline campaigns (96.8%), followed by home and furniture campaigns (94.7%). Leading brands in the female-only categories were Always and L'Oréal. Male influencers on the other hand were dominant in the sports (75.3%), gaming (61.5%) and telecommunications (60.6%) categories possibly because of their keen interest and knowledge in buying mobile phones and other digital devices.
3. Brand-wise Success:
The most viral influencer content was produced by fashion brand Bagallery (16.6%), with its trending hashtag #getsetbag. Snack Video, Asim Jofa, Foodpanda, Stylo and Pepsi were also among the top 10 brands in terms of influencer-based content creation.
4. Most Successful Campaigns: The best AER was generated by fashion brand Sapphire #sapphirebeautysquad – (60.5%) followed by Head & Shoulders – #noitchnoglitch – (48.4%). These brands picked influencers whose followers fit their core target audience demographics and had high engagement rates.
Addressing the response to the first Influencer Insight Report, Tahir believes, "It was as if the market was waiting for it." Numerous businesses and agencies downloaded the study from Walee's website, and it was also commonly seen circulating WhatsApp groups for brand managers, marketers, and other agencies. The research received a lot of organic PR coverage.
"Walee is now synonymous with the influencer marketing industry in Pakistan as the last quarter of 2022 and the first quarter of 2023 has brought in many creative briefs by brands that involve an influencer marketing spend and clearly direct the agency to be working in partnership with Walee," adds Tahir.