Published in Nov-Dec 2018
The Aurora team pick their favourite ads of 2018.
Bouygues Telecom – Unforgettable Christmas
Category: TV
This TVC attains the perfect balance between emotion and humour, although chances are that it may leave you teary-eyed. It explores the relationship between a father and his son over several decades and emphasises the fact that no matter how many changes technology brings, some things always stay the same.
Agency: BETC Paris
---
Rolex – Women Who Inspire
Category: Print/Digital
The Women Who Inspire campaign features the stories of high-achieving women athletes Lydia Ko (Golf Major Championship winner), Garbine Muguruza (Tennis Grand Slam winner) and Lindsey Vonn (record-breaking Alpine skier) to name a few. In line with Rolex's rich history of celebrating sporting achievements, this campaign, which has Rolex's iconic tagline 'It doesn't just tell time – It tells history' pays homage to women who have defied expectations and rewritten record books.
Agency: JWT New York
---
Kenwood eSmart Air Conditioners – Choti Moti Nok Jhok
Category: TV
Kenwood definitely know how to tickle their viewers' funny bones. Their recent ad for their eSmart air conditioners proves, yet again, that Nawazuddin Siddiqui has a knack for getting into trouble – this time, by trying to prove that his wife (Ayesha Khan) is a better 'saver' than he is. What is really funny is that it all happens so spontaneously and naturally; he realises his mistake only after Khan glares at him. Obviously, by then, the damage has been done.
Agency: Arey Wah
---
Zameen.com – We Can Help Find You A House, But Only You Can Make It A Home
Category: TV
Zameen.com's TVC featuring Fawad Khan sends a very clear message to all workaholics: It is okay to be ambitious but not at the cost of your family, and there are certain events or milestones in life that one just cannot afford to miss. The ad stays true to their tagline: 'We can help find you a house, but only you can make it a home.'
Agency: In-house
---
Sapphire – Seed Bags
Category: POS
To celebrate August 14, Sapphire broke through the clutter of azaadi campaigns by launching their eco-friendly 'seed bags' made from recycled cotton waste, becoming the first fashion brand in Pakistan to go green in such a manner. This masterstroke was executed by Manghi Communication Solutions (MCS) who embedded amaranth, China asther and marigold seeds within the bags with instructions printed on how to sow them. A great example of a green initiative closely aligned with the essence of a brand.
Agency: Manghi Communication Solutions (MCS)
---
The Dawn of Advertising in Pakistan (1947-2007) – The Untold Story Of Pakistan's Advertising Industry Over The Last 70 Years Brought To Vivid Life!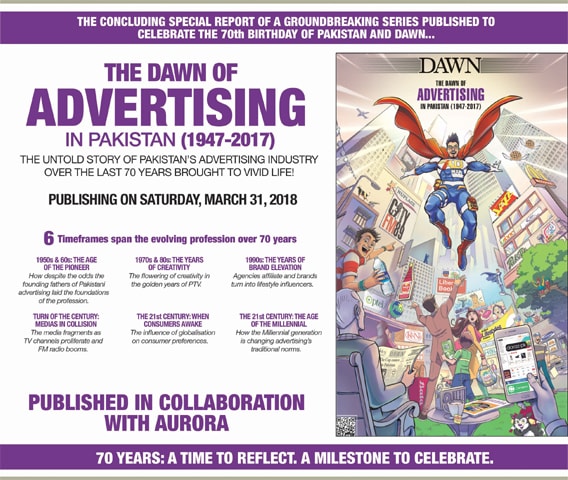 Category: Print
This advertisement announced the publication of The Dawn of Advertising in Pakistan (1947-2007) – a DAWN Special Report published on March 31, 2018. Its cover (designed by Syed Salman Nasir) depicts 'Ad Man' descending upon an urban landscape where many of Pakistan's favourite brands can be seen and serves as the ad's centrepiece. What's not to love?
Agency: Creative Department, Xpert Services Ltd.
---
Amazon Alexa – Alexa Loses Her Voice
Category: TV
With the growing dependence on AI, Amazon took to showcasing a memorable ad during the Super Bowl. It not only makes you laugh, but makes you realise how catastrophic life can become without the aid of AI. With a star-studded cast replacing an 'unwell' Alexa, including Cardi B, Sir Anthony Hopkins, Gordon Ramsay and Rebel Wilson, the TVC reinforces that Alexa is unique and cannot be replaced. The sign off line, "Thanks guys, but I'll take it from here," clearly shows that no matter how talented you are, Alexa is better.
Agency: Lucky Generals, UK
---
Mezan Oil – Ramzan 2018
Category: TV
Catering to a family-centric audience, Adcom has managed to deviate from the stereotypical scenarios that are usually depicted for such products. This TVC not only has an interesting storyline, it has emotion and a realistic approach as well. The cast is not parading glamour for once, but rather, they have 'real life' appeal. Kindness, compassion, purity and empathy have all been conveyed in a simple yet effective manner.
Agency: Adcom Leo Burnett
---