Published in Nov-Dec 2022
Zeenat Chaudhary on why Knorr Noodles are targeting Millennials and Gen Zers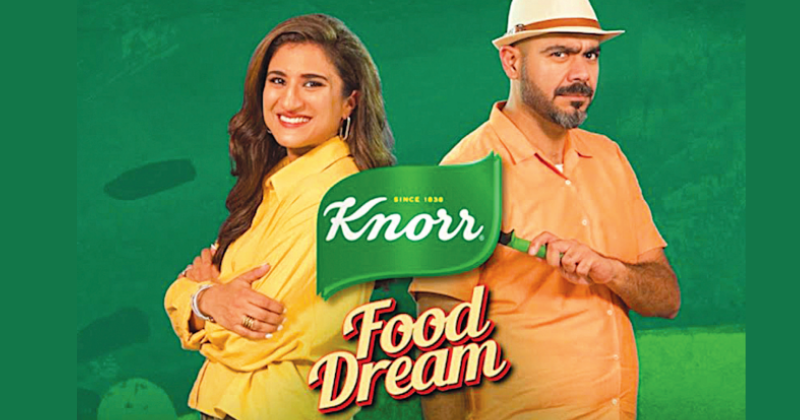 From "Knorr iska magic hi aur", Chuck and Chilli to Knorr Noodles Boriyat Busters, for over 20 years, Knorr Noodles' marketing has focused on young children and their moms. The brand has a 95% share in Pakistan's instant noodles market, with Kolson, Shan and imported brands like Samyang occupying less than a five percent share.
Interestingly, although the brand's core marketing focus is children and moms, adult males and females consume Knorr Noodles as well, making them a small, yet significant, part of the consumer base. This was evidenced by a mini survey conducted by Aurora, whereby out of 50 men and women between 25 and 45 from SEC A and B, 75% eat Knorr Noodles frequently, either as a snack or meal.
Knorr as a brand seems to have noticed this trend – especially after their 2021's grumpy "billa" TVC resonated not only among kids but with adult audiences as well, and are focusing some of their marketing efforts on actively attracting Millennials and Gen Zers to a range of products.
But why does an established market leader in a category need to engage with new audiences? The answer, says Tooba Diwan, Assistant Manager Strategy & Innovation F&R, Unilever Pakistan, is because the company cannot "just stop at selling noodles to children; there is a lot of room to grow, especially given that the untapped market is enormous."
For Gen Z – Blazin Noodles
Earlier this year, Knorr launched a new product in the instant noodles category called Blazin, aimed at Gen Z consumers. According to Diwan, spicy Blazin noodles were launched as a response to the fact that Pakistanis, especially young people, "love hot and spicy food." While Knorr's Chicken and Chatpatta noodles come in bright, colourful packaging imprinted with cartoon characters Chuck and Chili, Blazin comes in bold, black packaging with the product name written in flame-coloured letters, and accompanied by the tagline 'Feel the Burn'. Blazin noodles also come in a packet twice the size of Chicken/Chatpatta noodles, as older kids/young adults are "looking for a bigger bowl size."
Diwan says that consumer research showed that young adults thrive on spicy food, and make it a challenge to see how much spice they can take. It has become a trend to "challenge friends and see who can eat the spiciest food" and "feel the burn" (also the product's brand proposition). She explains that after extensive consumer research on Gen Z, they realised the importance of addressing Blazin audiences differently compared to how they do with children and moms: "This was an audience we had not engaged with before and we needed to talk to them differently." For example, although most Millennials are tired of seeing rap interspersed within many brand communications, Blazin's theme is a desi rap song by Young Stunners combined with the brand's original 'Knorr iska magic hi aur' tagline. "When we asked them who their equivalent of Mahira Khan would be, the response was Young Stunners."
In October 2022, the brand launched Blazin Bulletin, a web series on YouTube and Instagram. In essence, this is a news bulletin for Gen Z, presented by a rapper, because as per Diwan, they consume news in a much different manner. So the content is "a mix of the latest updates and gossip, communicated in a slapstick, rap manner."
Case in point one of the verses from Blazin Bulletin – Episode 1 goes: "Rupiya keeps swinging, I think it's a sign, man. Economy mein jaan dalnay ka time hai. Imported cheezain nahin chahiyen, it's fine man, local saaman apna hi sahi hai…" While at this point the brand says it is too early to comment on sales, the initiative, in their view, "is getting a great deal of traction." Diwan adds that there is still a lot to learn and develop about this demographic, especially as it is faster in terms of adopting trends.
For Millennials – Knorr Food Dream
Since Knorr launched its Chicken Cubes in the nineties most people have been using chicken cubes in a limited way; primarily for making chicken broth or adding flavouring to a main dish.
Based on this insight, Knorr are highlighting the versatility of chicken cubes by showcasing how they can be used to make "MasterChef-y" dishes. To this end, Knorr launched a web series, led by Sanna Ansari, ABM – Cubes and Sauces, Unilever Pakistan, this year called Knorr Food Dream (KFD), led by lifestyle and food blogger Marium Hosein. In each episode, Hosein invites celebrity guests to create their "dream dish" (with a little help from Knorr Chicken Cubes).
According to Diwan, reaching out to digital influencers is very important, especially since Hosein is a "powerhouse" and has "given her star power to the entire campaign" – as opposed to having a celebrity host the show. "People know that Hosein can create unique recipes, and giving her the leverage to create her magic was important."
Diwan adds that since Covid-19 (and now rising inflation), people are trying to create different food experiences at home. They want to make even a simple plate of food look instagrammable. "There is always a difference between homemade Chinese and restaurant Chinese food and people want to use ingredients that bridge that difference."
Playing to KFD's advantage is the fact that when it comes to innovation in food, be it a dining experience, a new food product, or a food-centric event like Karachi Eat, people are eager to try trends and replicate dishes at a much faster pace than they would do for other products.
Knorr previously also partnered with Chop Chop Wok (CCW), whereby for a limited time, CCW was offering customers menu items created with Knorr noodles and sauces ("such co-creations are the future of food since the experts/restaurateurs are powerhouses in enhancing the food scene in Pakistan"). Knorr seemingly has more initiatives in the pipeline and the plan is perhaps to experiment with different promotional activities and products until they nail what works best for these younger and more difficult consumer.