Published in May-Jun 2022
Muzaffar Manghi, co-Founder, Farmdar, on how the agri-based start-up intends to improve agricultural output in Pakistan.
MAMUN M. ADIL: How would you describe Farmdar? 
MUZAFFAR MANGHI: Farmdar is a deep-tech data company. We use remote sensing – satellites, drones and mobile IoT devices – to generate data that will help farmers and commercial organisations improve their yield and quality, and manage and monitor supply. These services can be scaled to tens of millions of acres in any country. This is done in three stages. One, we 'digitise' a specific tract of land by marking a field on our web app digitally. Two, we commission a satellite to capture detailed imagery of the land in question. Three, after receiving the images we analyse them using AI, computer vision and the machine learning models we have developed. This allows us to create detailed reports regarding the land in question, in terms of the health of the crops, the water and nitrogen uptake, or the type of crops or trees grown in that area as well as their number, yield and health.
MMA: How did the idea of Farmdar germinate?
MM: It began by trying to identify solutions to the problems faced by agribusinesses. For example, the idea that Pakistan has the 'best mangoes' is a fallacy. Yes, we are capable of growing the best – but can we do so at the right scale and quality when it comes to the export market? No. In this case, we looked at various solutions, including blast chillers, cold storage and specialised packaging, but it became apparent that these measures were just band-aid solutions and that we needed to address the larger problem.
MMA: What do you mean by the larger problem?
MM: Ultimately, it is a question of improving how crops are grown. That was when Ibrahim Bokhari and Muhammad Bukhari (my two co-Founders) and I started to experiment with technology and focused our efforts on remote sensing by using extremely high-resolution satellite imaging, machine learning and AI. The results, be they in terms of yield increase, waste and input reduction (among other things), were beyond our expectations. Given the scale of Pakistan's agricultural productivity issues, we saw a huge commercial potential, especially given this is a completely white space. 
MMA: What would you say are the major issues that plague Pakistan's agricultural sector?
MM: Yield deficit and input costs are the issues that affect farmers on a large scale and, consequently, the produce in Pakistan. Our reports help them increase agricultural efficiency. The same applies to corporations that have a dire need to increase production efficiencies. This is particularly important given that in 30 years, the global population will cross 10 billion and we will need to grow 100% more food to feed them. Furthermore, this will require cultivating a landmass that is eight times the size of Pakistan's – a level of agricultural activity that would have a catastrophic effect on climate change. Growing more food on more land is not an option. Farmdar is therefore trying to solve this issue of global food sustainability by creating actionable data aimed at mitigating the impact of agri-activity on climate change by optimising agricultural efficiency and addressing the issues that plague farmers and corporations.
MMA: Which of these reports are the most popular?
MM: It would be hard to say if one is more popular than the other, as they are all linked data points. Four of our reports (Water Stress, Nitrogen Levels, Plant Stress and Plant Health) deal with the issues that affect farmers the most. We provide them free of cost to small-scale farmers but charge the corporate organisations. Once we have sufficient data (for example covering 300,000 cotton farmers), we will commercialise them as they will be beneficial to pesticide and fertiliser companies, ginning mills and organisations that deal with logistics, insurance and finance.
MMA: Which reports are geared more towards your corporate clients?
MM: Crop Classification (classifying the number of crops by acreage in a given area), Harvest Monitoring (according to which we can identify how much produce is available) and Yield Estimation. The last ones are aimed at food processing companies, such as Pepsi, whereby we can tell them where the types of potatoes they need are located, their quantity and quality, and estimate the yield in tons. Or, for example, a pesticide company providing a product to fight cotton disease would want to know how much cotton is grown in Pakistan or in a particular area – and we can provide them with such information. 
MMA: What is the background of Farmdar's three co-Founders?
MM: Each one of us has a variety of transferable experiences. We are equal co-Founders, although there will be an overlap of roles at times as this allows us to move swiftly. My background is in sales and marketing and I bring an understanding of the farmers and their pain points; Bukhari is a certified CA and has worked at McKinsey and British Telecom; Bokhari is a third-generation progressive farmer and exporter and his insights into day-to-day farming are invaluable.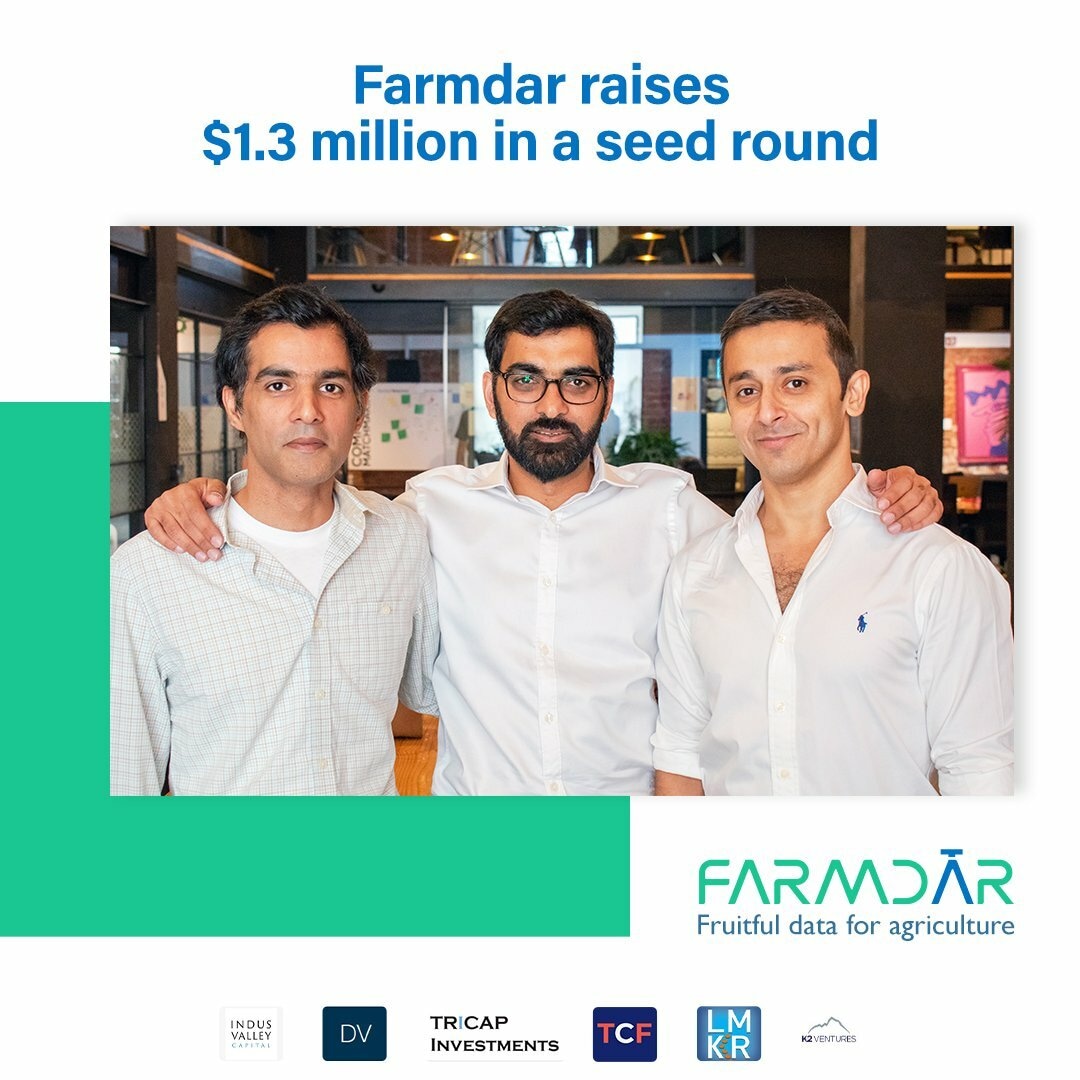 MMA: How is Farmdar funded? 
MM: Most start-up founders are younger than we are and the prospect of a million dollars excites them deeply. We are older and have handled tens of millions of dollars for our clients over the years. In this respect, as a mature founder team, we instil confidence in our investors, which is why the funding was available to us early in our journey. I would add here that the business has a good margin, and we did not need the money as we were fairly well bootstrapped. However, there is no denying that capital is critical to rapid scaling and what we really needed more than a million dollars was to have investors of strategic value; people with a track record of success and who understand what agritech involves. On June 6, we closed our seed round, which was led by Aatif Awan of Indus Valley Capital and participated in by Shehryar Hyderi of Deosai Ventures.
MMA: How did Farmdar's partnership with EasyFresh Technologies come about and what does it entail?
MM: EasyFresh essentially connects producers and buyers. Our partnership allows buyers to identify farmers in an area of their choice, along with being able to access data such as acreage, geo-coordinates, names, numbers and crop details. This enabled them to have first dibs on the best produce. It also has an impact on farmers who previously did not have access to buyers; they have been exploited for decades, but they can now benefit from the real worth of their crops. 
MMA: How many clients do you have on board? 
MM: I am not at liberty to share specifics, but the type of audiences we are catering to include individual farmers (whom we serve for free), large farmers, corporate farms, food companies and processors, sugar mills, pesticide and chemical companies, and banks and fintechs that focus on agri-lending.
MMA: How is Farmdar promoted? 
MM: I cannot reveal too much, since communicating effectively with farmers has been a challenge historically and is somewhat of a trade secret for us. However, our communication strategy revolves around ambassadorships and referrals; they are very important in rural communities, in addition to digital marketing.
MMA: Do you have any competitors?
MM: Globally, we have identified six players who create similar data and they include Agremo, Aerobotics and DeHaat. A few people are doing this locally as well, but to the best of our knowledge, there is a gap in terms of cost, processing time, service and accuracy. Furthermore, given the full suite of data we create, there is no one we know of who has it all under one umbrella.