Published in Mar-Apr 2022
Imran Rana, Spokesperson and Director Communications, KE, speaks to Aurora about the future of renewable energy in Pakistan.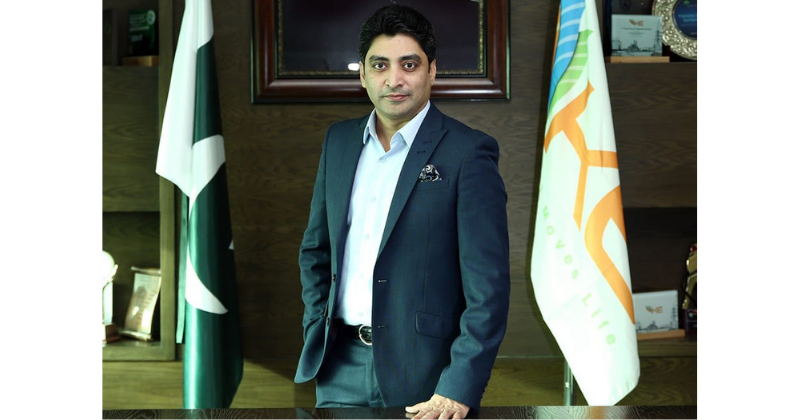 AURORA: How has K-Electric (KE) progressed over the years?
IMRAN RANA: Our journey began in 1913 when Karachi Electric Supply Company (KESC) was established – a time when the demand for power in Karachi was estimated at 2.5 MW. In 1949, we became the first company to be listed on the Pakistan Stock Exchange. Over the last century, we have expanded our service territory to 6,500 square kilometres (which is bigger than the geographical size of countries such as Bahrain, Mauritius and Singapore) and we are providing energy to Karachi as well as to other parts of Sindh and Balochistan, including Bela, Dhabeji, Gharo, Uthal and Vinder. In 2005, KE was privatised, when KES Power (a consortium of investors that includes Aljomaih Holdings of Saudi Arabia, National Industries Group of Kuwait and the UAE-based Infrastructure Growth Capital Fund) acquired a 73% stake. KES Power now owns 66.4% shares in KE, and the Government of Pakistan (GoP) is a shareholder with a 24.36% stake. We continue to remain the only vertically integrated power utility in Pakistan – we generate, transmit and distribute electricity ourselves and supply power to over 3.2 million consumers today. 
A: How have things changed in terms of transmission and generation since privatisation?
IR: We have established a robust energy value chain that drives growth in Karachi and supports Pakistan's economic wellbeing. Our investors have spent over Rs 400 billion towards our transformation into a dynamic, customer-centric, empathetic and proactive power utility. In fact, if we were to lay the total length of our transmission and distribution lines end to end, it would be more than enough to make a roundtrip from Karachi to New York. Our generation capacity has also expanded, and over 1,000 MW have been added since privatisation. We are continuing this vision with the forthcoming addition of a 900 MW RLNG-based power plant, which will be known as Bin Qasim Power Station 3 (BQPS-III), a flagship project built at an estimated cost of $650 million. The power plant consists of two generation units (each has a capacity of 450 MW and Unit 1 is expected to be 'live' soon). After the addition of BQPS-III's 900 MW, the post-privatisation power generation of KE will cross the 1,500 MW mark. Channelling this enhanced capacity requires a robust transmission network and KE has added 19 new grid stations – bringing our total number so far to 71 – as well as extending our transmission network throughout the city, so we can cater to existing and new growth. 
A: What would you say are KE's significant accomplishments over the last five years?
IR: One of the major performance indicators is that 75% of Karachi is receiving uninterrupted power today. At the time of privatisation, this number stood at roughly six percent. Since 2010, all major industrial zones of the city have been exempt from loadshedding. This is driving industrial productivity, increasing employment opportunities and ultimately benefitting the country through increased GDP and taxation revenue. Furthermore, despite operating in a comparatively more challenging environment, we have managed to reduce our transmission and distribution losses by 16.7% since being privatised; this number stood at 17.5% in 2021 and 34.2% in 2005. Our efforts have been acknowledged in the National Electric Power Regulatory Authority's (NEPRA) State of Industry Report 2021; in 2021, Karachi's domestic and industrial electricity consumption was outpacing the rest of the country. I can think of no better testament to our efforts, and we take inspiration from this to continue to raise the bar in the future.
A: Yet loadshedding continues to be an issue.
IR: While it is true that 75% of the city is loadshedding free today, yes, power interruptions may happen due to reasons which I will explain in three parts. The first type of loadshedding is linked to the theft of electricity; segmented loadshedding is in accordance with the National Power Policy and is practised by other DISCOs across Pakistan. At KE, we segment our feeder population based on their loss profile and have a regime that limits loadshedding between three and 7.5 hours. There is another important but linked challenge which may cause interruptions in supply of the electricity – almost 50% of Karachi is unplanned and developed without a master plan, and there is rampant encroachment on our supply network in the form of kundas, electricity poles and pole mounted transformers (PMTs) taken into premises, or construction that compromise KE's 'Right of Way', leaving little or no space between our network and the construction. Encroachments of any sort on KE's network compromise the safety parameters of our system and pose serious threats to life and property. It also limits our ability to ensure consistent, safe and reliable power supply to our customers. We work closely with the city administration and relevant authorities in conducting anti-encroachment, anti-theft and kunda removal drives. However, the encroachments come back in no time. Lastly, at times, factors beyond KE's control also intercept our ability to supply power. Recently, for instance, the availability of fuel at a national level remained an issue. We continue to keep in touch with the Ministry of Energy and relevant organisations to address this issue. We are also trying to manage any shortfalls in such a way that it causes minimum inconvenience to our customers. Whenever we face such a challenge, we proactively inform the customers who may likely be impacted. In such scenarios, it is important to note that KE's sent-out units also drop and this impacts not only our customers in the form of inconvenience but also our bottom line.
A: Despite producing excess energy, Pakistan is still unable to provide electricity to consumers 24/7. What are the issues, especially those related to infrastructure and Circular Debt and its repercussions?
IR: Unfortunately, Circular Debt is one of the major issues affecting the power sector. Each government has tried to tackle the problem with varying degrees of success, but it still remains unresolved. The answer may lie in reducing subsidies and allowing electricity prices to rise to their natural level, but this would deter consumption and growth, which would be counterproductive. The liberalisation of the market – which is being worked on by NEPRA and the GoP – does hold promise, if and when it is rolled out across the country, as it will set the foundation for a future in which consumers have more autonomy over their power purchasing decisions. This transition will not be easy as it requires a sustainable framework but it is something that the government may consider in the future. We feel that an answer may lie in privatisation, and KE's example is proof of the model's success. Prior to privatisation from FY 1998 to FY 2005, for instance, the company incurred losses (before taxes) worth approximately Rs 12 billion (on an average basis) annually – and total losses amounted to approximately Rs 95.4 billion. To keep operations afloat, the GoP had to provide an operational subsidy of roughly Rs 28.5 billion to KE between FY 2003 and FY 2005, thus putting a huge strain on taxpayers' funds. Post-privatisation, the management undertook an extensive exercise in incorporating efficiency, which yielded fruit as the company posted its first profit in 2012 after almost 17 years of consecutive losses. Our trajectory has been onward and upward since then, and our operational performance has been the subject of case studies taught at Harvard Business School. We have been able to curb transmission and distribution losses, inculcate a behaviour of timely bill payments, and educated an increasing number of people on the hazards and economic impact of electricity theft.
A: What are the positive developments that the energy sector has witnessed recently?  IR: Although the situation is affected by a number of factors, including disruption in the fuel supply chain, Pakistan is on track to gaining energy security. Thanks to NEPRA's contribution, the country has its first comprehensive Indicative Generation Capacity Expansion Plan (IGCEP), which is paving the roadmap for the further addition of energy sources in line with Pakistan's forecasted demand. Furthermore, the government has approved the National Electricity Policy 2021, which covers key considerations for a financially viable and sustainable power sector, including the transition towards open markets as well as the need for a cost-reflective tariff in the transmission and distribution (T&D) segment. We cannot be certain about what the cure-all strategy for the power sector's challenges entails, but we can be certain that systematic and structured planning is imperative to achieving a sustainable solution. Other than that, some of the major challenges the sector faces include electricity theft and the non-payments of bills. If power companies cannot recover their legitimate costs, consumers will suffer along with the sector.
A: How do you view the recent Competitive Trading Bilateral Contract Market (CTBCM), and its effects on Pakistan's energy sector?
IR: This is a very important question and something we are very excited about. A truly liberalised market, such as the ones we see in advanced economies will be a game-changer for Pakistan's power sector, if done right. As mentioned earlier, changes of this magnitude cannot be executed overnight, and require not only thorough planning, but consistent reviews and iterations in order to strike the right balance. KE has been working with the GoP and NEPRA to develop a strategy that will create a win-win solution for all stakeholders. All of us have to ensure that the transition is successful while protecting the integrity of the players in the power sector. We anticipate that the CTBCM will give rise to healthy competition within the sector as it will push all competing organisations towards improving their infrastructure and enhancing their service quality, which will ultimately benefit consumers. However, for a sustainable transition toward a competitive electricity market, it is important to develop a framework which provides for an orderly transition. 
A: KE now has a solar division and its fuel mix includes renewables to generate energy in addition to conventional fuels. How do you anticipate the growth and future of renewable energy?  IR: KE is committed to a cleaner and greener future for Pakistan. K-Solar is a separate renewable energy company, a subsidiary of K-Electric that is enabling the shift towards a greener and cleaner energy future. In line with decisions made at the UN Climate Change Conference in Glasgow (COP26) and the vision shared in government policies as reflected in IGCEP, K-Electric is shifting its focus toward renewables and aims to take the share of green energy to 1,100 MW in its power mix by 2030 – it is currently 100 KW. We are actively facilitating net metering applications across Karachi to encourage the adoption of renewable energy by our consumers. We have signed a tripartite agreement between KE, the World Bank, and the Government of Sindh's Energy Department to add 350 MW solar projects in Karachi under the ambit of the Sindh Solar Energy Project (SSEP). This collaboration will add 700 GWH of clean energy to KE's electricity supply mix that should offset carbon emissions by 300 to 350 kilotons per annum.
A: What other efforts are being made to increase the use of renewable energy?
IR: We have partnered with Akhuwat Islamic Microfinance to provide a revolving grant to offer interest-free loans to households and small business owners to set up renewable energy systems. Akhuwat is an established organisation with a significant nationwide footprint and our partnership is enabling a greater number of consumers to become part of the green energy future. However, one 'hurdle' that needs to be addressed with renewable energy is its variability as it is dependent on weather conditions, so we must explore ways to increase its storage in order to maximise output. Even in the IGCEP, there is a significant addition of renewable energy, but for sustainable supply, baseload is important. This implies that baseload commitments continue to be fulfilled through conventional fuels to cater to seasonal variations and intermittency related to renewable energy production. 
A: What can the government further do to increase energy generation?
IR: One measure that the government should take on an immediate basis is foreign direct investment, because Pakistan's energy consumption is growing rapidly. In Karachi alone, we anticipate an additional load demand of approximately 700 MW through new connection applications by FY 2023. Moreover, the State of Industry Report 2021 suggests that over 500,000 new connection requests nationwide are pending. However, the power sector of Pakistan lacks the infrastructure to keep up with this acceleration, mainly because power companies, especially DISCOs, do not have enough capital to inject into the infrastructure. If I may be more open about it, I share no hesitation in mentioning that our regulatory regime does not provide cost-reflective tariffs – for instance, since its privatisation, KE has not given one single penny in dividends to its shareholders. When there is limited incentive for investors, there will be very limited investment inflows in the sector, hence limited interest. To change this, the government needs to immediately attract foreign investors and this can only be done if they are provided with an enabling environment, and consistent regulatory policies that give them the confidence and opportunities for a better ROI.
A: What are the hurdles the KE brand faces with regard to perception despite your best efforts and how do you address them, especially if down the road consumers, especially corporates, have options other than KE to be their electricity providers?
IR: I feel that any challenges the KE brand faces are influenced by the perception of the power sector overall. That is why it is so important for us to work proactively to educate our public about the intricacies of the electricity value chain in the simplest possible way, particularly when regulations are tightly managed and the space to bring about quick change is limited. If we look at the evidence, the perception of KE as a brand is undergoing a shift, as we directly engage with a growing number of consumers. Serving uninterrupted power to 75% of a city like Karachi is not an easy feat, and there is an acknowledgement within and beyond Karachi about KE's quality of service. By sharing our achievements, our investment plans, and our efforts for the city, we are positioning ourselves as a power supplier of choice. Even in a liberalised market, we feel confident that our track record providing quality service and timely information will continue to attract consumers across all segments to opt for KE.
Imran Rana was in conversation with Mamun M. Adil. For feedback: aurora@dawn.com