Why Karachi's classy new boutique hotel should be your next staycation destination.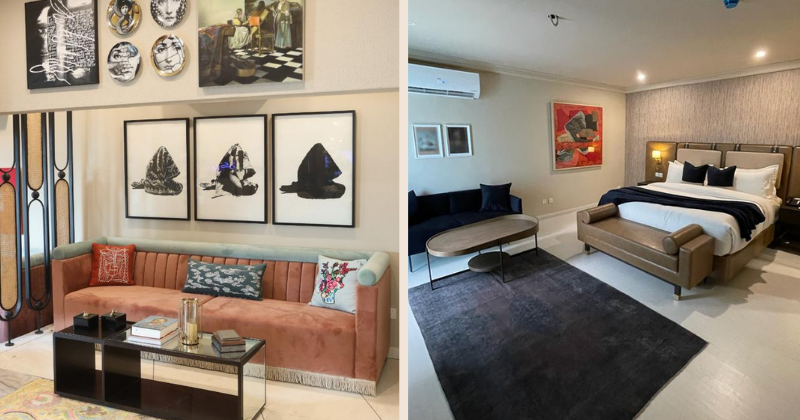 Located in the heart of Karachi's Clifton Block 5 in a quiet residential lane behind Emerald Mall lies a deluxe and cozy boutique hotel, Ambiance Boutique Art Hotel. The hotel first opened in Lahore in October 2020 and is now operational in Karachi.
The launch of the Karachi hotel, organised by Catwalk Event Management Productions, took place on May 13, 2022, with a glamorous and alluring opening night, including an immersive theatre performance by NAPA artists, delectable hors d'oeuvres and mocktails and a welcome note by Kasim Kasuri, CEO and Chief Design Curator, Ambiance Hotels.
As you walk through the formerly-residential property's doors, you find yourself in a typical Old Clifton house, except that it has been repurposed into a stunning boutique hotel, complete with a curated art collection featuring over 200 original pieces of contemporary art, created by emerging and mid-career Pakistani artists including Atif Khan, Mohsin Shafi, Sonia Chundrigar, Beygum Bano and Tooba Ashraf, amongst others. The artwork was hand-picked by the Ambiance Curators' Committee, which includes Salima Hashmi, former Principal at the National College of Arts, Shehnaz Ismail, founding member of the Indus Valley School, Adeela Suleman, Director at the Vasl Artists' Association and Kasim Kasuri himself.
The artwork was also the inspiration behind the immersive theatre performance – the highlight of the evening. After Kasuri's opening speech, guests were asked to head toward the garden area near the café, unaware that the performance titled 'Living Art: Episode Two', directed and choreographed by Vajdaan Shah, had already begun. A young man ran toward co-host Frieha Altaf and took off with her phone, leaving the guests baffled and Altaf running after the "thief", while telling the guests to follow her. As the guests jogged after Altaf, they soon became immersed in the performance as they entered 'Block A' of the hotel to find 10 rooms (to be operational soon) converted into a walk-through theatre. In one room, you could see two brothers having a heated argument, while in another a depressed man lay in a bathtub reading the works of Shakespeare out loud.
Each room contained an act and the mesmerised guests were encouraged to interact with the actors. The actors also kept moving around the rooms, interacting with other actors to keep the immersive experience rolling through a series of interwoven stories featuring sibling separation, lost love, the trauma of war, mad scientists, singing robots, dubious doctors and more – all stellar and believable depictions.
The event ended with a thank you address by Kasuri, along with more delicacies, including sushi, sliders, chicken satay and chocolate mousse, served by Ambiance Express, the hotel's café. The café's design and theme has been inspired by the "old-world charm of Karachi's tramways" with a geometrical blue and black wallpaper, a sign saying "Saddar 130" and all-around vintage vibes.
The hotel itself is composed of four spacious blocks which currently boast 14 operational guest rooms. Room categories include Terrace Suites, Terrace Rooms, Junior Suites, Premier Rooms and Deluxe Rooms. The room sizes vary between 250 and 450 square feet and are designed using calming blue and green tones and are equipped with high-quality bedding, seating space, artwork, premium edibles in the minibars, high-speed internet, Google Chromecasts and spacious bathrooms with luxurious rain showers. Eventually, the boutique hotel will offer a total of 42 rooms, including the 'Ambiance Garden Suites', which will feature small, private gardens. The hotel also features a guest lounge/business centre, which can easily accommodate over 20 people. Facilities that will be added later this year include a spa and a fitness centre, a panoramic rooftop dining facility and additional meeting and conference rooms and entertainment facilities.
Kasuri, who describes himself as a 'serial art collector', says:
"We built Ambiance to redefine hospitality by offering curated experiences to our patrons as Pakistan's first network of boutique art hotels. Art is centre-stage at the hotel, not only in terms of the paintings on our walls, but in terms of our overall design aesthetic. Staying at Ambiance, you get to live, breathe and immerse yourself in visually and aesthetically appealing art in multiple forms."
The opening was attended by prominent personalities, including former Senator Javed Jabbar, former minister Nisar Khuhro, economist Dr Ishrat Husain, former foreign minister Khurshid Mahmud Kasuri, Beaconhouse founder Nasreen Kasuri, Munirah and Wajid Jawad, educators Nassir Kasuri and Amina W Kasuri, civil rights activist Jibran Nasir, politician Sharmila Faruqi, actors Sanam Saeed, Mohib Mirza, Ayesha Omer and Maria Wasti, directors Asim Raza, Saqib Malik, Asad Ul Haq and Farah Haq, stylist Tariq Amin, Fifi Haroon, Rukaiya Adamjee, Tapu Javeri, Shamoon Sultan, HSY, Khadijah Shah, Yousaf Shahbaz, Maheen Karim, Saba Ansari, Fouzia Amaan, Sachal Afzal, Tabesh Khoji, Fatima Hasan, Mahvaish Rehman, Misbah Momin, Asad and Laila Premjee, Nida & Adnan Tapal, Raza & Mehreen Agha, Chandni Saigol, Farah Leghari, Simeen Tapal and Mikaal Habib, Aasim Wajid Jawad, Zohaib Wajid Jawad, among others. Also present were the hotel's design team: architect Moyena Niazi, interior designer Sabeen R. Shiraz and hotel stylist Deepak Perwani who has also designed the staff uniforms.
To book a room or to find out more about Ambiance Boutique Art Hotel, click here.
This content has been produced in paid partnership with Ambiance Boutique Art Hotel.