In conversation with Shoaib Qureshy, MD, Bulls Eye DDB Group, the organisation behind marketing and PR for the Pakistan Pavilion.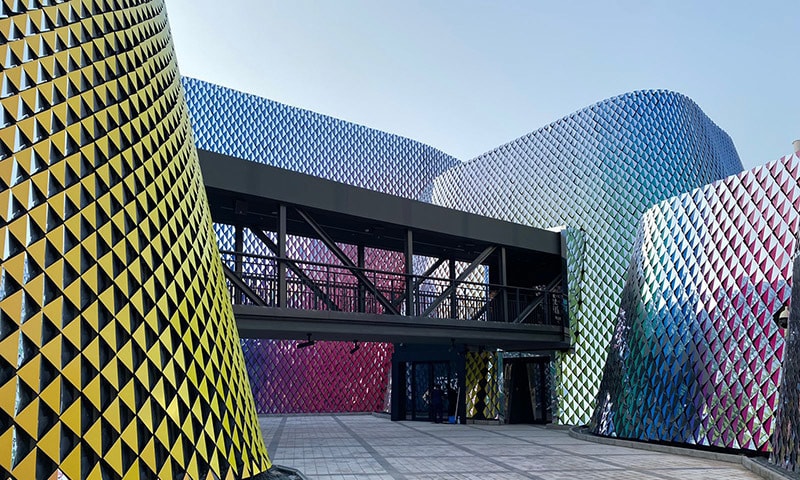 The Pakistan Pavilion at Expo 2020 Dubai is garnering great interest and making it to media lists which credit it as one of the must-see pavilions. Since the expo started on October 1 – a year late due to Covid-19 – over 30,000 people have visited the Pakistan Pavilion. Bearing the theme 'Hidden Treasure', it aims to showcase Pakistan's soft side and rich cultural heritage; seeking to draw in tourists and investors.
Aurora spoke to Shoaib Qureshy, CEO, Bulls Eye DDB, which has been tasked to market the Pavilion and asked him how his agency became with the project, how it is executing the marketing and PR strategy for the scope of work involved, and how it plans to bring 1.5 million people to the pavilion by March 2022.
ZEENAT CHAUDHARY: How did Bulls Eye become the marketing and PR agency for the Pakistan Pavilion?
SHOAIB QURESHY: The Trade Development Authority of Pakistan (TDAP) invited agencies to pitch for the project (and most Pakistani agencies participated). There was an initial proposal round and then a financial round – it was a strenuous process.
ZC: What was the brief?
SQ: For Pakistan, it was to put its best foot forward in two ways: attracting tourists from across the globe and driving commerce and investment to the country. The Pavilion showcases three kinds of tourism in Pakistan: adventure tourism (hiking/trekking in the northern areas), religious tourism (Kartarpur, Buddhist heritage, etc.) and casual tourism (UNESCO sites, Indus Valley). As it so often happens, the preliminary brief and final one were different as later we discovered that there were many more stakeholders than TDAP involved in the project – ministries, embassies, advisory committees and so on; once we were appointed, we reworked our proposal as per all the stakeholders' aims.
ZC: Is there a target that needs to be met and is it doable?
SQ: We aim to attract as many people as possible to the Pakistan Pavilion before the Expo ends in March 2022. The Pavilion saw a footfall of over 12,000 visitors on October 8 alone.
ZC: Who is the target audience?
SQ: For tourism... every one. For commerce and investment... investors and businessmen. We are, however, primarily targeting the Dubai and GCC area and especially Saudi Arabia. The bottom-line is to make the Pakistan Pavilion fly high among the 192 participating countries – which every country is trying to do. One pavilion takes at least 30 minutes to explore, so one cannot see more than 20 in a day – that too if you are only seeing pavilions at the Expo and nothing else (eating, attending conferences and events).
ZC: What are the marketing and PR tools you are deploying?
SQ: Print, TV and digital. We have partnered with Khaleej Times, Gulf News and The National (a video by The National recently went viral and helped bring the Pavilion into the limelight) for media coverage; we are running awareness campaigns on Dubai TV and the Expo's own channel. Social media, especially Instagram, is the biggest asset for us. We have our own social media pages and a website, but when a third party says 'you must visit the Pakistan Pavilion' it helps tremendously. We are publishing frequent press releases, which keep us in the news. When the President of Pakistan and Abdur Razzak Dawood, Advisor to Prime Minister on Commerce, Textile, Industries & Production and Investment visited, we conducted special interviews that were covered by the local media. Marketing is all about content; parts of the inner journey are being shown on Facebook Live and Instagram on a daily basis and targeted accordingly. Influencers are a critical part of our media plan. We have hired many influencers from Pakistan, such as Ayesha Omar and Fakhr-e-Alam, and two key influencers from the Middle East – Kris Fade and Khalid Al Ameri. The commerce and investment audience is more difficult to capture as it needs to be targeted sector-wise. We are targeting it through LinkedIn and seminars. The Pakistan Federal Board of Investment held a seminar on the Electric Vehicle Policy, and a session on climate change attended by Pakistan's Federal Minister for Climate Change, was held.
ZC: Where does the Pavilion stand in terms of popularity?
SQ: When we started, there were media lists of the top five to 10 pavilions to visit and Pakistan was not on them. However, now, with the right coverage, we are one of the top Pavilions to visit; especially since our façade is brilliant at drawing people in. People want to take photos outside, which is really helping with the marketing and PR. Heavier marketing spend will be in the second half as December 2021 onwards the weather will improve and it will be the holiday season. We expect it to be three times more powerful than the momentum right now.
ZC: What challenges have you come across so far?
SQ: The Pakistan Government does not have the same funds that other countries do. However, there are 50+ Pakistani companies that are contributing. Unilever and HBL have funded the advertising; most Pakistani banks are on board (National Bank, UBL, MCB and others) along with companies such as Pepsi, Khaadi and exporters. Also, because there are so many stakeholders, bringing everyone's content into play is complex, but we are managing. Six months more to go!
For updates and details about the Pakistan Pavilion, click here for their official website. Visit their social media handles using @PakistanExpo2020.