Juggun Kazim, actor, host and model, in profile.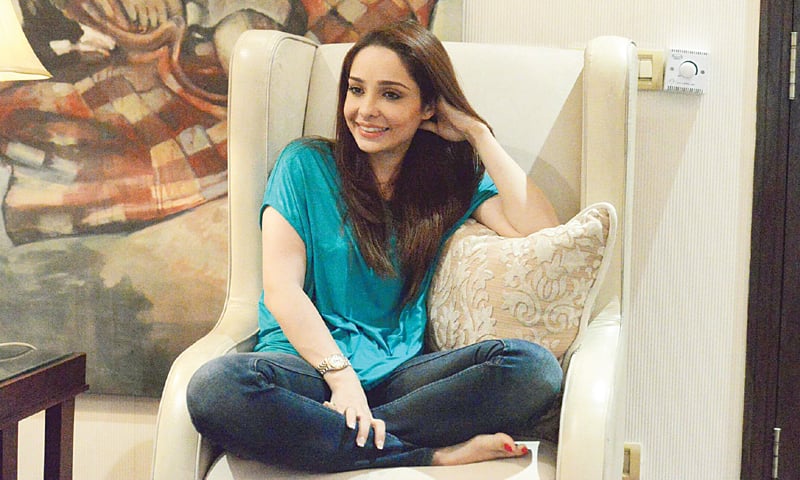 This profile was first published in the November-December 2005 edition of Aurora.
"I love acting more than anything else in the world," exclaims an effusive Juggan Kazim, as she comfortably props her feet on the sofa of one of Karachi's most popular eateries, tucking into a plate of honeyed chicken wings. Kazim is one of the Pakistani electronic media's rising stars and a breath of fresh air in the mediocre world of television programming.
An actress at heart, Kazim is currently hosting Beanbag, Zu TV's talk show with a difference; a show where she discusses everything from cross-dressing to teenage angst. In spite of the channel's limited viewership, Beanbag is extremely popular with young people thanks to her honest, open and non-judgmental approach to issues that are considered taboo.
Interestingly, Beanbag may have never happened had Kazim not fallen in love. In fact, her journey from full-time actress to part time talk show host has been expedited by the affairs of the heart.
Born and bred in Lahore, Kazim's affair with acting began long before Cupid struck and made an honest woman out of her. She recalls prancing around the house in her grandmother's chiffon dupattas at the tender age of four, happily singing "cheap" Indian songs. However, all her immature artistic inclinations had to be shelved in lieu of getting an education.
Years later, after completing a degree in media information and technoculture from the University of Western Ontario, she was approached by a Canadian modeling agency. After doing some acting-based music videos, Kazim got her first big break playing a 15-year old conjoined twin in a play titled 'Tara'.
This initial foray into theatre left Kazim with a strong appreciation for the medium, which she says is much more "real" compared to television and film. But it was to television that she returned after Tara, first becoming Canada's Diet Coke girl and then the ambassador for the Toronto Star.
Her exposure to theatre and television helped Kazim get a leading role 'Pink Ladoos', a feature film in which she played a 19-year-old South Asian girl pregnant with triplets out of wedlock. Her two-month experience filming with a Canadian director and an international cast and crew ingrained in Kazim a mature work ethic and a strong sense of professionalism.
"What I love about working in that part of the world," says Kazim of her experience working in Canadian TV and cinema, "is that people believe in getting work done. There are no nakhras and dramas. You learn your lines and you show up on time."
After a string of television appearances and commercials, Kazim returned to Lahore for a month to recuperate, unaware that fate had other plans. A week before her departure for Canada, she met her husband Ahmed at a friend's party and a week later, the love struck couple eloped.
Marriage meant that Kazim had to abandon the life and career she had worked hard to build in Canada. And although she made that decision in a split second, she has not regretted it, explaining that "Ahmed makes it all worth it."
---
"Just because I have a privileged background, that does not mean that no one in my society gets raped, or that incest and abortion are not common. I may not know what abject poverty feels like but I can still help people."
---
A few short months after her marriage, just when Kazim was growing restless, she ventured into Pakistani commercials and a TV serial. The experience has been less than encouraging.
"To be honest," she says, "I don't like working here because I feel like the only fool who turns up prepared on the set."
She is irritated with performers who keep fumbling over lines, saying that this lack of preparation is highly disrespectful towards the director, producers and other actors.
For all her disillusionment with television, Kazim was extremely excited when she was approached by Salman Taseer of WorldCall to host Beanbag for Zu TV. In spite of its popularity in the three short months it has been on air, Beanbag is still finding its feet and the format is currently flexible as Kazim wants to settle on something that will appeal to the common man.
Kazim's view of her target audience seems rather odd considering that Zu is watched mainly by young people from the upper socio-economic classes.
"It does bother me that I am not getting through to the common man, but I do feel that given time, the show will draw in more people."
The real question, however, is that do people take a 24-year-old girl from a privileged background, sitting atop a beanbag, seriously?
Kazim answers with a touch of irritation, no doubt borne out of being asked the question far too frequently.
"Just because I have a privileged background, that does not mean that no one in my society gets raped, or that incest and abortion are not common. I may not know what abject poverty feels like but I can still help people."
In helping people air their issues, Kazim feels that no two people can experience the same emotions, even after going through similar experiences.
"Everyone's reactions to traumatic situations are different. You can either choose to help other people or wallow in your own misery."
Kazim's choice is already clear. "I do it because it makes me feel better knowing that I am not alone in my miseries. Helping people gives me a sense of peace and comfort. It is good for my heart."