Published in Jan-Feb 2017
Mehreen Jabbar, director and producer, in profile.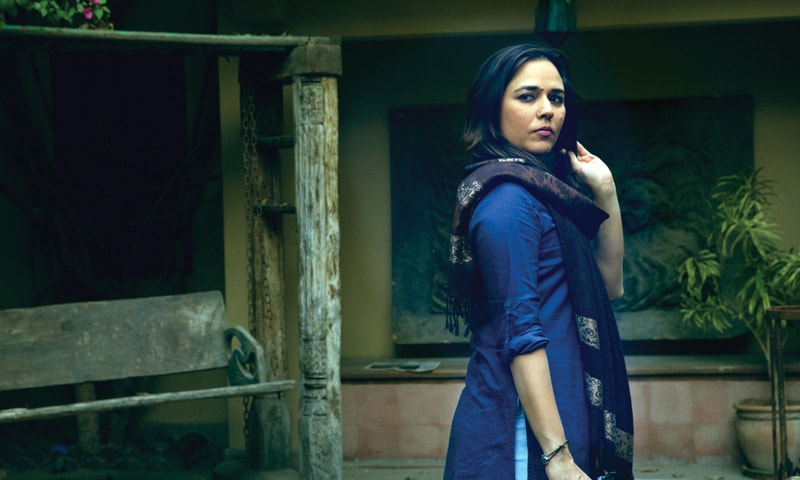 First published in January-February 2017
It is not by accident that most of Mehreen Jabbar's TV serials or her recent film Dobara Phir Se (DPS), are not filled with emotionally-charged confrontations between the protagonists. In fact, as it turns out, Jabbar is a firm believer in subtle, although she does not disclose this when we meet; rather, it's one of the many facets of her personality – and work – that surface during our conversation.
Somewhat serious, at least when we begin to talk, Jabbar is unlike many 'media personalities' I have met. By her own admission, she is happy to stay in the background, be it in terms of giving interviews or promoting her work; thankfully, she doesn't refer to her work as her "passion" as many people are prone to. She is, in fact, rather matter of fact about her work – the fact that she is passionate about it comes across when she talks about it, rather than by her saying it explicitly.
The daughter of Javed Jabbar (whose credentials include, but are not limited to, being the co-founder of MNJ Communications, one of Pakistan's foremost advertising agencies in the 70s, as well as being a former Senator and Federal Minister), Jabbar joined her father's agency after graduating from St Joseph's College, Karachi.
Read: A review of 'Meet Our Friend JJ: An Anthology About Javed Jabbar.'
While there, she ended up directing several commercials for a variety of products ranging from ice-cream to ceiling fans; she then began to direct several long plays and telefilms; one of the first was Ab Tum Ja Sakte Ho in the late 90s, which featured veteran actor Khalida Riyasat, as well as Humayun Saeed and Sania Saeed.
Since then, Jabbar has numerous serials to her credit, ranging from Harjai, Aur Zindagi Badalti Rehti Hai in the late 90s and early noughties, to the more recent Doraha, Daam and Jackson Heights. All are diverse in terms of their subject matter; Harjai told the story of Zohra, who by the end of the play had married at least three different men; Aur Zindagi Badalti Rehti Hai focussed on two sisters who were reunited in Spain after years of not knowing the other existed; Doraha was a complex tale of two people whose marriage doesn't work out, while Daam centred on the friendship between two college going women (who come from very different socio-economic backgrounds) and the complexities that follow when one falls in love with the other's brother. While there may not be a genre that is specific to all Jabbar's plays, there are some similarities.
For one thing, it is clear that Jabbar spends a substantial amount of time fleshing out her characters; they do, for the most part, have distinct personalities; one cannot say that there is a stereotypical character (such as the bubbly girl, the weepy woman or the abusive man) who appears in most of her work; for another, her characters are a little more layered; unlike other dramas, they usually have specific professions. More interestingly perhaps is that most of Jabbar's plays depict women who may not be strong characters at the beginning, but unlike those portrayed in the multitude of dramas that continue to be aired to this day, do not go back to the man who treated them badly; this is a conscious decision that Jabbar has made.
---
Most of Jabbar's plays depict women who may not be strong characters at the beginning, but unlike those portrayed in the multitude of dramas that continue to be aired to this day, do not go back to the man who treated them badly.
---
"I don't believe in rona peetna and baybass aurtein," she says with force, adding that it is important for dramas and films not to give the wrong message to their audiences. She points out that it is women who are, in many instances, writing and producing plays, and the onus therefore lies on them to produce work that does not reinforce negative stereotypes.
"Even in DPS, the main protagonist is not a very strong woman at the beginning of the film, but by the end of it she becomes self-sufficient."
Speaking of DPS, Jabbar adds that her experience with films has been "a bit of a teaser... the transition to film happened in 2006 with Ramchand Pakistani and then, after a long gap, came DPS... if I had the opportunity I would do one film and a TV serial every two years."
This is mainly because Jabbar believes that films provide directors the "opportunity to get into so many details that TV doesn't afford you – TV is very much about finishing a product on time and doing those 10 scenes a day. You don't have the luxury you have in films of getting into production design, sound, colour grading, music..." She is also of the opinion that "dramas are never really about characters, they tend to be plot driven and don't really delve into character complexities and subtleties," – something films allow.
Jabbar is currently working on a talk show, as well as a serial that features four strong female leads (no surprises there). She has also recently worked on two TVCs in the form of 'Shan Stories' and says she would like to do more commercials, since "advertising is changing in Pakistan, and there is a storytelling aspect in them..."
It is clear that it is this need to tell stories that drives Jabbar. After a little prodding, she reveals that: "I was a quiet awkward child and I felt that with stories I could communicate with the world without being at the forefront."
When I ask why the need to tell stories in the first place, she replies that, "I will have to get into a therapy session to find out why," betraying a (subtle) sense of humour.
---
####"I was a quiet awkward child and I felt that with stories I could communicate with the world without being at the forefront."
Although she is perhaps no longer the awkward girl she professes to have been, it is clear that while she may not be an introvert, she is not a "Winter Ball person"; yet perhaps the introvert lingers within her and in her work in the form of subtlety and nuance. She is able to explain this indirectly when she comments that "I think in the Subcontinent we are about emotive and expositional performances where you show things; European filmmakers, like Ingmar Bergman, were very subtle; I feel that sometimes – not that I am Bergman – because of my own introverted personality growing up, I was caught between these two worlds where I wanted to understate things, but I did drama serials which had scripts written in an obvious manner, with a lot of spoken words."
The medium of films perhaps has allowed Jabbar to explore a more subtle form of filmmaking; while she admits that DPS was liked by many people, others did not. She muses that "it was about a certain kind of people living in New York. If we had put more masala, heightened emotions and added a little more conflict, perhaps it would have appealed to people more." When I comment that, as a filmmaker, it is her prerogative to make the kind of film she chooses to, she agrees resolutely by saying "exactly!"
This response perhaps says a lot about Jabbar: she's determined, to the point and unapologetic like many of the characters she has brought to life on-screen. Although, when I ask her if there is any one character she feels is similar to her in terms of personality, she pauses for quite a while before saying she cannot think of one.
"I don't think I am interesting enough to replicate on the screen. You need more colourful characters..."
Jabbar divides her time between New York and Karachi and says, "it's a great combo"; Pakistan is where she works and New York where she lives, and what she loves about New York, in addition to the thousands of places to eat there, is the fact that she can walk the streets ("I love walking") with anonymity. Perhaps it is this deep-rooted introversion that seeps into her work in the form of subtlety, keeping it relatively understated and devoid of hysterics.