Giving aspiring young people an incredible opportunity to learn.
Spectrum Y&R recently concluded their annual internship programme in Karachi. The programme has been running since the early 90s, when the agency started expanding operations and more professional institutions related to advertising came into being, including the Indus Valley School of Arts and Architecture, CBM and SZABIST.
Commenting on the programme, Zohra Yusuf, Creative Director, Spectrum Y&R, says the agency believes that giving aspiring young people the opportunity to fine tune their skills in a professional environment is a corporate responsibility.
The four to six week programme (depending on the requirement of the institute) is aimed at students who belong to fields related to advertising or communications, such as design, marketing and mass communications. Yusuf says that since the participants are students and therefore do not have a portfolio to share, the selection is a two-step process that consists of reviewing the CV followed by an interview. She adds that "we also assess the enthusiasm and drive shown during the interview process to helps us select the right people."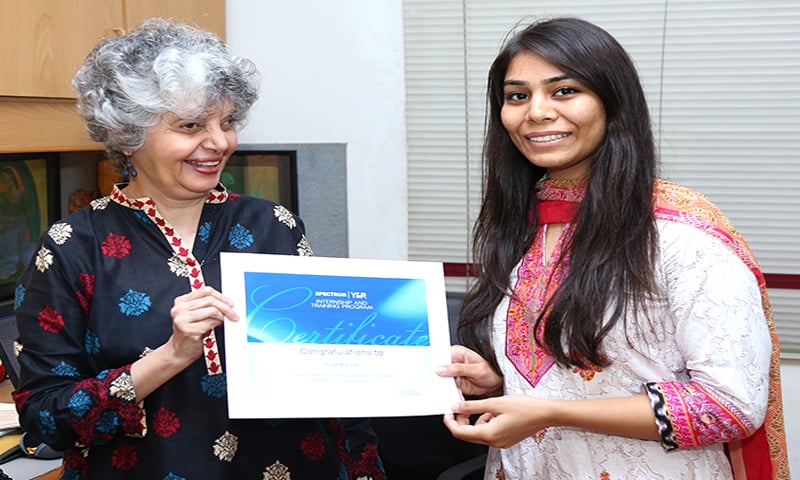 ---
"I see this programme as being more beneficial to the students and the overall advertising industry rather than just our agency."
Zohra Yusuf, Creative Director, Spectrum Y&R
---
During the training period, the students are given a feel of the entire advertising process, starting with the client services and strategy departments, then moving to creative (copy, design and audio-visual). They are also encouraged to spend a few hours every day in the media department to gain an understanding of the business. "When interns spend time in a department, they are assigned a person to supervise them and at the end of the programme, we assess them on the feedback given by those responsible for supervising their work," says Yusuf.
The programme is offered on Spectrum Y&R's website every year. Earlier, professional institutes would send a list of interns every summer, but lately, the students themselves taken have the initiative of applying.
Once the internship is over, depending on their calibre and the appropriate positions available, the students may also be offered jobs and so far Spectrum Y&R have hired students from the Indus Valley School of Arts and Architecture, Karachi University, CBM and Iqra University.
The agency plans on continuing this programme because as Yusuf puts it, "I see this programme as being more beneficial to the students and the overall advertising industry rather than just our agency."