Published in Nov-Dec 2022
Arooj Anwar gives her verdict on this year's advertising.
The year 2022 saw some of the most powerful ads in terms of emotional connection, communication value and reach. While some brands kept insight at the core of their communication, others used clichéd methods to try to be more "relevant" to Gen Z – which does not always work. Nevertheless, we saw some amazing campaigns in 2022. Some brands took a clutter-breaking approach for Pakistan's 75th Independence day, some took a shot at creating a behavioural change in society and still others tried to win over Gen Z with a different approach to their communication. Here is a roundup of the ads from 2022 which performed well, concerning messaging, reach and call to action.
Oreo – #75YearsYoung
The 110-year-old biscuit brand took a unique route to celebrate Pakistan's 75th Independence, all the while keeping playfulness and togetherness at the core of their communication. For the occasion, Oreo launched special, limited-edition biscuits, with Pakistan-centric designs and green packaging. This was a one-of-its-kind move in the history of biscuits in Pakistan. The designs depicted the Minar-e-Pakistan, Pakistan's national flower (jasmine), the chaand sitara from Pakistan's flag and the word 'Pakistan' written in Urdu (as opposed to 'Oreo'). The video featured a digital montage of Pakistani landmarks, including the Teen Talwar monument, the Khyber Pass, the Ziarat Residency, the Pakistan Monument in Islamabad and the Minar-e-Pakistan, all 'made' from Oreo biscuits. The visual storytelling depicted Pakistan's heritage in a unique and light-hearted way, which was a treat for all viewers.
Agency: Alt Story
Verdict: Hit. YOLO! (You Obviously Love Oreo)
Shan – #OathForHer
Shan Foods' #OathForHer took forward the brand's communication of lauding women for the roles they play in daily life. The ad is a blend of compassion and kindness and serves to uplift women's morale in their quest to achieve freedom of choice. The commercial addresses the fact that 77% of women doctors do not practice after qualifying for their medical degrees. The film opens with an oath-taking ceremony among medical graduates. A woman (Ushna Shah) is taking her oath to serve humanity to the best of her abilities, while her mother-in-law (Saba Faisal) watches from the audience. The film then shows Ushna on the job, treating patients while her mother-in-law is shown as her support system, looking after her child and even bringing lunch for her. The film urges people to strongly support their loved ones and share the responsibility of supporting women. The campaign was so well received that Shan Foods partnered with the telehealth app Sehat Kahani to increase female doctor participation in the workforce. This commercial is a perfect example of the fact that brands can do much more than pay lip service to an issue.
Agency: BBDO Pakistan
Verdict: Hit. Bravo!
Jazz – Awaaz Uthao, Farq Mitao
Jazz's campaign Awaaz Uthao, Farq Mitao is about the power of digital in supporting marginalised communities. The attempt to change perceptions is praiseworthy. In the commercial, a transgender person is shown painting a wall with the slogan "Awaz Uthao, Farq Mitao" in graffiti form and using digital media to amplify their voice. Jazz did not simply pay lip service to the issue of supporting this community, they walked the talk by setting up boot camps and workshops to empower the transgender community with digital skills.
Agency: Fishbowl
Verdict: Hit. Well done!
Servis Shoes – Sab Ke Liye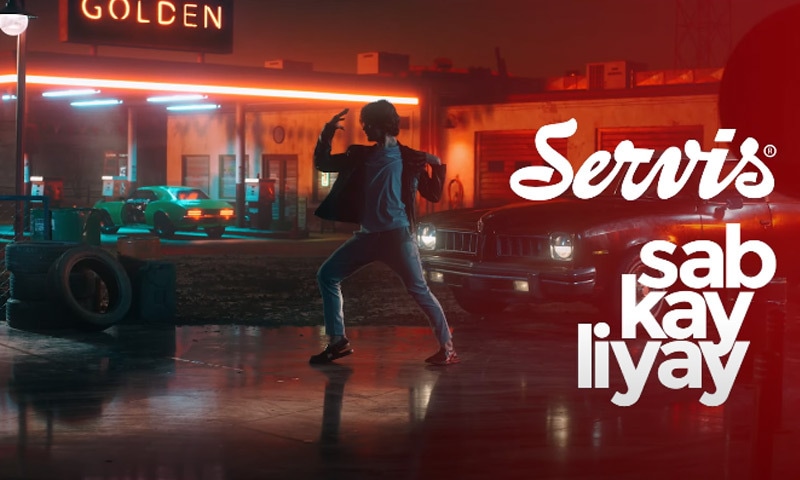 Servis shoes' 10-year-old jingle "Servis… Shoes for Everyone!" was a work of genius. The original ad was revived in 2020 and had Gen Z loving it their own way (creating memes). The jingle trended with the hashtag #ServiseShoesChallenge. When a brand sets a high benchmark, it becomes a challenge to come up with a follow-up which maintains that success, and this year's campaign, Servis Shoes – Sab Ke Liye, did not exactly maintain it. Although the shots were aesthetic (people dancing in a train, skateboarders, cyclers, and children playing with rabbits), the ad did not create a sufficiently strong hook for the audience and relevance and relatability lagged.
Agency:
Verdict: Miss. Where was Aunty Parveen?
SIUT – Ramzan Film
Usually, donation campaigns revolve around stories of pain, loss and illness. SIUT took a unique route by telling a story based on true events. The film opens with a shot of a grandfatherly figure played by Talat Hussain. Hussain is waiting while his grandson is looking for a box in a cupboard. When he finds the box, he also discovers the fact that for 50 years his grandfather routinely donates to SIUT; a routine he has not forgotten despite his memory loss. The strongest message was the fact that Hussain kept one line at the core of his action towards supporting the hospital, "Pewasta re shajar se, umeed-e-bahar rakh" ("remain attached to the tree and be hopeful that it will bloom in Spring"). The commercial is a perfect example of how to create awareness for donation drives.
Agency: Azadfilm
Verdict: Hit. Kudos!
Master MoltyFoam and Mashion – Mashaadi
MoltyFoam ads have always celebrated the father-daughter bond. However, this time the brand took up a different (and important) topic – domestic violence – in collaboration with Mashion. The film features Mahira Khan and communicates a message of courage to women who have been victims of verbal and physical violence. The film opens with the sounds of slapping and shouts, immediately cutting to a shot of a household where preparations are in full swing to receive a baraat. As Mahira Khan gets ready in her room, she has a traumatic flashback. When she tells her family about the physical violence she has endured, her mother asks her to let it go since "this is part of relationships". However, the father supports his daughter and turns down the proposal, telling his daughter to put herself first instead of society. According to a Pakistan Democratic & Health survey, more than one in four married women experience physical violence since the age of 15. Due to societal pressures, girls hesitate to say no to a marriage, even when they have seen the red flags in their partners-to-be.
Agency: In-house
Verdict: Hit. Courageous move!
Arooj Anwar is Content Manager, BBDO.