Zeenat Chaudhary speaks to Ali Farid Khwaja, Chairman, KTrade Securities Limited, about their investing app and ongoing plans.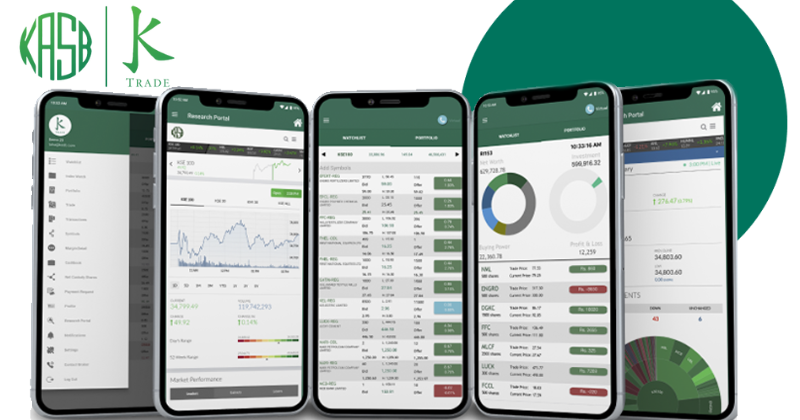 ZEENAT CHAUDHARY: What is KTrade Security's primary aim?
ALI FARID KHWAJA: KTrade Securities, formerly known as Khadim Ali Shah Bukhari Securities Limited (KASB), launched in April 2018 with the aim to democratise investments in Pakistan. With the KTrade App, we provide users with the ability to digitally trade stocks, access detailed and easy-to-understand financial information and education about the local stock market and, more importantly, address the issues that Pakistan's brokerage industry faces. Our mission is to get one million people to invest in Pakistani stocks in the next three to five years. We are the only VC-backed company in the brokerage industry (there are 26 investors in KTrade, including Zen Capital, the founder of Tencent Music, and the CTO of Goldman Sachs).
ZC: Why don't more people invest in Pakistani stocks?
AFK: There are only 250,000 people in the country who invest in the stock market, which is 0.1% of the population – the lowest even among smaller markets (Bangladesh has two million investors). People do not trust brokers as most brokers are investors themselves. They advise clients to only buy stocks they are buying, or they could be selling a specific stock and advise their clients to invest in it (so that its price increases).
ZC: Why was 2018 the right time to launch the app?
AFK: In 2017, with the increased penetration of mobile usage and a consortium of Chinese companies, including its three exchanges buying a 40% stake in the Pakistan Stock Exchange (PSX), made it the right time to technologically transform capital markets. How? By attracting people who have never invested/traded stocks before, especially younger people, to become stakeholders in Pakistani companies (one of the reasons why people are so disgruntled with the economy is because they are not stakeholders in it – if they are, they will get great returns and stop complaining about the economy and start becoming a part of it).
ZC: How does the KTrade app work?
AFK: Upload a picture of your CNIC, input your bank account/IBAN number, along with basic details such as your name and email address, and your account is opened. Once you have the app, you can access our research, which includes the financial performance and share prices of 580 publicly listed companies. You can also access KASB Varsity, a free online course – based on the Chartered Financial Analyst (CFA) curriculum – on how to invest your money. Furthermore, there are two options within the app: virtual trading (free learning) and real-time trading. We also have a campaign wherein KTrade gives you Rs 3,000 (you have to keep the money in the account for a year) to help you buy your first stock as people have three main concerns when it comes to trading: 'I don't know how to do it', 'I'm scared of doing it' and 'I'll lose my money'.
ZC: How would you define your target audience?
AFK: Since a CNIC and bank account is needed to open a KTrade account, along with a minimum balance of Rs 5,000, we cater to people over 18 and from SECs A and B. Our primary client is somebody with documented money who aspires to make more money by getting higher returns on their savings, rather than just five percent from a regular savings account.
ZC: How have you been reaching out to them?
AFK: Digital marketing (Facebook and Google) and TVCs/DVCs (we released an ad campaign called 'Complain na karo, invest karo' whereby the message was for people to play a part in the country's economy by becoming shareholders in local companies). We also invest heavily in direct outreach programs – we approach university students (we visit different universities twice a year and run an event called Training Titans – an inter-university competition where the top students win money and internships – and publicly listed companies (to encourage employees to be shareholders in their own companies).
ZC: What has the outcome of the marketing plans been so far?
AFK: We have been growing by 12% month by month, in terms of new customers opening accounts and entering the PSX. We have 284,000 registered users, out of which 8,000 are active customers conducting trading. The rest are actively engaged in learning how to trade.
ZC: What are KTrade's plans going forward?
AFK: We are always working to improve our product. The language used, the colours, the amount of information available in the app – we are still experimenting as we are at the start of our journey.
To download the app, click here.