The founding fathers of Pakistan's advertising profession... The industry's first superheroes.
THE POET PRINCE
PRINCE ABBAS MIRZA
(1904-1976)
It would not be out of place to quote Dina Wadia, where some similarity exists. "My father was not a demonstrative man but he was an affectionate and a strict father."
My father, Prince Abbas Mirza, known as Basu to his friends and Prince to his old acquaintances, was the grandson of the last king of India, King Wajid Ali Shah of Awadh, a large state in UP, with Lucknow as its capital, which my family ruled for over 126 years, until it was annexed by the British in 1857. He married my mother, a princess in her own right, who came from the royal family of Purnia. Very few people are aware of this royal lineage.
Everyone knows my father as the pioneer of advertising in Pakistan. Few are aware of his many accomplishments. He was a linguist; he could read, write and speak six languages –Arabic, Bengali, English, Hindi, Persian and Urdu. He was a patron of the arts. His house was full of paintings and artefacts. Whenever he came to know that an artist was in financial need, he would buy his paintings for his huge collection or gift it to others on their birthdays or weddings.
Most of the calendars and diaries designed by him were centred on paintings by various artists and they were considered to be collectors' items. He patronised dancing and he was criticised for bringing the royal culture of his ancestors to Pakistan. He was a poet and he published a book of nohas in the early sixties. He was a promoter of art and culture and a great philanthropist. He promoted education by giving lectures in colleges. He was the patron of Siraj-ud-Daulah College and the first President of the Pak-American Cultural Centre. He was the initiator in setting up Radio Pakistan in Karachi.
As a father, he was strict but caring. He wanted his children to do well in whatever they did in life. He would advise us, yet give us a free hand to venture into new projects so that we gained practical experience.
He moved to Pakistan when he was asked by his head office in Bombay to establish a branch office of D.J. Keymer in Pakistan. He worked hard and honestly to make it the largest agency of those times. He hired an Englishman, Mr Van de Burge, as General Manager to assist and train his staff as talent was difficult to find. He pursued a policy of hiring people from good family backgrounds and trained them to do well in their work.
Sanjar Mirza is Prince Abbas Mirza's son.
THE PATER FAMILIAS OF ADVERTISING
MOHAMMAD MUSHTAQ
(1920-2010)
My father Mohammad Mushtaq set up his agency National Advertisers in September 1947, after migrating from Delhi. Before Partition, he was in government service. Going into advertising happened by accident. Under normal circumstances, he would have gone into the family carpet business. However, given his literary inclinations, a newspaper publisher friend of his suggested he start an agency. Our initial office was on Dr Billimoria Street, behind the Jang Group offices.
My father had no expertise in advertising, but he was good at visualising. He could write good copy in English and in Urdu and deal well with clients. In those days, everyone was learning the trade and local expertise was almost nil. There was hardly any local industry.
Money was a big challenge in the early years; clients would advertise but would not have the money to pay. Matters improved in the fifties. Until the sixties, a lot of international companies were operating in Karachi and if we sent them an estimate, they approved it and sent a cheque for the full amount. They treated the estimate as an invoice and paid in advance. So, agencies were comfortable. Now things are different. Training and hiring staff was another challenge.
My father regularly brought work home and worked after dinner. His first client was Orient Airways (owned by the Ispahani family and the predecessor of PIA). Other accounts included Beach Luxury Hotel, East & West Steamship Company, J. Taylor (an automobile company), Pan American and Saudi Arabian Airlines (an account he handled for over 30 years).
Every work day, he would go to Ampis Cafe (near the Metropole Hotel) at one o'clock to meet clients. In those days, lunches were a common practice and there were many coffee houses and snack bars in Karachi. My brothers and I would accompany him about four times a week. He was fond of inviting people for lunch or dinner, either at a snack bar or at home. On Sundays, he would meet friends at Ampis for a longer time. Other places he went to included Zelin's Coffee House on Bunder Road and India Coffee House in Saddar. There was also Agha's Tavern and Agha's Grill, which his close friend C.A. Rauf would often go to. When he was not working, he would go duck shooting with his friends to Dhabeji and Haleji. He also loved travelling. He did not inherit any wealth and was a self-made man. He taught us that integrity was the most important thing in any business and I believe this is the reason why we have survived this long. According to him, there was no substitute for hard work. He always insisted on being cordial with his staff and on treating them like family. He enjoyed the best of friendships and relations; within the trade and with the advertising community at large.
Javed Mushtaq is Mohammad Mushtaq's son.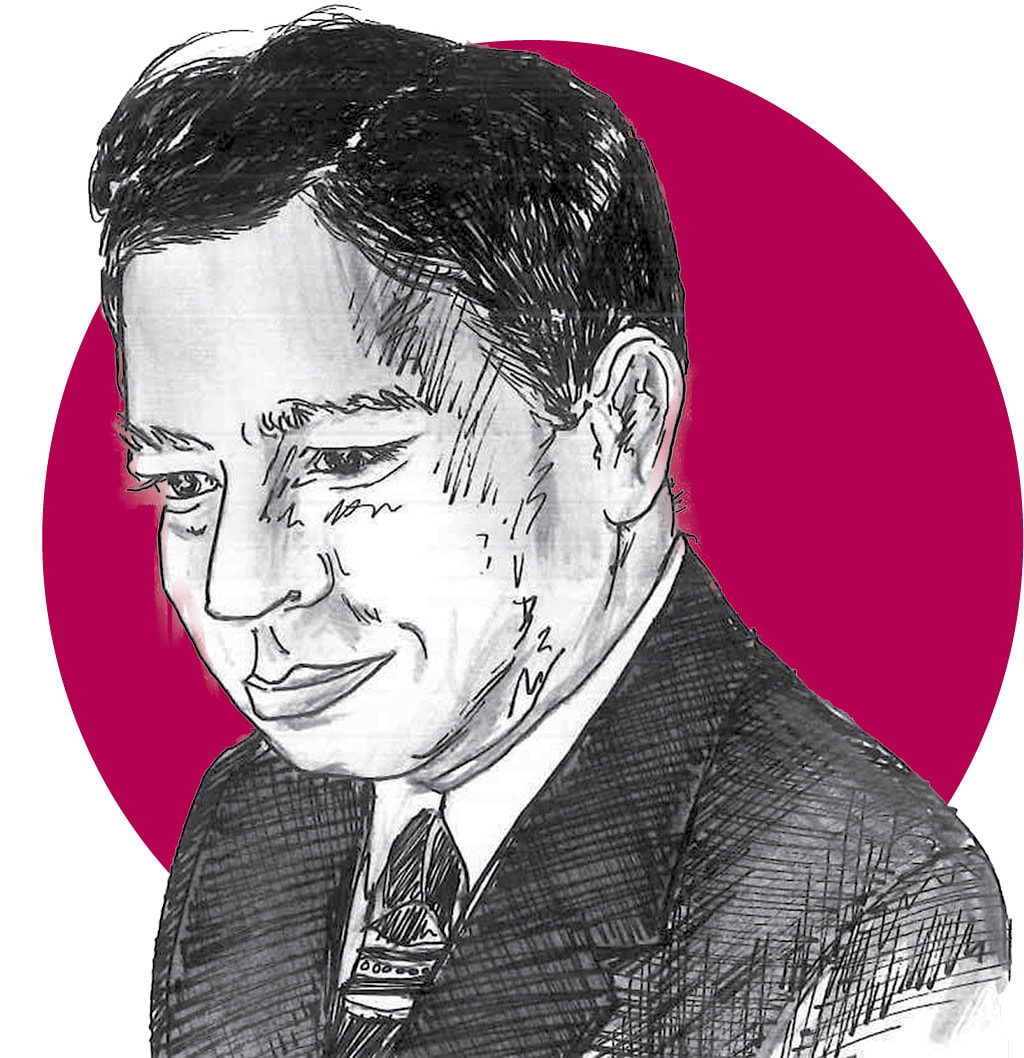 THE RISE OF THE ADVERTISING DYNAST
C.A. RAUF
(1922-2005)
"Lights! Camera! Action! And again... once more."
A tiny little me sits crouched on the landing of the rather perilous stairs of my grandparents' home, watching the action below.
Front door opening and closing, the glass doors to the living room revealing props, make-up and wardrobe, wires and equipment – a frenzy of people!
This was not unusual for me; rather a regular occurrence in my childhood. My grandfather's passion for his profession often found itself in our lounge, kitchen and living room! Commercials filmed using my grandmother's best china and celebrities adorning the furniture. And over all this, my grandfather presided, jovial yet thoughtful, going over every detail. I often thought that being on-set was his favourite part!
I feel exceptionally lucky to have grown up in such an atmosphere... for that was my launch into the advertising world.
A couple of decades later, as I joined the agency, my grandfather gave me some advice that still holds true. No matter what has changed in the industry, both on a professional level and a personal one, he taught me to position myself at the core of the ideation process; to think, ideate, strategise and write. His wisdom foretold that no matter where the world took agency life, the idea would always be its heart and soul.
Today, after almost 15 years in the industry, I have seen it evolve, change, morph... skills have appeared and disappeared... sometimes so seamlessly it's almost other-worldly! I have seen disciplines that were once part of agency life move to specialists... only to see some of them returning! The airbrush replaced by a mouse and the silver screen overtaken by a tiny little screen held in my hand.
The pace may have quickened and communication borders may have shrunk... but what remains at the core of agency life is the ideation... the thought... the tiny little 'thought-starter' that is the germ from where all great advertising is born. It is where creative thought meets brand knowledge and where a single sentence can become the spark for everything – from a simple video to a movement.
Quite simply, it is where brand stories are told... and it is this storytelling that has ensured that we, as creative custodians, are (and will always be) connected to our brands.
On a personal note, I have my grandfather to thank for imbuing in me a passion for the ideation process. For even though he loved being on-set, it was ideation that always won him over!
Amber Rauf is C.A. Rauf's granddaughter.
THE SUNFLOWER KING
CHAUDHRY ABDUL GHAFOUR
1936-2006
Chaudhry Abdul Ghafour was called Ghafour Bhai by many people in the industry and referred to as Baba-e-Ishtehari – the founder of advertising – due to the fact that he established Paktisers, an advertising agency, in the early days of Pakistan's existence.
In 1950, C.A. Ghafour's agency merged with International Advertisers, which was then headed by Sultan Mahmud and United Advertisers came into being. The partnership between the two men was a purely verbal one and no legal document was signed. The partnership endured for twenty years and in 1970, the two men parted ways on amiable terms, when C.A. Ghafour acquired Adarts, an agency specialising in outdoor communications at the time.
Under C.A. Ghafour's leadership, Adarts became a leading agency of its time and due to his expertise, many clients from United Advertisers moved to Adarts, including Rooh Afza, Tibet Snow and Mayfair confectionaries. Adarts made the first TV commercial for the latter and to date, the brand remains a market leader. The people who worked with him during the sixties and seventies included well-known artists Jamil Naqsh and Sardar Muhammad, who worked there as art directors, as well as his son-in-law Gulzar Ali, now the Chairman of the agency.
C.A. Ghafour wrote articles for several publications and was an accomplished broadcaster and telecaster. He served as President of the Pakistan Advertising Association for two years and secretary, for three. He represented the Association on the Central Advisory Committee for PTV in the Ministry of Information & Broadcasting for a number of years. He was interested in agriculture; in fact, he had a particular love of sunflowers which he grew in profusion on his farm at Gharo. He used to spend many weekends there, often with his advertising friends. He presided over the Anjuman Kashtkaran (Kotri Barrage), an association devoted to the welfare of farmers in the area for many years.
Due to his principles, C.A. Ghafour was looked up to by many people in the industry. The late S.H. Hashmi, who founded Orient Advertising, stated in an article in Aurora following his death in 2006: "I was extremely fortunate to have Chaudhry Ghafour as a friend and mentor. He was indeed like a role model for me – a person I revered and looked up to. He was not only ahead of me in terms of years of experience in advertising, but he was a man of tremendous intellect and insight. My affection for him grew with every passing day."
The late Akbar Ali, MD, Mass Advertising, added: "I knew him to be a man of his word and a magnificent person at heart. His love for his work rivalled his love for his every breath. Although he is no longer among us, he will always continue to live in our hearts."
Compiled by Mamun M. Adil.
THE CONNOISSEUR OF ADVERTISING
SULTAN MAHMUD
(1921-2009)
I knew him a lifetime ago. Time fades memories and feelings. Yet, the connection can never be broken. Do I feel guilty that I do not recall much, except for fleeting images? Unfortunately, most are tainted with images of illness and despair. I recall standing at the witness stand, stating my name for the court records as a teenager and representing my father, who had been sued by his creditors because the people who owed him money would not pay up. In those days, my father's word was his bond when it came to business dealings. With Alzheimer's overcoming him, the illness sucked him into an endless spiral of debt and decay. He would take a bus every day to his former clients' office to ask for the money rightfully owed to him. He was coldly turned down and told to come another day, and then another month. It was a painfully excruciating to witness this as a child. I remember a man who established United Advertisers in the fifties, and was one of the most respected and creative figures in advertising, competing against global markets when Pakistani advertising was in its infancy. He had the top echelons of Pakistan paying their respects to him, always the centre of attention. To see him reduced to a man who did not even remember the day of the week, in the end bedridden, with no one coming to see him was painful. Betrayed by the connivance of an artist and a servant, of whom he took care since he was a child. The grand theft of my father's art collection (put together over decades); his children´s inheritance. A conspiracy which involved various names from the dark world of art collectors from Pakistan to Dubai and London. Years later, I walked by an art gallery. A painting struck me with a sense of deja vu. I asked to see it. The price ran into six figures. I turned it around and saw scrawled in my childish writing, my name along with my parents'. I made a sound of dismay but immediately realised the futility of any action I could have taken. The memories are of anguish rather than of his fame. Of being penniless rather than wealthy. Of loss, rather than of his having been one of the greatest personalities in the world of advertising. His words still ring in my head. I went to his office after school. I was swirling around in his chair when he came in. "Daddy, when I grow up. I want to be in advertising." He smiled at me in the way only a father can. "This is the last place you want to work in Fari. Advertising is like prostitution. You will understand that one day."
When we were shifting house, I came across boxes of photographs of him receiving awards from presidents and prime ministers of Pakistan; moth eaten, faded like memories. I looked for his medals and awards but was told that the servant had given them away to a raddi-wala. Probably sold by the weight, for a few hundred rupees. Ashes to ashes, dust to dust.
Farheen Mahmud is Sultan Mahmud's daughter.
A SMOOTHLY SUAVE SALESMAN
N.A. BUKHARI
(1926-2017)
Nusrat A. Bukhari was slim and lean. He was a good conversationalist, with a perfect English accent. He came to Karachi in 1957 to establish a branch of J. Walter Thompson (JWT; their head office was located in New York, although he came from Bombay). Initially, the JWT office was located on the ground floor of the old Rally Brothers Building on I.I. Chundrigar Road; later it moved to Nelson Chambers on the same road. In the early days, the office comprised of a very small staff and barely any furniture except for a few stools.
At that time, I was working with Grants, an international ad agency, headed by Mr Davidson, a British gentleman who was born in India. One of our clients was Pakistan Tobacco (PTC) and I moved there to set up their design studio. When the account moved to JWT, Bukhari requested PTC to close down the studio as JWT would now provide them with design-related services. As a result, I was transferred to JWT and worked there with Bukhari before leaving for London where I joined W.S. Crawford.
During the time I spent with him, I realised that despite the fact that he came from a publishing background (he worked for Readers Digest in Bombay) and had no experience in advertising, he was a great salesman. He could sell a diamond to a donkey. He was also very social, and in no time, he secured several multinational clients, including Reckitt & Colman and ICI.
Bukhari's English wife, Pat, was a member of a theatre company called the Clifton Players. It was a voluntary organisation and membership was limited to British executives from multinational companies. The plays were staged at the Naval Hospital Auditorium and I attended one of them on an opening day. The chief guest was President Iskandar Mirza, wearing tailcoats and accompanied by his wife Naheed, in a long formal dress. Many CEOs from multinational companies were part of the theatre company and I saw many of them building the stage with their own hands; this was the level of interest in theatre in those days.
In 1969, Bukhari had a disagreement with the JWT head office and decided to open his own agency, which he named N.A. Bukhari & Associates. However, not long after, he closed the agency and left for the US. He then moved to London, and I met him at the Oriental Club on Bond Street during a visit. It was wonderful to see him again after so long, but he told me he was not well. A few years later, I learnt that he had passed away. N.A. Bukhari was one of the pioneers of advertising in Pakistan and I remember him fondly.
Anwar Rammal worked with N.A. Bukhari at JWT in the fifties.
THE LAST EMPEROR OF ADVERTISING
S.H. HASHMI
(1936-2006)
My grandfather Maulana Syed Abdul Qudoos Hashmi Madani was a well-known Islamic scholar, and our family was well-known and respected. Despite this, when my father S.H. Hashmi migrated to Pakistan, he had limited financial resources. That is why, he and his brother S. Matin Hashmi, decided to establish an advertising agency in 1953; doing so required fewer financial resources compared to any other business. Initially, because of his relations with the Haroon family (the owners of Dawn), the office of Orient Advertising was established at New Challi, where the newspaper's headquarters were located. The Haroons guaranteed our payments in case we defaulted and this was a huge help for my father and uncle. The agency's modest office consisted of two rooms. My father and uncle were stationed in one, while the other served as office space for their staff members. It was from these humble beginnings that Orient Advertising (now known as Orient mMcCann Pakistan) came to be, and since then, it has become one of the largest agencies in Pakistan. My father's forte lay in management and his excellent PR skills. Due to these qualities, the agency was soon able to secure accounts such as Ahmed Foods, Citizen Watches, Dentonic, Gul Ahmed, InterContinental Hotels, Sanyo Electronics, Valika and Vespa. My father was my ideal in every possible way and I was fascinated by his work and achievements. He used to talk about his work constantly and before I went to London for my higher studies, I used to go to his office and spend many hours there watching him work. I became so fascinated by advertising that at times I would bunk college and go to Orient just to see how the business worked. My father was a man of character. He was extremely hardworking; he used to treat his staff members like family. He was also extremely punctual. One day, on our way to meet a client, we got stuck in a traffic jam. Instead of waiting, my father got out of the car, hailed a rickshaw and made it to the client's office on time. He inculcated this habit in me as well. The biggest lesson I learnt from my father was to work hard and be honest with our clients; he told me many times that if we give our clients incorrect advice, just so we can earn a commission, we would be answerable to God. During my 30-year career in advertising, I have been rewarded for my work and received 'Tamgha-e-Imtiaz' in 2013. I attribute my success to the values instilled by my father. He was a man who, due to his dedication and hard work, was able to overcome the obstacles he faced during the course of his life; such was his success that he was bestowed with 'Sitara-a-Imtiaz' for his work in advertising.
Masood Hashmi is S.H. Hashmi's son.
THAT MAN IN MANHATTAN
BASHIR A. KHAN
(b:1926)
My grandfather, my 'Abba', Bashir A. Khan is a man like no other.
He was born and raised in Delhi. He came from a Yousufzai family and was the youngest of six brothers. His primary interest was sports, but he was gifted with a sharp mind. From an early age, he knew he was different from the rest, who felt they had to choose between sports and studies. He believed he could have it all, and he did, because he had something most couldn't even define… tenacity and resilience.
Abba graduated in 1945 from the University of Delhi. As the university was affiliated with Oxford University, he was awarded a five-year, all expenses paid scholarship. However, he was advised by Quaid-i-Azam Muhammad Ali Jinnah to specialise in communications and technology. So, he gave up the Oxford scholarship and went to the US and completed his education with three Master's degrees. In New York, he had the good luck to work with some of the most eminent personalities in advertising, such as Rosser Reeves and David Ogilvy.
In 1954, he returned to Pakistan and set up Manhattan International, with ICI as his first client. There was a dearth of trained people in Pakistan then and no university offered courses in advertising, so he began his own apprenticeship programme. The first few years were crucial and the total size of the business was small. But the agency worked with a number of reputable clients including the Pakistan Army, Navy and Air Force. The big break came when Manhattan won the PIA account. The campaign was launched under the slogan 'Great People To Fly With' – a slogan still used today.
Abba also served many presidents and prime ministers in rolling out their communication strategies to the public; he was an avid cricket commentator having played cricket for many years, followed by a keen interest in golf. He has written several books on a variety of subjects.
From a young age, he shared his points of success with us. His mother woke him up at four every day to study and play sports because she believed those hours would give him a headstart. His father taught him that "reading makes a man knowledgeable, conversation makes a man smart and writing makes a man perfect."
Abba stressed that one must have several interests in life. He said that whatever you do, believe in it and have so much passion that there is no room for doubt in what you do. Most of all, he told us that nothing matters unless you are a kind, honest person, conscious of the concept of humanity.
I am the luckiest girl in the world to be his granddaughter and there is never a moment that Abba doesn't make my heart overflow and dance with William Wordsworth's daffodils.
Neesha Dara Khan is Bashir A. Khan's granddaughter.
THE SUNDAY DEVOTEE
GHULAM HUSSAIN THAVER
(1913-1976)
Our father began his career as a customs officer in India. Later, he took up journalism in Bombay. By 1945, he was the managing editor of Vatan, a Gujrati newspaper founded by the Quaid-i-Azam. As editor Vatan, he participated in the struggle for Pakistan. After partition, he migrated to Pakistan and became the editor of Dawn Gujrati and GM of the Dawn Group of Newspapers. Advertising was in its infancy then and the media needed a unified platform. He floated the idea of forming an association – and thanks to his concerted efforts, and like-minded colleagues, the All Pakistan Newspapers Society (APNS) was formed. He worked with Dawn until 1953, after which he joined Morning News as Business Manager. By then, he had decided to start his own agency. However, he did not start right away because he did not like the idea of starting off with a debt. Later, with the encouragement of his friends and well-wishers, he founded G.H. Thaver & Company in 1956.
Among his first clients were Zulfeqar Industries, followed by Eastern Federal, Habib Bank, Ispahani Group, Bawany Industries, Ghafur Textiles and Hyderi Industries. The list grew with time. His clients were happy with him due to his professionalism and dedication to their best interests. For him, the only challenge was finding trained personnel for his agency.
As children, we went regularly to his office and were fascinated by the work he did. He did the copywriting himself and had a talented team for design and audio visual. Advertising was his passion. Every day, he would leave for his office by half past eight and spend the day working and socialising and did not return before nine. This was the routine he followed during his entire working life. His one peculiar habit was that as far as possible, he would only use products that he advertised.
Sunday was reserved for family. He would take us to visit his sister and then we would go to a restaurant. One of the restaurants we frequented was Pereira in Saddar; another was Cafe Grand. In the evenings, we would go to the Karachi Club Annexe for dinner. He was fond of bingo which he played at the Karachi Club and the Karachi Gymkhana with our mother and older sister. Every now and then, we would go with him to a movie. He loved playing bridge. His other hobbies included cricket, reading magazines and watching English and Urdu films. One of his favourites was Mughal-e-Azam.
He was a very religious and charitable man. Our office used to be on I.I. Chundrigar Road and every Saturday, he would feed the newspaper hawkers around Shaheen Complex's traffic lights.
Among the many lessons we learned from him was: "Whatever you do in life, never do it half-heartedly. Do it fully or do not do it at all."
Anis and Riaz Thaver are Ghulam Hussain Thaver's sons
THE PASSIONATE COMMUNICATOR
IQBAR MIR
(1926-1986)
Some thirty years after his untimely demise, our father, Mohammed Iqbal Mir's legacy lives on through the qualities that defined his personality – humility and humanity. A self-made man from a humble family from Lahore, he was the fourth child amongst eight siblings. He was determined to succeed in life and he did. He believed in hard work, integrity and compassion and these principles reflected in his personal and professional life.
He was a 'people's person', the proverbial good son, brother, uncle, friend, mentor and above all, a loving husband and father. He believed in tolerance and forgiveness and in building relationships and bringing people together. He was loved and respected by all; personally and professionally.
And this we say from our earliest memories of the relationships our father shared in his life with General Habibullah, Khawar Butt, Majeed Nizami, Mir Khalil-ur-Rehman, Mir Waqar Hasan, Syed Ijaz Hussain, Zaka Rahmatullah and especially Mrs Majeed Malik, fondly known as Amina Baji. Given his interest in politics, art, literature and music, a weekly visit to her house was a ritual. So whether he had jingles written by the iconic Faiz Ahmed Faiz, built campaigns for PPP in Punjab or collected paintings by Gulgee, he was passionate about life and embraced diversity. He was progressive and a visionary.
One relationship, which we must acknowledge, because it greatly impacted our lives, is the one he shared with the iconic Syed Asad Ali. Their relationship, which started as 'client and agency', turned into a bond of respect and trust and translated into a family friendship for generations. After our father passed away, we were blessed to have Syed Asad Ali in our lives as a father figure.
Dad was an avid reader; clearly etched are our memories of him reading books and magazines, especially at night, before going to bed. He encouraged us to read as well. To him, Dr Abdus Salam and Faiz Ahmed Faiz were people to be admired and looked up to as role models.
As a father, he made sure we went to the best educational institutions. He emphasised on good education and never to compromise on one's integrity. He would tell us that the best inheritance he could leave us with, was a good education. As for integrity: "It takes years to build it and only a moment to lose it all."
He held a Master's in Islamic History. Deeply spiritual, he would insist on a strong faith and the necessity to imbibe the spirit of Islam, not religiosity; to be kind and compassionate; tolerant and forgiving and to never judge people on the basis of their religious beliefs. Above all, to be grateful to God Almighty.
We see our father as a role model, but our pride in him is reinforced by the fond memories people share with us about him.
We proudly take forward his legacy passionately; personally and professionally.
Ayesha, Jamal and Kamal Mir are Iqbal Mir's children.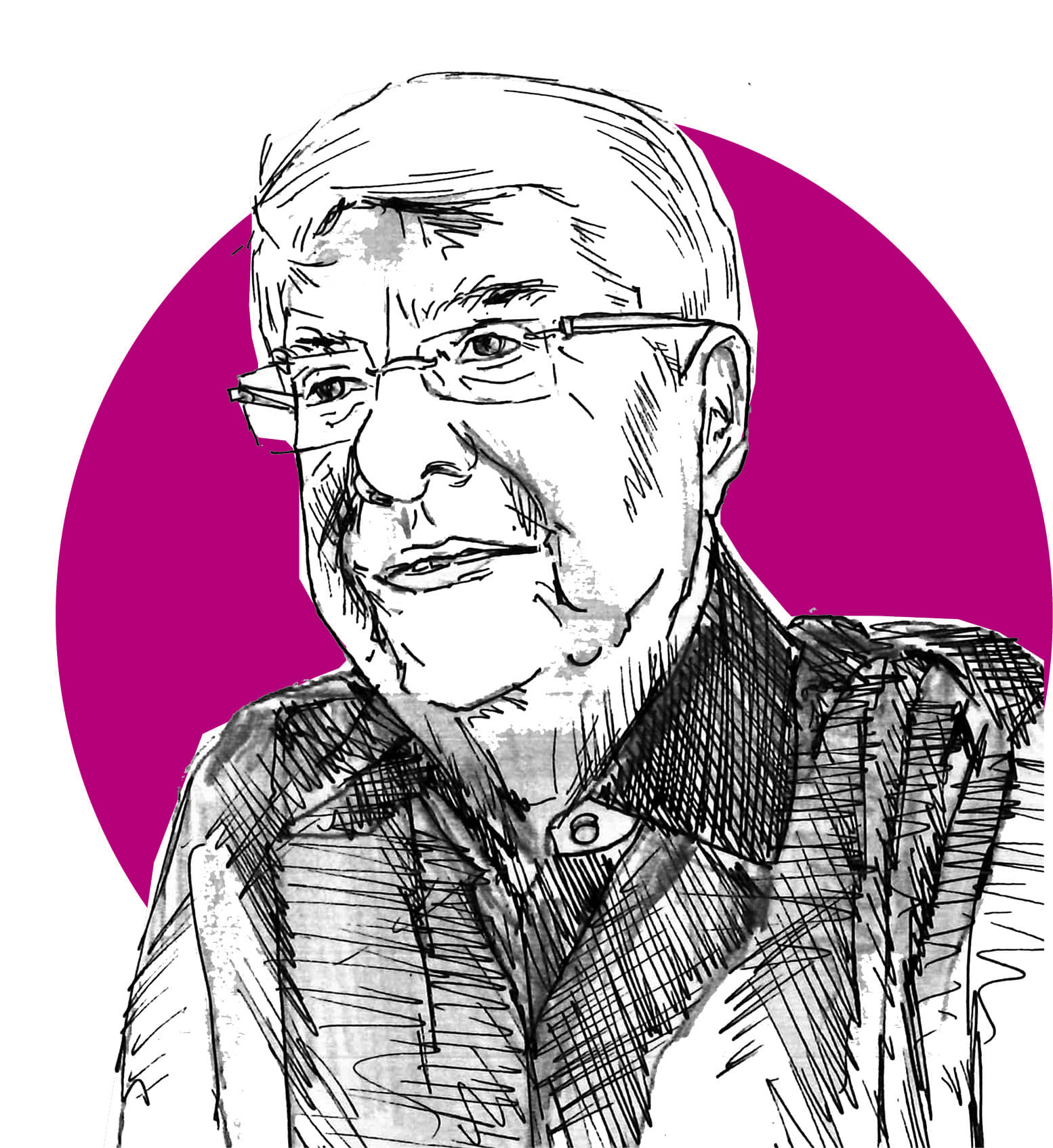 THE WHITE-HAIRED MILLENNIAL
ANWAR RAMMAL
(b: 1934)
There is a sudden burst of laughter. Listen carefully, and you can source it to an eclectic group of young and old gathered around. Peer further, and you see an animated, silver-haired gentleman, with an infectious smile, entertaining the crowd with one of his many stories. The man is our father, Anwar Rammal. An endearing man, synonymous with Pakistani advertising. His venture, Asiatic, still conjures memories of an era when the passion for making brands never lost its zest. Where everyone was family. And integrity was a given. The legacy continues in new, follow-on ventures.
A self-made man, our father has strong values which were ingrained through his parents and his faith. It has served him throughout his career in building institutions and grooming people, who went on to create their own ventures. Not one to indulge in politics or petty discussions, he always believed in and brought out the good in people. He never dwells on problems, only focuses on solutions. And that is the reason why everyone, young or old, rich or poor, turns to him in times of need or trouble.
A gregarious, people's person, our father is equally comfortable talking to his peers as he is to a Gen X, Y or Z. At work, he always maintained an open-door policy where anyone with a problem could walk in. Often, they would be greeted with a smile, then dried channas, followed by a solution.
Advertising has been a passion for our father. In addition to being an artist, his sense of wonder and curiosity is perhaps the most important trait that fuelled his passion as an adman. Often, he would return from travelling with dozens of books that helped him build a library with the latest references.
"Learn... the more you learn, the more there is to learn," he continues to remind us. An advocate of learning as a lifelong endeavour, he practices what he preaches. In his fifties, he learnt how to swim, and now in his early eighties, he continues to adopt technology like a Millennial.
A tenacious personality, he is never shy of asking questions and doesn't take 'no' for an answer. He is always up for travelling, which he advocates as one of the best of educations. A firm believer in experience as the best teacher, his life is full of adventures starting from hitchhiking Europe in the sixties. A trait that fostered his entrepreneurial streak, he encourages people to get out of their comfort zone, make mistakes and learn, but never at the cost of integrity – the one thing he will never compromise on. He was fortunate to not only have business partners that espoused the same values, but also a life partner that helped instil the same values in us.
We can only hope that the saying "the apple doesn't fall far from the tree" holds true for us.
Karim Rammal and Amin Rammal are Anwar Rammal's sons.
IN DEFENCE OF PRINCIPLE
FRAMROZE HOMEE PUNTHAKEY
(1923-2009)
Framroze Homee Punthakey walked into the maddening world of advertising from the staid world of newspapers. His father, Homee F. Punthakey and his brother, Jehangir F. Punthakey, established one of Karachi's few Anglo-Gujarati weekly newspapers, The Parsi Sansar and Lok Sevak in 1909.
He read newspapers with zeal, and counted many newspaper barons, journalists and printers among his friends. But advertising was his passion. His early break, after graduating with an LLB degree from S.M. Law College, came in 1948, with the Sind Observer, where he worked as a junior reporter. In 1950, he landed a job as Advertising Manager at Pakistan Herald Publications.
He joined D.J. Keymer in 1952. In those days, budgets were small and everyone was roped in to help, often without payment. When he told people that Aslam Azhar (PTV's first MD) modelled for a Cherry Blossom shoe polish advert he directed, there was general disbelief.
My father bridged both worlds; the needs of the under-commissioned artist of the sixties with the elaborate Eid cards his clients wanted. He visited the studios of artists to choose paintings for the Eid cards. Mohammad Amin was a prolific artist and sculptor and he painted several Christmas cards for his clients at D.J. Keymer. Sadequain, Jamil Naqsh, Zainul Abedin and Shakir Ali were his friends. The paintings he chose for Mahmood Ali, then MD of Beecham, for his Eid cards form a substantial part of a rich manifestation of Pakistani artists over a three-decade period. He taught those who worked with him to love poetry and value history and heritage. He believed there was a social contract between advertising and the arts.
Exacting and meticulous in the transmission of ideas from clients to those who worked with him, his brief often ended with "see if you can better the client's idea." His clients valued his integrity and work ethic.
He joined Asiatic Advertising in 1968 as a Partner, and under him and his partners, Asiatic expanded into a leading agency. His interests went beyond advertising to incorporate social responsibility toward the ancillary world of advertising, artists, journalists and small-time printers. He counted as his friends journalists such as Abdul Hameed Chapra, Minhaj Barna and Wajid Shamsul Hasan, former Pakistan High Commisioner to the UK, and the poet Habib Jalib Sahab.
He wrote letters to the editors, sometimes as many as two a week, some under his own name and many under the nom de plume F. Ali. An acronym of the name 'Fali' his friends called him by. He wrote about his beloved mangroves, the disappearing trees of Karachi, the corruption of the generals, saving Sindh's architecture and waterways and in support of democracy.
During the dark years of military dictatorship, he refused several attempts by APNS to present him awards for his long stint in advertising. He declined saying he could not accept an award from the hands of a military dictator. When Benazir Bhutto became Prime Minister, he accepted the APNS Golden Jubilee Award for his achievements. As his name was announced, the President of APNS bent towards Benazir and said this man has refused the award twice because of his views about military dictators. As he approached the stage, she stood and gave him a standing ovation. Nothing could have pleased him more, as he had been a witness to her courage in defence of democratic ideals. In 2007, he received the Aurora Lifetime Achievement Award for Advertising Excellence.
He began his professional career when advertisements were first engraved on copper plates; when he left the advertising world, the digital age had taken over.
Firoza Punthakey Mistree is Framroze Homee Punthakey's daughter.
THE QUINTESSENTIAL ADMAN
S.M. AKHLAQ
(1933-2005)
"Socho, samjho, ghaur karo." "Think, Understand, Analyse" was the advice our father would dispense, whether it was an academic assignment, the everyday chaos around us or a work problem. As children, we would parrot it like a mantra, but as an adult, I marvel at the simple, yet comprehensive advice so relevant today, when the struggle for authenticity, relevance and meaning is more acute than ever.
He had the ability to get to the crux of the problem at hand, whether it was politics or a marketing challenge. People were drawn to him; colleagues, acquaintances, family and friends, all valued his insight and seeked his advice on all matters, serious or trivial.
An unusually high EQ enabled him to engage with anyone, regardless of age, gender or background. His inner child would revel in interacting with children, while his philosophical side would engage adults in deep conversations. He was a great mentor to musicians, editors, artists, photographers and other people around him, many of whom acknowledge their time with him as some of the most enriching of their careers.
An avid learner, he was inventive, never afraid to experiment and explore, even with limited resources. His ego was non-existent and he had no qualms about getting down into the trenches, whether to develop a complicated dance step with a master choreographer, teach the finer points of knitting to the people involved in an ABC wool TVC, or shadowing a graphic designer in order to learn the basics of Photoshop.
Keenly attuned to the world around him, he was never at a loss for the inspiration and insights that underpinned his work. The innocent pleasures of childhood games that became his most popular jingle for ABC NewKnit; the special father-daughter bond that set the scene for a Binaca TVC, or even the way music influences and affects us at a deeper level.
He gave us a taste of the power of visual thought in the way he would transform our random doodles and scribbles into drawings or cartoons: wit and humour translated into visual form. It was always about creating beauty and impact in the simplest of ways. Markers were his preferred tool; the broad, chiselled-nib – Artline-90-marker in particular, as it allowed him to write equally fluidly in Urdu or English and draw boldly and expressively.
Beauty, to him, was about simplicity; in thought and execution. Whether it was a campaign, a jingle, a logo or a drawing made for a grandchild, his work was exquisitely crafted and profoundly simple… so simple that one couldn't help going "Aha!" And while his creative mind was unfettered and unbound, he was unshakeable and steadfast in his work-ethic. He didn't suffer fools gladly and many a person and client got a taste of his blunt honesty. Some people recall his intransigence, but it was always on issues that were close to his heart. Many more will vouch for the fact that despite the muddied waters of the creative and media, his ethical compass never wavered. More than anything else, it is perhaps this that is his most enduring legacy.
Adnan Syed is S.M. Akhlaq's son.
NOBODY DOES IT BETTER, MISTER BOND
JAMSHED QURESHI
(b: 1943)
On a warm Karachi day in April 1965, a young man of 22 decided that the only way to get ahead in the advertising business was to start his own agency. So, with three employees, a couple of years of experience and two clients, Jamshed Qureshi started Bond Advertising. It was not an easy decision but he never took the easy way out. A born entrepreneur, he followed his gut. Bond received the fastest accreditation in APNS history and he was in business.
The same year, war broke out between Pakistan and India. Times were tough, yet he rode out the first year and there was no looking back.
Those were heady days. A young country was finding its feet. The advertising industry was made up of a handful of stalwarts and Jamshed was up there making his mark. The campaigns rolled out fast and furious: Masterpillow and MoltyFoam. Alamgir Rayon, Wyeth, Parke-Davis, Souvenir Tobacco, Yamaha, Kawasaki, Honda and Gandhara Industries to name a few. Today, Bond Advertising carries on his legacy as a leading creative and media agency along with a PR and digital arm.
His father N.A. Qureshi, a graduate from Oxford University and the first Judge Advocate General of the Pakistan Navy, impressed upon his children the importance of integrity and working for the collective good. This advice remains Jamshed's mantra.
Jamshed ran his business with great acumen. A people's person, he acquired clients and made friends easily. Popular and gregarious by nature, he always found time for people, both in his profession and his family. He is the rock around which his family anchors itself. His gentle disposition and love for children is only surpassed by his deep-seated resolve to be a support to whoever needs him. His capacity for giving in all spheres of his life is remarkable.
Jamshed decided early on that he had a role to play in the development of Pakistan's advertising industry. He joined hands with his seniors and was among the youngest recruits in the then Advertising Association of Pakistan (AAP). He later went on to become a founding member of the Pakistan Advertising Association (PAA).
He had a burning desire to build a robust platform for the industry. Working with S.H. Hashmi and Mukhtar Azmi among others, he devoted his energies building up the industry. As PAA President, he spearheaded many congresses and played a key role as part of the organising committee of AdAsia 89 Lahore. From holding excellence awards to managing media and government affairs, he did it all. He took on many battles. Protecting the smaller agencies and fighting for the underdog were all part of the roles he carved out for himself. On the international arena, he represented Pakistan at the Asian Federation of Advertising Associations and was elected as its President.
Always respected, his opinion carried weight. He was trusted by his colleagues and peers for his principles and sense of fair play. He bridged many a gap. Conquered many a peak.
When Jamshed is in the house, a way forward is always found and tomorrow never dies.
Seema Jaffer is Jamshed Qureshi's daughter.
PRESS ON REGARDLESS
SHAHZADA AHMED SHAH
(1928-1995)
SASA Day was always celebrated on October 25th. It was a glittering affair, with a guest list of Karachi's who's who, clients and the SASA clan.
Shahzada Ahmed Shah or Lal Mian, as he was popularly known, had every reason to celebrate. The advertising industry was on an upward trajectory and SASA was a leading player. So, SASA Day was on the calendar every year, just like Pakistan Day! The man behind the agency had a certain je ne sais quoi; an irrepressible zest for life and a magnetic persona. Clients would often drop by just for his energising company. His particular flair came through in the work and in brand SASA.
Lal Mian's early years shaped him in more ways than one. His family belonged to the Sadozai tribe, with roots in Central Asia. His parents had close links with Bhopal's ruling family through the marriage of his paternal aunt Begum Maimoona Sultan to the Nawab of Bhopal. Lal Mian and his six siblings were orphaned at an early age and his aunt and Nawab Hamidullah Khan became their legal guardians.
After Partition, he struck out on his own, arriving in a freshly-minted Pakistan, with not much except hopes and dreams After a stint with the Pakistan Air Force, his imaginative and artistic nature led him to a new career – advertising. By now, he was married to Laila Javeri, who was to become a well-known Pakistani artist.
Lal Mian's career started at Adarts under the guidance of Abdul Ghafour. Eventually, he and his wife Laila started their own company, Oyster, which grew to be the biggest outdoor agency in East and West Pakistan.
In 1965, he expanded his horizons and SASA (Shahzada Ahmed Shah and Associates), a full-service agency was born. Its iconic campaigns like Red and White's 'Away Away Away From the Ordinary' and 'Satisfaction' were quintessentially seventies: bold and sophisticated. Pakistan Air Force and Karachi Shipyard were SASA's anchor accounts. Consistently great work on HM Silk Mills, Forhan's, Ponds, Robiallac Paints, Lawrencepur Fabrics, Pak Suzuki, Pakistan Army, PSL, Pakola, Kohinoor and Isuzu, made it a top-notch agency.
SASA veterans remember even today his inimitable style. "Don't bring me copy that's as flat as a chapatti! "Copy should have a cadence. It should be a like a raag," and he would hum a fragment of Bharivi or Raag Bhopali for inspiration. Frequent meetings or a concern would end with the slamming of his fist on the desk and instructions to 'Press On Regardless' – his personal tagline. He was not easily thwarted; once even driving to the airport on a flat tire to catch a flight for a crucial meeting in Islamabad.
SASA was a magnet for talent and a springboard for many a successful career. A person who was intrinsically a SASA man was Mahmud Sipra, a creative maverick and movie producer, known for award-winning work on the Red and White account. It is ironic that while remembering SASA Days for this piece, newspapers carried the news of his death. Sipra passed away on March 1, 2018, joining his friend and another SASA stalwart Masood Hasan of Publicis, who died in 2014.
As the fortunes of Karachi declined in the late eighties and nineties under Zia, unfortunately so did SASA's under the stewardship of a younger generation. Although an empire had fallen, Lal Mian's legacy lives on in the advertising professionals he trained, many of whom went on to head their own agencies. Even today, anyone in the industry can benefit from his magical formula: mix romanticism with stoicism, embrace your dream and Press On Regardless.
Semyne Khan is Shahzada Ahmed Shah's niece.
A PRACTITIONER AND A GENTLEMAN
SYED NASEER HAIDER
(1938-2006)
When I was growing up, my father's profession was an enigma to me. Whilst my friends had fathers who pursued careers such as banking or medicine or business, mine seemed engaged in mysterious activities. We were often told that he was away on a shoot when he travelled overseas. What did that signify? I mean, was he busy chasing big game in some exotic land? And then there was this shadowy figure called the 'client' who seemed to be taking up a lot of his time. It was only as I grew older that I understood the nature of his business (aka advertising) and the respect he commanded in the industry.
Numerous tributes poured in when he passed away. Here is one by Javed Ansari in Newsline (May 2006): "Not only was Naseer Haider one of Pakistan advertising's most respected professionals and the quintessential adman, he personified that now 'sadly rare breed' – the perfect gentleman. Polished, soft-spoken and innately dignified, Naseer Haider's professional and personal life was marked by an exemplary code of ethics and an old world charm."
My father was a self-made man. He started his career as an account executive at United Advertising. He later joined IAL, then the in-house agency of PIA. His prodigious knowledge of PIA was widely acknowledged. As Javed Ansari notes: "If PIA was to name one person outside the airline who played an anchor role in building the airline's image over the past 40 years, it would be Naseer Haider." When IAL was privatised in early 2000, he became the Chairman and CEO.
During a career spanning over four decades, my father came to be regarded as a mentor, a guide, and above all, an exceptional friend. In this context, it would be valid to mention how he and the charismatic Javed Jabbar struck a chord that developed into a lifelong friendship, based on mutual affection and respect. Abu was working at United when he met Javed uncle, who was then a student at Karachi University. My father immediately sensed the talent and potential of the young man and asked him to write a caption for his client, American Life Insurance Company. Javed uncle obliged with: "Sign a Treaty with Tomorrow, Get Life Insurance Today." Thus, in a manner of speaking, some credit for the launch of someone who would be internationally recognised as an icon of Pakistan's advertising industry, goes to my father.
Having been at the helm of IAL for almost 40 years, my father was synonymous with the company. My mother, who joined the agency in 1998, recalls how during pitch presentations, he would first introduce his team by their name and designation. Coming to himself last, he would say: "And I am IAL. Also known as Syed Naseer Haider."
As my father's obituary befittingly remembers him: "His life was gentle and the elements/So mix'd in him, that nature might stand up/And say to all the world/ "This was a man!"
Indeed he was. A rare breed. I am proud to be his daughter.
Nida Haider is Syed Naseer Haider's daughter.
SOAP & SOUL
JAVED JABBAR
(b: 1945)
Javed Jabbar is no ordinary man and no ordinary father. To catalogue his talents, roles and achievements is no easy task.
He is a writer, speaker, conservationist, former senator and minister, film-maker, documentarian, mass communications expert, intellectual, social activist, policy analyst and aficionado of all things sweet and chocolaty.
Our father is a man who may sleep, but never rests.
The indefatigability of his spirit is perhaps best manifested in this anecdote. He once landed in Karachi at midnight after a flight from Geneva. After barely forty winks, sped off at six in the morning; an eight-hour drive in the blistering June heat to attend a meeting of his development organisation in Nagarparkar. He has the uncanny (and enviable) ability to be as at ease with the Secretary General of the United Nations as he is with a village schoolboy in interior Sindh.
Books, films and music were ubiquitous in our universe. With books stacked from floor to ceiling, one could not help but absorb at least a hint of what they contained. We have never seen him without at least two to three books, which he reads simultaneously and with equal relish. Conversations with our father about his travels, be they about his experiences in monitoring elections in Namibia or leading a delegation to Guatemala, gave us a sense of wonder. Small talk with him is brief, because it magically transforms into an exchange of ideas and a discussion about the world around us.
The melodies of Louis Armstrong, Sam Cooke and Hemant Kumar provided the soundtrack of our upbringing. Our musical appreciation was born with classical jazz and songs fromSouth-Asian films from the fifties and sixties, which he shares with our mother, Shabnam Jabbar.
One thing our father is not too adept at is dealing with household chores and issues. That formidable task has always been in the hands of our mother, an enterprising woman who has run our house with love, care and discipline.
Abba is a deeply loving and an affectionate man who believes in family. Often punctilious, manners are ever-important. We remember being told to stand up when elders enter a room, to say salaam and to be courteous and polite. He is a man with a hearty laugh, a booming voice and unremitting generosity.
Seneca once said that "it is a rough road that leads to the heights of greatness." Our father has travelled down this road. Our grandfather, Ahmed Abdul Jabbar was the Deputy Commissioner to the Nizam of Hyderabad Deccan when it was annexed in 1948. Narrowly avoiding execution, he left in haste for a fledgling Pakistan. A few years later, as a nine year-old boy, our father boarded a ship alone for Karachi and an unknown future.
From stateliness to deprivation, the fall was sudden, stark and lonely. With meagre resources and by the sheer strength of his discipline and talent, he worked his way through life's many obstacles to reach the heights of greatness where he doesn't rest today.
Mehreen and Kamal Jabbar are Javed Jabbar's children.
AN ARISTOCRATIC MARKETER
HASAN NAWAB EFFENDI
(1930-2011)
In the early fifties, my father was one of the only two students sent on a government scholarship to the US to do his Bachelor's. He stayed there until 1957, where he did his Master's in Education and studied Animation and Design at Indiana University Bloomington in Chicago. When he returned, he joined J. Walter Thompson (JWT) as the Art Director. Twelve years later, he was heading JWT.
JWT wrapped up operations in 1971. Due to my father's hard work, loyalty and professionalism and in the interest of the employees, JWT said he could continue with the same setup in the same office in Nelson Chambers on I.I. Chundrigar Road, but it would have to be under his ownership and a new name. Hence, Paragon Advertising came into being in 1972.
From the time he headed JWT, and then Paragon, each and every multinational was my father's client. You name it and it was there. Phillips, Aspro Nicholas, Pakistan Tobacco Company, Esso, Exxon, Reckitt & Coleman, Coca Cola, Richardson Vicks, Kiwi and Kodak. Apart from multinationals, Paragon's client list included most of the top government corporations and local companies. It was this impressive portfolio that enabled Paragon to sweep every successive year, a record number of APNS Top Business Performance awards along with PTV and Pakistan Advertising Association Excellence awards.
In 1978, he produced a film called Amber, which became the biggest hit of the year. Starring Nadeem, Mohammad Ali, Mumtaz and Deeba, it ran for almost a 100 weeks in cinemas.
Many distinguished advertising and media personalities worked and trained under his guidance, including Anwar Rammal, Sarmad Ali, Shahnoor Ahmed and Taher A. Khan. He was also extremely fond of Javed Jabbar.
In the nineties, he signed an affiliation agreement with McCann Erickson – the world's largest agency at the time. P&G too made their debut in Pakistan through Paragon.
He had strong work ethics. He would be at work before anyone else. I never saw him arrive late for work or a meeting. He never avoided calls or missed campaign deadlines.
He was a gentle person; artistic, creative and intelligent. As the grandson of Saqib Lakhnavi (a noted poet of India) and raised in his company, he had a keen interest in Urdu poetry. Apart from his nana, Mirza Ghalib was his favourite poet. He loved to play the flute; he was also fond of playing cards and of socialising. Not a day went by when he was not invited out; it was difficult keeping pace with him.
He was a very loving father. He wanted me to be a scientist and I studied science until my A-levels. However, while studying in London, I began to take an interest in advertising and in 1986, I joined Paragon.
When he passed away in 2011, he was still actively going to the agency. He completed 54 years in the advertising profession, which was his first and true love.
Tipu Effendi is Hasan Nawab Effendi's son.
THE LITERATEUR FROM LUCKNOW
SYED AHMED ALI
(b: 1935)
Syed Ahmed Ali was born in Lucknow and migrated to Pakistan in October 1958. As he had done his Masters in English Literature in 1956 from Lucknow University (he obtained a first class degree), he took a job as a Lecturer in English Literature at the Jamia Millia Government College, Malir. Later, he joined Usmania College in Nazimabad in the same capacity.
About 18 months later, owing to his considerable writing skills, he was introduced to Jamil Siddiqui, the owner of Stronachs, a British advertising agency based in Karachi. He took to advertising like a duck to water and soon became involved in every process of the advertising function. He was put in charge of major accounts such as KLM Royal Dutch Airlines, Firestone Tyres and Glaxo Laboratories. During this time, he also made cinema commercials (TV didn't exist in those days) and worked closely with Eastern Studios.
In 1961, he joined Adarts as an Account Executive and worked on accounts which included Pakistan Cables and Lederle Laboratories. He left Adarts 18 months later because there wasn't enough work to do and he didn't see a future there. He then joined JWT, which at the time was the number one agency in Pakistan. Headed by N.A. Bukhari, where by all accounts, his growth was phenomenal. In 1969, he was selected by Bukhari as the person best suited to be sent for further training at JWT's offices in Sydney, Melbourne, Manila and Tokyo. Shortly after his return Bukhari left JWT due to disagreements and Hasan Effendi took over.
In 1972, JWT closed operations in Pakistan and Syed Ahmed Ali decided to set up his own agency called Fourays, in partnership with Muktar Azmi, Masood-ul-Hasan and Khaula Qureshi as minority shareholders.
The agency started off in two rooms located on the ground floor of the annexe of the Palace Hotel (Moven Pick Hotel). Later on, the Haroon family (publishers of Dawn) provided him with more spacious premises in the Al Haroon Building on Garden Road. Thanks to his previous experience at JWT, he was able to secure a number of their major clients, including the InterContinental Hotels chain.
Syed Ahmed Ali ran Fourays for almost 40 years and retired in January 2010.
In his own words: "I am very proud to have been in advertising and have loved every minute of my association with the profession. If given a second lease of life and God asked me what I wanted, I would ask him to give me advertising again."
Compiled by Anusha Zahid.
THE ARTICULATE NINTENDO ENTHUSIAST
SHAHNOOR AHMED
(b: 1951)
As I work with my father at Spectrum Communications, I was asked to write about him. I suppose this is to share a side of him other people may not know about. In the 40 years of Spectrum's existence, the agency has won awards at Cannes, Campaign Asia, APNS, PAS, Aurora and PTV. Spectrum started in the days when agencies controlled the entire communication budget of all their clients; it continues today with a fully-equipped digital team that builds up local and international brands. I know this still isn't the reason why I was asked to write this piece. I am here to write about the man, the legend Shahnoor Ahmed. In advertising, we try to be original.
Let me start by telling you that we watch a lot of TV. Hours and hours of local and international programming that silences the family room in the way only good programming can. However, the moments I remember the most from those younger days are of the commercial breaks. When we watch a TVC together as a family, we take it apart. Is this what they are trying to say? It looks good. The music is cheesy. From the story and the visuals to the overall objectives, this exercise becomes very entertaining, even for the most annoying of ads. And then, just when we feel that all that could be said about a particular commercial has been said, the commercial runs again and reignites the conversation.
Shahnoor Ahmed has worked in advertising for so long, has experience of so many different industries that there is rarely a business he doesn't know something about. By something I mean that he can articulate the challenges, strengths and weaknesses of the business. This brilliant side of him comes to life when he mobilises the whole agency to respond to a brief in a way that will put us in their shoes, face the same challenges and then find the way forward that may go beyond the communication.
In our world, we are quick to build profiles of people based on their age (Millennials, Gen Z, etc) and their stereotypical characteristics. Shahnoor Ahmed defies any generational analysis. Always soft-spoken, he is able to connect with people of all ages and is more involved in social media and the internet than many Millennials. These generalisations are still useful for strategy but its best not to take them personally. A sense of humour is crucial for life.
Here are five things you may not know about Shahnoor Ahmed. He has a perfect golf swing on Nintendo Wi; he only sleeps four hours at night; he owns a Labrador named after Marlon Brando; his favourite place to shop is online; he has a job that he enjoys so much, it doesn't feel like work to him.
Omar Ahmed is Shahnoor Ahmed's son.
A BESPECTACLED MASTER BUILDER
TAHER A. KHAN
(b: 1957)
Best known as a pioneer in the advertising industry, with almost four decades of achievements linked to media and communication, my father, Taher A. Khan, is a force to be reckoned with. A creative wordsmith with an analytical mind, an eternal optimist, astute, philosophical, compassionate and courageous, he is a dreamer as well as a doer.
He has always maintained that hard work, discipline and continual learning are at the core of success. At the age of 22, while most young people in his peer group, were still finding their way in the world, my father had begun a career in advertising, married his soul mate and started a family. As a young professional, he was dedicated to his craft, yet maintained a balance between work-life and family. He may have arrived late at our birthday parties, but he never missed a single one.
My father started out as junior copy writer at Ravi-Delmon, where he discovered his talent for creative concepts and copy. In 1983, he founded Interflow Communications with my mother Seema Taher Khan. At the time, this idealistic pair had limited finances. What they did have was a strong partnership, drive and passion. Today, Interflow Communications is not only considered to be one of the leading local advertising agencies, it is part of the Interflow Group of Companies, comprising 16 companies, all set up by my father. With all three of his daughters involved in the business, my father now refers to himself as being a 'semi-retired business owner'.
My father has always been an entertainer. Throughout our childhood, my sisters and I would huddle around him to listen to his fascinating stories and laugh at his corny jokes. Given his gregarious personality, he enjoys being surrounded by loved ones and hosting dinners several nights a week. He is known among his friends as the life of the party. He is exceptionally good at captivating crowds and often becomes the centre of attention in any room he walks into.
One of my father's greatest passions has been education and learning. While growing up in Bangladesh, he was a star student. He excelled academically both at Karachi Grammar School and at university, although he maintains that while good grades are important, they are not a marker to success.
In the last couple of years, I have also seen my father give more importance to 'me time'. On any given Sunday afternoon, he can be found playing Sudoku or completing a crossword puzzle. He is also deeply spiritual; he believes in a balanced life and that prayer and faith in God are what has kept him grounded in times of stress.
My father is driven by the need to perpetually evolve, both as a businessman and a human being. As a self-made man in a country like Pakistan, he has learnt to be resilient and steadfast. He does not believe in giving up and hopefully, he will continue to move forward with great passion, inspiring generations of young entrepreneurs to come.
Samar and Sahar Taher Khan are Taher A. Khan's daughters.
THE COMMUNICATIONS WHIZ-KID
IMRAN MIR
(1950-2014)
My father, Imran Mir, is known for his monumentally, scaled, minimalist Modern paintings and equally astute design work.
His design career began when he was 19 and still in art school at the Central Institute of Arts and Crafts (CIAC), in Karachi. After he graduated from the Ontario College of Art and Design, he worked in New York at Milton Glaser's Pushpin Studios.
In 1977, he returned to Pakistan and after brief stints as Creative Director at Asiatic and IAL, he joined Pakistan Herald Publications in 1982, where he was entrusted by Hameed Haroon to set up an in-house creative department. He inducted two star students from CIAC, Tannaz Minwalla and Mannan Hatim Ali to the team. Thus began a golden period of graphic design in Pakistan.
He rebranded and redesigned Herald, The Star and other publications along with their marketing and promotional material. As a result, the readership graph of these publications took a leap upwards. Herald won three INMA awards almost immediately – competing against giants such as the The Guardian, Newsweek and the NYT.
In 1987, Imran Mir left the DAWN Media Group to set up his own full-service advertising agency, called The Circuit. He designed the logo, a red circle and conceived the tag line 'Creativity That Works'. The red circle was to become the hallmark of bold, groundbreaking branding. And game-changing advertising.
From small brands such as S. Abdul Khaliq Mithai to global giants such as Samsung, his advertising had a huge impact. Most leading brands in the market today have reached their halls of fame by walking through the corridors of The Circuit. His involvement went to the extent of visiting his clients' work environment to see whether their work space and ethics matched the image he was building for their brand. Such was the demand for his creativity that at one point, The Circuit was handling five major banks.
He not only produced successful ad campaigns, he revolutionised how they were made. He was the first to introduce computers in design in 1988. He was also the first to set up a state-of-the-art post-production house. In 1990, The Circuit acquired an international affiliation Foote, Cone and Belding.
His art informed his advertising. Any space became his canvas. He was an authority on font selection and negative space and instinctively knew what went where and what should not.
All the while Imran Mir, the artist, continued to grow and flourish. Exhibiting in both Pakistan and overseas, and recently at the Mohatta Palace Museum.
Imran Mir was Chairman of CircuitFCB. Brilliant yet humble, until his last working day, he could be found, not in his office, but in his agency's studio with his team whom he loved, and who worshipped him as a mentor. Imran Mir accepted nothing short of excellence and delivered above and beyond. He told my brother and I: "There is no room for mediocre people. Do anything you want. But do it best." No one better exemplified this than Imran Mir.
Kenan Mir is Imran Mir's son.