Published in Jan-Feb 2018
The company that dwarfs Alibaba in size and scale.
Steven Wright famously quipped: "If it is a penny for your thoughts and you need to put in your two cents' worth, rest assured somebody, somewhere is making a penny."
Although said humorously, the saying does encapsulate the business model of the modern social media titans of the world. They have the seed of a great idea, build agile technology that serves customer needs around it and once they hit the critical mass of a global audience, user-generated content becomes the norm, which helps the platform achieve exponential and organic growth.
While this model has worked for most tech companies and social media platforms around the world (or most of the world), there is a hold out in the path of their global dominance... and a big one at that. China.
This Asian rising power, despite a commitment to free enterprise and globalisation (neatly packaged as Market Oriented Socialism), is a no-go area for global social media and e-commerce giants such as Amazon, Google and Facebook (and their popular app holdings). Yup, you guessed it. No Google, no WhatsApp, no Facebook, no Pinterest, no Instagram, no Snapchat.
However, with a population representing one-sixth of humanity and one with a huge appetite for social interaction, as well as retail therapy (on the back of rising disposable incomes), China is a massive opportunity for any tech firm. So, when foreign internet firms refused to work within the straitjacket imposed by the Chinese government, home-grown Chinese dotcoms rose to fill the gap. Fast forward a couple of years and many of these companies now have total dominance over China's internet landscape, with user bases numbering in the hundreds of millions, if not more.
Although much has been written about Alibaba (China's answer to Amazon) and their founder Jack Ma, there is a Chinese company that dwarfs Alibaba in size and scale – both in terms of user base and valuation. This is Tencent, a Shenzen-based Chinese investment holding conglomerate, whose many subsidiaries specialise in providing internet-related services and products, telecommunication services and technology, primarily in China and globally, in markets with large Chinese diasporas.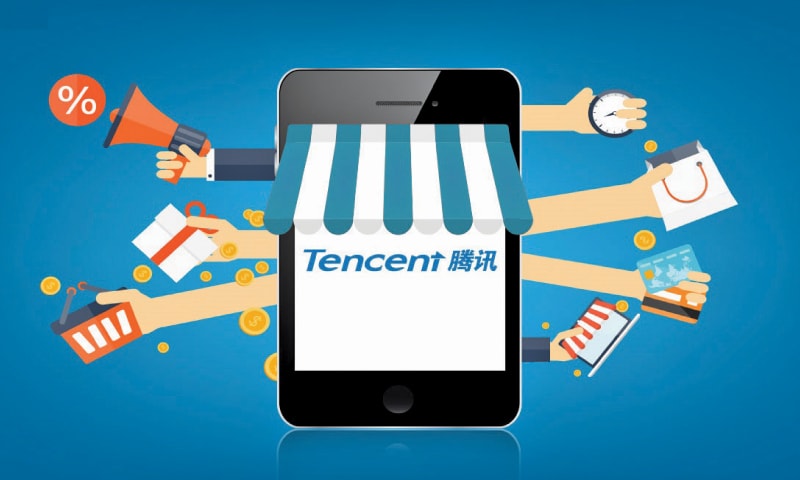 As of September 2017, Tencent (named so because of the similarity to its original Chinese name, Téngxùn Kònggu Youxiàn Gôngsî – meaning 'Soaring information') has been listed on Hong Kong's Hang Seng Stock Exchange and valued at a whopping $522 billion (Facebook is valued at $519 billion), making it Asia's highest-valued company. It is also the first Chinese company to cross the $500 billion valuation mark, much to the chagrin of Alibaba, which is worth $480 billion.
Founded in 1998 by a group of Chinese tech entrepreneurs with venture capital money, Tencent's early success came from QQ (pronounced Chi-Chi), an ICQ-esque inspired live chat tool. Although nothing groundbreaking from a technology standpoint, QQ was the first chat tool to be available to China's burgeoning young population, offering them access to like-minded people with similar interests and enabling them to chat, befriend and even flirt.
Pretty soon the company's customer base exploded and from thereon, there was no looking back. A host of other apps and games were incorporated into the QQ ecosystem. Next came WeChat, China's answer to WhatsApp. Within the next few years, the app garnered a user base of a billion plus. Today, more than two-thirds of China's population is active either on QQ or WeChat (it has a daily user base of 350 million plus people who spend a whopping four hours on the app). Compare these numbers with Facebook, Instagram and Pinterest, where the average user spends less than an hour a day on the apps and it is clear that these staggering numbers are cementing Tencent as a social media colossus by any standard.
Unlike other Chinese dotcoms, Tencent followed a different business model, partnering with foreign investors early in the game and picking strategic business stakes in a number of companies with interests in online gaming, internet warehousing and technology innovation. Today, the company owns hundreds of subsidiaries in areas such as e-commerce, retail, video production, agriculture, software development, ride-sharing, venture capital, e-banking automobiles, food delivery, space exploration, Unmanned Aerial Vehicles (UAVs), renewable energy and courier services.
Many credit the growth of the company to two men. The first is co-founder and CEO, Ma Huateng (aka Pony Ma), considered the tech genius who designed the model that merged gaming with social media and helped Tencent achieve the necessary critical mass of followers. The second is Martin Lau, the Stanford- and Northwestern-educated President of Tencent, who has become the public face of the company (Ma is notoriously media shy) as it crystallises its breakout from the Chinese market.
Tencent say that what sets them apart from other Chinese companies is the fact that they have firmly kept their focus on the journey. In other words, rather than looking for a specific stock price or market share, their success has been the ability to realise the vision of building a successful ecosystem that would enable the IT-centric lifestyle of Chinese netizens. Every success is seen within the context of achieving this vision – more a means to the end rather than an end in itself. To instil the importance of the journey rather than of milestones, the company took their leadership and mission-critical personnel on a two-day excursion on foot across the Gobi Desert in inner Mongolia. Today, most of China uses WeChat and QQ not only to communicate, but also to link up, crowdsource, order food and even ride-share.
Increasing the number of ways that users can interact with Tencent apps has proved hugely rewarding. Chinese netizens now spend 1.7 billion hours a day on Tencent apps, more than all other app usage combined in the country.
Another key difference in the growth strategy of Tencent has been what has been termed as the 'mafia' effect. When Tencent launched, the company initially tried their hand at everything – search engines, e-commerce and online social networks. Many of these initiatives lacked traction and were seen by Chinese competitors as a rip-off of their platforms. Realising that copying competitors would not only fail to win customers, but would take away resources from more successful initiatives, Tencent used their deep pockets to buy stakes in those companies. For example, they closed down their search engine operations and merged them with Sogou, one of the fastest-growing search engine companies in China. Similarly, they closed down their floundering e-commerce website and invested a 15% stake in JD.com, China's second largest online retailer after Alibaba. Pretty soon, all these companies were wired into the QQ and WeChat ecosystems, giving them access to a user base that would otherwise have taken them years to build.
Tencent's rivals claim that this organic growth was not quite as aboveboard as it seems. Rather, in their view, it was through a combination of government pressure (Tencent employs over 7,000 members of the Communist Party) and the threat of investing in competitors across every category that helped Tencent persuade many companies to join their juggernaut.
Be that as it may, Tencent's next challenge is to break onto the global stage. The first phase has involved moving into markets with large Chinese diasporas who want to have connectivity back home in China. To this end, Tencent created China's first virtual bank to take advantage of online transactions and inward remittances. Furthermore, a few major global acquisitions were made, which saw the company pick up stakes in companies such as Tesla and Snapchat.
These acquisitions have not only given Tencent access to new technologies and intellectual properties, they have also signalled that the company has come of age and found a place among the likes of Amazon, Google and Facebook.