Published in May-Jun 2017
Haris Qadeer, CEO, Marketing Works, the production house behind award-winning TVCs for Servis Shoes, Colgate and Nestlé.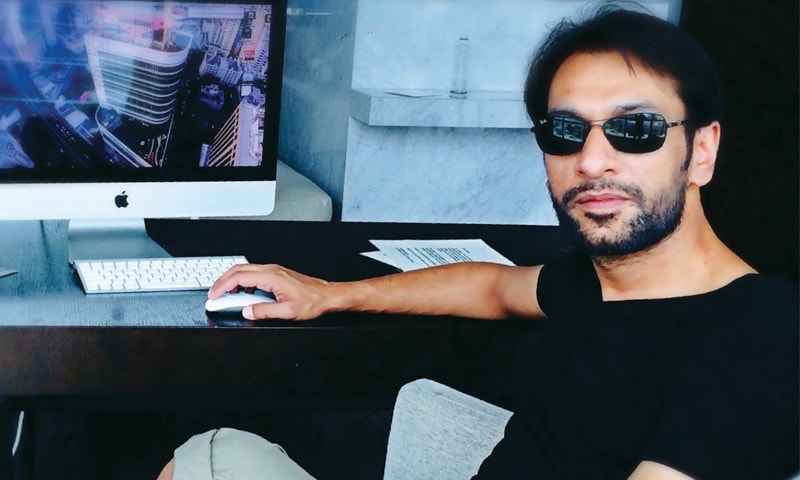 SAMI QAHAR: When I proposed your name for this interview, the first question I was asked was: "Who is Haris Qadeer?" So I am asking you, "Who is Haris Qadeer?"
HARIS QADEER: I have been in the industry for almost two decades. If after these two decades, there is still a question about who is Haris Qadeer, then I have either done a great job of keeping myself away from the limelight or I have not done anything worthy of note. I would like to think it's the former. However, it also goes in line with the way things work in this industry. Actors are known. Directors are known. Producers are not generally known. The concept of an independent ad film producer started a few years ago in Pakistan and hopefully in the future, they will gain the same kind of recognition that directors get.
SQ: Take us through your two-decade journey.
HQ: I started my career in 1999 (after graduating in Design & Visual Communications) in the creative department at Maxell Advertising. This was followed by another job in the audiovisual department of another agency and this is where my interest in film production came to the fore and I ventured into the relatively unchartered field of 'line production'. I started my own production company in 2001, called Production Works, and I worked on quite a few music videos and TVCs. In 2007, I was entrusted with producing a TVC for a well-known multinational company and that led me to start a production house, which is how Production Works became Marketing Works, and the rest is history.
---
"Independent producers provide more options, be it in the form of local or international directors, as well as in terms of the technical support people."
---
SQ: Why do you think producers and directors should be separate?
HQ: There are two types of producers in the ad business. Some producers work with a particular director from a particular company, others hire the director they want to work with. The latter are called independent producers. Directors and producers need to be separate because when you hire a producer, he will tell you which director is best suited to shoot a particular concept. Before independent producers came on the scene, clients were dependent on the agency. We have made the job of the agency easier in the same way media buying houses have made it easier for creative agencies to focus on their core competency. Independent producers provide more options, be it in the form of local or international directors, as well as in terms of the technical support people. This creates internal competition, reduces production costs and broadens the horizons of the industry. Normally, directors will work with their tried-and-tested unit.
SQ: What challenges did you face when you started out as an independent producer?
HQ: When I started in 2001, the concept of line production only existed within production houses. When I announced myself as a TVC producer, without having a directorial showreel, no one took me seriously or trusted me to deliver the kind of product they were used to getting from established directors – even though we offered cost-effective solutions. In such times, you need someone to give you a chance and in this regard, I cannot thank the late Shahid Iqbal (then Marketing Director at Colgate Palmolive Pakistan) enough for having taken the risk of giving his production work to us. My best friend, Ahsan Rahim, agreed to work with me on this project, although it was a small one for him. The success of the project resulted in gradual acceptance by the market and today, we have more than 300 ad films to our credit.
SQ: You have been criticised for shooting abroad and not working with local talent. What is your response to that?
HQ: I have been asked this question a few times before. Firstly, most shoots take place in either Karachi or Lahore. We have four to five good DoPs, four to five good makeup artists, selected directors and there is enough work in the market to keep them busy. However, clients and agencies have their deadlines and sometimes we don't have any option but to go abroad to shoot. Also, it's not entirely true that I don't work with Pakistani talent. I have worked with many Pakistani directors when shooting abroad. I prefer taking actors from India or other countries, but the reasons are logistical. It takes five days to get a visa for Thailand from Karachi, and more than a week from Lahore. I don't have to worry about this when it comes to foreign talent. It's a logistical reason to meet deadlines and reduce complexity. The one thing which I would never do is use Indian celebrities.
---
"I prefer taking actors from India or other countries, but the reasons are logistical. It takes five days to get a visa for Thailand from Karachi, and more than a week from Lahore."
---
SQ: How can we eliminate using Indian celebrities in our advertising? HQ: There is a very simple solution. A few months ago, I was watching a talk show, where the host was criticising the appearance of Indian celebrities in Pakistani ads. In the first ad break, three ads had Indian celebrities in them. That is the irony. The onus lies with the TV channels. They have their censorship policies, so they can have their celebrity policy too. Just as they will not show content with guns or bad language, they can refuse to accept ads with Indian celebrities in them. If clients and agencies know their TVCs will not be run by the channels, they will stop using Indian celebrities. Channels just need to define a censorship policy with regards to Indian celebrities.
SQ: What are the issues that are impacting Pakistan's ad industry?
HQ: Firstly, there is a lack of studios and technical staff. Everyone wants to be a director. Not many want to be an art director or incharge of costumes, or a location master or a casting director. There are not many people who can design a good set. Educational institutes teach advertising from a marketing, visual design and direction point of view; hardly any teach set design, casting and art direction – so these are learned on the job. Secondly, there is a dearth of regional local talent; the business is centred in Karachi and Lahore. When we have to shoot in Multan or Faisalabad, we have to take people from Karachi and Lahore there. If local technical staff was available in those cities, this would be both cost- and time-effective. Thirdly, there are no TVC directors' or ad film producers' associations. In developed markets, such associations can lobby and make changes even from a government perspective. I don't see it happening in Pakistan, because people do not cooperate enough with each other and people in the industry have not realised the need.
Sami Qahar is a Dubai-based Pakistani looking for excuses to write. Aurora gives him a few. sami.qahar@gmail.com