Published in Mar-Apr 2017
Pakistan State Oil, after a hiatus of almost 10 years, launches a corporate campaign to mark its 40 years in business.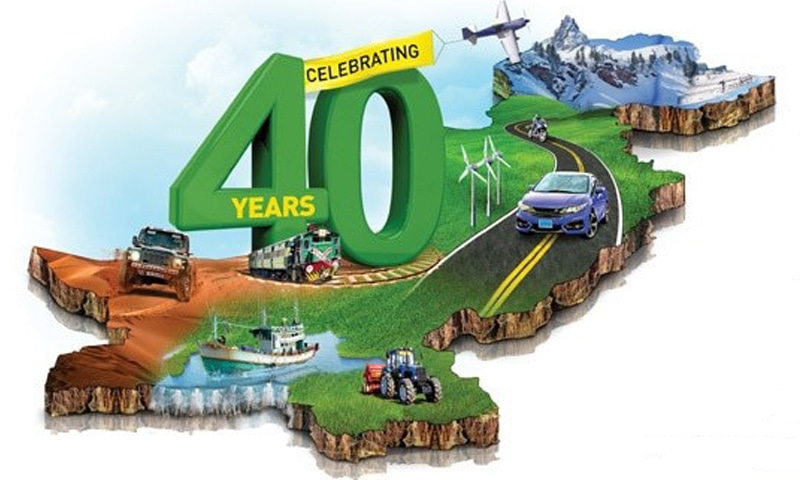 Pakistan State Oil (PSO), after a hiatus of almost 10 years, recently launched a corporate campaign to mark 40 years in business. What makes this campaign different is that for the first time, the company has focused on the retail customer base.
The blue-chip oil marketing company (OMC) had thus far primarily advertised in print, and that too, only on national holidays. However, now that the other OMCs are actively making their presence felt through advertising, PSO did not want to lag behind.
"Product marketing was not very popular in Pakistan earlier, and for PSO, one way to advertise was always through its retail outlets because those are the customer touch points; whatever we do, whichever product we launch, it is visible there," says Mariam Shah, Brand Manager, PSO. Moreover, she says that petrol is an essential item and whoever wants it, has to go to a petrol station and is bound to see any new product, regardless of any fancy campaign. "But that does not mean that we should not advertise."
In 1974, four private companies (Pakistan National Company, Premier Oil Company, Dawood Oil and ESSO) merged into a single 'state-run oil marketing company' called Pakistan State Oil Limited and to date, this public sector company has primarily engaged in oil and lubricants marketing. Other OMCs PSO is competing with are Shell Pakistan Limited, Hascol Petroleum Limited, Total Parco and Attock Petroleum Limited in petroleum products, and Zic Oil and Chevron in lubricants. The principal activities of the company include supplying fuel to power plants, industries, the armed forces, airlines and ships. The company has a market share of over 50% for Petroleum, Oil and Lubricants (POL) products. With retail outlets amounting to 3,500 and a storage capacity of approximately a million metric tons, PSO represents 68% of the total storage capacity owned by all OMCs in Pakistan. Despite the company's circular debts touching almost Rs 280 billion (source: DAWN), it has always been a profit-making entity. The company posted a profit-after-tax (PAT) of Rs 10 billion during the first half of this fiscal year (1HFY 2016-17), 49% higher than Rs 6.9 billion PAT for 1HFY 2015-16. This increase is largely due to a shift in working towards sustainability and differentiation from the competition. To this end, PSO introduced the higher-grade RON – environmentally-friendly gasoline, Altron Premium and Altron X High Performance for the first time in Pakistan in November last year. In the first week of January 2017, it introduced another environment-friendly and Euro-II compliant product – 'Action+' diesel in the country.
Shah says that despite the product innovations which have helped PSO stay profitable, the company had no proper advertising strategy due to various reasons, including changes in the government and management. The current management however, she says, is pro-advertising, added to which, support from the Government and the 40 years celebration made it the right time to launch the campaign.
The corporate campaign, that began on February 1, was launched via print and a TVC. The focus has been on retail fuels (mogas: petrol and diesel) and its consumers (railways, aviation and passenger vehicles – trucks, cars, motorbikes, tractors) with a tagline in English and Urdu: 'Every Journey Begins Here' and 'Har Safar Ka Aghaz'. Both in the TVC and print ad, all four routes (roads, railways, air and sea) are highlighted along with the company's recently launched products suitable for each route.
"This time we focused completely on our Business to Consumer (B2C) segment and their everyday journey. We have tried to showcase all products so that our customers can see we are part of their journey be it petrol, diesel or lubricants," says Shah.
Although in previous campaigns PSO did focus on the supply chain, the outreach, the number of retail outlets, the sectors it fuelled and the largest storage network, it never did make the connection with retail clients: the truckers, motorcyclists and tractor drivers. According to Shah, the company has had great brand loyalty, proven through research which revealed that the heritage aspect played an important role in making people choose PSO outlets. "'Pakistani company hai, humari company hai' is what a trucker said," she quotes, highlighting the significance of the 'P' factor in PSO that comes out very strong and adds "we feel very proud of it." To connect with audiences, PSO took an emotional route to speak directly to them and say: "We are there for you; we are ready to serve you." Moreover, she adds that as most OMCs are focused on product advertising (talking about their brands and benefits), PSO wanted to do something different and began first with a corporate campaign and then went into product advertising later.
---
"This time we focused completely on our Business to Consumer (B2C) segment and their everyday journey. We have tried to showcase all products so that our customers can see we are part of their journey be it petrol, diesel or lubricants."
---
Mahgul Jawed, GM, Bates & Interflow, adds that initially the company approached the agency for a product campaign. "PSO had brought in new environmentally-friendly fuels: RON 92 and 95, and they wanted a first-mover advantage. They asked us to brand the two products." However, given that the company was launching a TVC after many years and recently celebrated their 40th anniversary (December 30, 2016), the agency suggested that rather than doing a product campaign, a better idea was to opt for a corporate one that would encompass all products and routes. "Fortunately, PSO's board members liked the idea and we took it from there," Jawed adds.
The company wanted to communicate the 'Pakistaniat' of the company without actually saying it. Since it was about journeys, mobility or sawari (transport) were the key words used, while the word 'aghaz' or beginning conveyed the message that PSO's networks facilitate the beginning of every Pakistani's journey. The script, written by Tariq Burney, Hania Masood and Ella Hussain (the Creative team at Bates & Interflow) was narrated by Naday Ali. The TVC was directed by Baber Sheikh and included locations from all provinces. According to Jawed, "if you notice, it is not one of those high-end adverts; we have highlighted every kind of route and vehicle to try and encompass all of Pakistan in one ad and say that we cater to all of them." The two products promoted in the campaign are Altron and Altron X. The word is a blend of two words: Ultra and RON, which makes it Ultron but was later changed to Altron. "Despite the change in spelling, a desi person will pronounce it the same way; as 'ultron' so the essence of the two letters is intact; it is just a smart play on words," points out Jawed.
Currently, along with the TVC, there is a print campaign running in all national and regional newspapers. This will then be followed by individual product campaigns and here PSO will allocate the budget according to the specific consumer segment they are targeting. "Action+ diesel is consumed by truckers, so we will do more OOH advertising on highways. Also, there will be ads in the regional newspapers and radio channels," says Shah.
In terms of challenges, Shah adds that due to the receivables issue things can get stuck. "If there are crunches in terms of liquidity, it does have an effect on the marketing budget, but from this year, PSO is committed to catching up with the advertising trends among OMCs.