Published in Mar-Apr 2017
Rupali Foods launches a new range of biscuits under the brand name 'Whistlez'.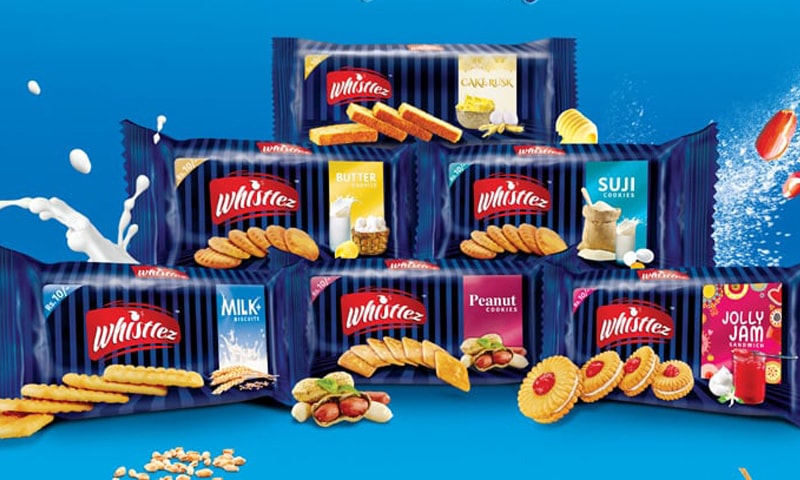 According to Euromonitor, the biggest story in the biscuit industry for 2015 was the 'Nankhatai wars' launched by Continental Biscuits Limited (LU) and English Biscuits Manufacturers (EBM). Both companies advertised their brands heavily to drive sales and the ensuing competition contributed heavily not only to the popularity of the brands but also fuelled growth in the industry.
Pakistan's biscuit industry is estimated to be worth Rs 100 billion (source: Aurora September-October 2014 – 'Deer forays into biscuits') in which the major players are EBM, LU, Ismail Industries (Bisconni) and Asian Food Industries (Mayfair biscuits).
The industry, in the closing financial year 2014-15 grew by seven percent with sales of over Rs 45 billion (source: Nielsen), with a large contribution from EBM that led sales with a value share of 36% followed by LU 30% (source: Euromonitor). What has contributed to the continued dominance of these two companies? Two factors: a wide range of biscuits and continued investment in marketing.
Jumping now on the bandwagon and all set for competition is a new entrant named Rupali Foods that recently launched a range of biscuits under the brand name Whistlez.
"Food and snacks is a growing industry in Pakistan and there are a few major players in the biscuits market who have driven growth in the category. We are hoping to create our share of consumer mind and pocket in a shorter span of time," says Ahmed Feerasta, CEO, Rupali Foods.
The marketing campaign for Whistlez was launched in January 2017. Adcom Leo Burnett handled the creative and digital campaigns and the media planning and buying was managed by Brainchild Communications.
Whistlez is targeting both children (seven to 16 years) and adults (18 to 32 years) and since the target demograph is two distinct age groups, the brand has come up with a diverse range of biscuits, including Peanut and Butter Cookies, Jolly Jam Sandwiches, Milk Plus and new variations of traditional tastes in the form of Suji Cookies and Cake Rusk; Jolly Jam and Milk Plus for children and the rest for adults.
According to Feerasta, the biscuit industry is not capital intensive from the machinery point of view, rather it requires hefty investment in developing the brand and this includes identifying the right design, packaging, name and tagline. The company, liaising with the creative team, conducted an extensive research study via numerous focus groups and Central Local Tests (CLTs) over a period of nine to 12 months in order to come up with the packaging which they believe stands for 'quality and class'.
---
Since the target demograph of Whistlez is two distinct age groups, the brand has come up with a diverse range of biscuits, including Peanut and Butter Cookies, Jolly Jam Sandwiches, Milk Plus and new variations of traditional tastes in the form of Suji Cookies and Cake Rusk.
---
The main colour of the logo is red over which is written the word 'Whistlez' (the font curved and minimised at the end to depict the act of whistling, and the dot on the 'i' drawn as a whistle). In terms of packaging, the logo comes with a background of blue and black stripes, which, according to Zain Rizvi, Associate CD, Adcom Leo Burnett, will break through the clutter on the shelves. The wrapper has a matte finish to incorporate a tinge of sophistication and make it stand out from the plethora of shiny wrappers in the local market.
Researching for the brand, Rizvi says the creative team tapped into the minds of young Pakistanis and figured out that they held a variety of inhibitions within them and that these inhibitions (jhijhak) or fear of the unknown prevented them from reaching their potential and experiencing life at its best; to be precise, it kept them from taking "that first step" into the unknown.
Therefore, the brand focused on removing those inhibitions by encouraging young people to "whistle out" their fears and take that leap of faith. "We thought of expressions like zindagi jamm kay jeena, quality experiences, crazy dreams, out-of-routine adventures and finally we aligned on the name 'Whistlez' and made it synonymous with courage," adds Rizvi. Whistlez – the name and gesture both represent fun, excitement or a pleasant surprise.
Since the tagline had to complement the idea upon which the brand is built, after numerous brainstorming sessions, the team focused on words like start, aghaz and the first step, the term 'Chalo pehl karein' was agreed upon for the tagline; "not conventional or morbid, but something which is quirky and tongue-and-cheek with a message."
The campaign was a 360-degree one with fairly extensive media coverage (a TVC, OOH and digital) and a school and college taste trial activation (about one to 1.5 million students will be covered) will also be launched. The company is also offering special incentives for distributors.
Similar to packaging and design, the thought behind the TVC underwent intensive consumer research and a detailed Usage and Attitude (U&A) study was conducted to gain better insights.
The TVC aimed for a "wholesome slice of life communication" aimed at varied SECs along with a catchy jingle. The team made a conscious effort not to just make a happy-go-lucky ad with a nice jingle in the background, but rather a visual that retained commercial sensibility. Each scenario was crafted around the message 'Chalo pehl karain' (three hesitant guys in three different situations: proposing to a girlfriend, driving for the first time and creating a graffiti masterpiece).
The music was specially composed for the TVC; the lyrics were written by Naveen Anwer, CD, and Zain Rizvi, ACD, Adcom Leo Burnett and an Indian musician was also hired for the song.
The TVC was shot in Bangkok, Thailand and according to Rizvi, the concept had the liberty of showcasing a multitude of people, therefore the cast picked was a mix of young international actors and models (Pakistani, Indian and Thailand-based ethnicities).
Although efforts were put in with respect to the design and marketing of the brand, availability and distribution play a vital role in a product's success; a fact the company is well aware of.
Whistlez, for now, is only available in Punjab and KPK in three SKUs: half roll, snack pack and ticky pack and the prices are Rs 15, 10 and five respectively. However, the company says a nationwide activation is underway to induce trial in schools, neighbourhoods, public places and stores.
"In a span of few months, we have reached out to a decent number of people; we will hopefully be available in the rest of Pakistan soon," says Feerasta. He adds that more competitors in the biscuit industry will push established brands to innovate, while consumers will benefit from greater choice and improved quality.
Giving his final thoughts, Feerasta says changing prices in terms of raw material, packaging and energy issues pose a challenge to any FMCG industry, therefore coping with such uncertainties is a challenge to the company's strategic planning. The team, however, is working on contingency plans to keep delivering quality products to consumers at affordable prices.
"Innovation is the key to sustenance for any brand and that's true for us as well," he concludes.