Published in Nov-Dec 2022
Zohra Yusuf reviews Introducing Pakistan's Climate Change Heroes.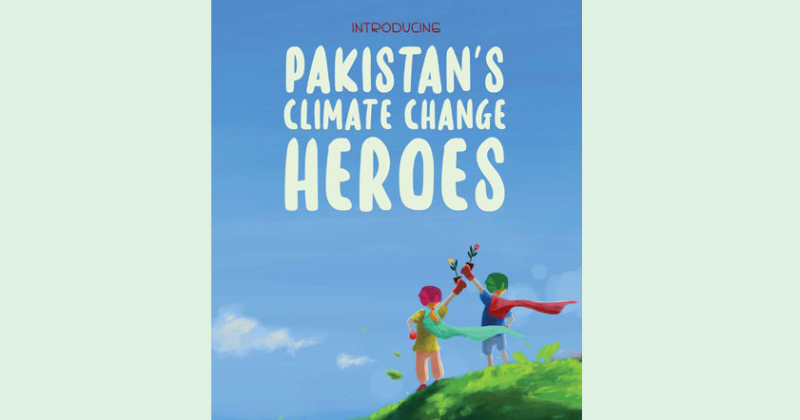 Several countries are fortunate to have recognisable figures campaigning to save the climate – and the planet. India has the veteran environmentalist and eco-feminist Vandana Shiva as well as the younger Dia Mirza and Norma Alvares. Recently, Sweden's Greta Thunberg took the world by storm and its leadership to task for putting the climate at risk.
In sharp contrast, Pakistan has no, or few, high-profile names associated with the challenging task of campaigning for the climate. It is left to ordinary people – with extraordinary commitment – to come forward and contribute in myriad ways. This is why Introducing Pakistan's Climate Change Heroes comes as such a pleasant surprise and a breath of fresh air.
A joint initiative of Sharmeen Obaid Chinoy (SOC) Films and writer/illustrator Rumana Husain, and supported by two international organisations, Introducing Pakistan's Climate Change Heroes is an eye-opener – probably even for many environmentalists. According to the author, Rumana Husain, the 14 'heroes' featured in the publication were identified and selected by SOC Films. It was also not possible to meet them face-to-face as they reside in different – and, in some cases, remote parts of the country. However, Husain seems to have spent considerable time understanding the work of these remarkable individuals, each with a distinct interest in preserving the environment and combatting climate change, each demonstrating a sense of personal responsibility.
Take Yusuf Baluch from a village near Gwadar. Losing his home at the age of six due to flash floods, he grew up to explore the internet for information on environmental destruction, and as he gained both knowledge and awareness, he joined Greta Thunberg's global movement – Friday for Future. Most of the people profiled have a very direct association with their environment. Day in and day out, their communities are affected by climate change and the degradation they experience has almost an immediate impact on their lives.
Amanullah Khan lives in Passu in Gojal Tehsil in Upper Hunza. His area is among those worst affected by glacial lake outburst floods (GLOF). Melting glaciers are a very clear, visible and dangerous result of global warming, displacing people and putting lives at risk. Khan plays a crucial leadership role in his community. As he says, "I have been volunteering for 21 years now, and train newcomers in gathering information, first aid, search and rescue, logistics, climbing, etc. The training is used not only for GLOF but other disasters such as flash floods, landslides and avalanches."
While Amanullah Khan's community in the north of the country is affected by what is happening up in the mountains, Salim Dablo in the south of the country has other concerns. Not just about climate change but about his livelihood and that of other fishermen dependent on the Indus Delta. The rise in sea level has led to dramatic climate change in the area, resulting in storms, flooding as well as salinity. However, Dablo sees hope in efforts to save the mangrove ecosystem and the marine life it supports. He points out that Pakistan's mangroves were once considered one of the world's most important. Alarmed at the depleting mangrove forests, he began to train people on how to plant saplings and protect them. Although living in their midst, he learnt of their significance from WWF. As he says, "Now we know that they need to be saved. If they are saved our entire environment would be saved… we will be saved. Now even our small children know its importance."
So, what about women? Three are included in this collection, representing a diversity in backgrounds, locations and nature of work. Sabiha Zaman from Khyber-Pakhtunkhwa has been involved with WWF Pakistan since 1997 and is a familiar figure in her community. Born in a village close to Ayubia National Park, she grew up appreciating and understanding the diversity of nature. Today, she works with WWF Pakistan to create awareness about biodiversity and conservation among her people, especially women.
In another part of the country lives Granaz Baloch. Born in a village near Nasirabad, Balochistan, she grew up bathing in fresh water and then moved to Quetta to study how women struggled to get enough water for their daily needs. The linkages between water scarcity and women's lives made a lasting impact on her life and work. Today, teaching at the University of Turbat, she managed to include a course on "Climate Change and Us" for her students, a first on the issue in any public university in Balochistan. Then there is Karachi-based Hira Wajahat Ali, who studied at Karachi Grammar School and NED University. She has made it her mission to work with young people on clean technology and the reduction of greenhouse gases.
Introducing Pakistan's Climate Change Heroes – judging by its illustrative and writing style – is primarily aimed at children, although this is not mentioned in the introductory notes to the publication. However, the issues it discusses and the heroes it introduces are relevant to Pakistanis of all ages. The publication adds to our knowledge and raises a bit of hope as we become familiar with all those fighting the good fight for the protection of our environment and ultimately slowing down climate change. The book contains both English and Urdu content, replicated exactly in the choice of 'heroes' and illustrations. I asked Rumana Husain if she had spoken to the people she profiled after the recent floods which demonstrated so tragically the looming reality of climate change. She did speak to some in the affected areas to check on their well-being and safety but a more meaningful discussion with them on the issue remains to be held.
Pakistan's Climate Change Heroes
By Rumana Husain
Published by SOC Films
112 pp (56 English, 56 Urdu)
Zohra Yusuf is Chief Creative Officer, Spectrum VMLY&R.