Published in Nov-Dec 2018
Hussain Agha, CEO, ASIL, Samir Chinoy, Director, Sales & Marketing, ISL and Shayan Akberali, CEO,ASL, in profile
Steel is considered the most important commodity after oil. The metal provides the backbone for skyscrapers, bridges, motorways, the carapace and parts of cars, motor bikes, refrigerators and washing machines. Despite this, the industry has not been able to capture the imagination of their end customers; perhaps because firstly, most people perceive steel as a rather technical product and secondly, because steel producers have never focused on their end customers as a target audience. This, however, is changing in Pakistan. For the past few years, the industry has started to focus on the end customer by branding their products and building awareness. Aurora interviewed the scions of three family-run steel companies in Pakistan to learn more about them, how they market their products and their plans for the future.
Hussain Agha
Agha Steel Industries Limited (ASIL)
Thirty-two year old Hussain Agha is the CEO of ASIL and belongs to the third generation of a family that has been into steel since the sixties (when they owned a steel rolling mill called Abbas Steel Industries). In the late nineties, the family went into the ship-breaking business and later diversified into textiles. Agha, along with his father, Iqbal Agha, launched ASIL after he came back from the US in 2011, having completed his MBA in Marketing and Real Estate Management from Bentley University. Unlike some off-spring who join the family business out of compulsion, Agha says he has never thought about going into any other field. "I remember coming back and even before my bags were unpacked, I was immersed in the project."
Located at Port Qasim, the ASIL steel mill is spread over 48,600 square yards. It includes a melting steel furnace and an automated re-rolling mill. The company began production in 2013 with a capacity of 120,000 metric tons per annum and following further expansion in 2016, production went up to 400,000 metric tons per annum. The product line includes steel bars and billets of different international grades and qualities. According to Agha, what sets ASIL apart from other private sector steel companies in Pakistan is their method of producing steel. According to him, other companies are still using the induction furnace method (which is environmentally harmful), whereas ASIL uses the electric arc furnace (EAF) method, which is energy efficient, environmentally-friendly and produces steel of different grades, qualities and composition. "ASIL is the only steel manufacturer in Pakistan using a 45 ton EBT EAF," he says and calls it 'game changer.'
Agha is also the Senior Vice Chairman of the Pakistan Steel Melters Association (PSMA) and in this capacity, he is concerned about the obsolete method of steel production, which he says is now only used in Bangladesh, India and Pakistan. "If we operated in China (which banned this method last year), the majority of our local steel manufacturers would find themselves in jail for adopting such methods to manufacture steel.
His concern is that if the international community were to ban this method, it would be almost impossible for the industry to make the shift overnight. His question is: Why aren't others foreseeing this? When I asked him if, therefore, the EAF method is ASIL's USP, his reply: "Sadly, you could say yes it is although EAF should be a norm. But our USP is quality."
ASIL's clients include both the corporate and retail segment. The former constitutes 65% of the revenue and the latter 35%. Agha is now planning to open ASIL's first retail outlet (a display store) in Hyderabad. "We are redefining the outlet model of steel bars in Pakistan. Generally, when it comes to outlets you sublet your brand to several resellers or stockists who carry multiple brands; we, however, took inspiration from the 'Apple methodology' and want to control our supply chain right up to the end customer." ASIL have also launched an app for their customers (available on Google Play) to help them calculate the amount of steel needed to construct a house or a building.
Agha has also recently signed a contract with Danieli in Italy to set up Asia's first 'endless rolling' project using DRB (direct rolling and bundling) technology, after which ASIL's production capacity will go up to 650,000 metric tons. The company is targeting one million tons in five years' time. Keen on bringing innovation to the business and effectively managing operations and customers, Agha has signed a contract with SAP (a German-based European multinational software corporation) to install Pakistan's first end-to-end Fiori SAP implementation on the cloud. He calls it Industry 4.0.
ASIL did not go for an IPO last year because the market was very "choppy"; however, the intention is still on the cards once the market becomes conducive. "An IPO only happens once – it's your baby," Agha quips, underlying the importance of the undertaking.
ASIL have been active in terms of OOH advertising. Their last marketing campaign called 'Karachi Se Kashmir Tak, Mayar Aur Bharosay Ki Pehchan' focused on their increasing distribution network and included a TVC and OOH advertising. Their next communication is aimed at marketing the 2.0 version of their app. As part of their CSR campaign, ASIL have installed safety signs around Karachi and solar-powered tube wells in Thatta (from where they procure some of their raw material) and planted trees at Port Qasim. They also run three dialysis centres in Bait-ul-Sakoon Hospital, Fatimiyah Hospital and Imam Clinic Hospital where the poor are treated and rehabilitated free of cost.
Speaking about the industry's potential, Agha says given that Pakistan has over 70% of its population under the age of 25, and given the fact that they will become part of the workforce in another five years, he sees a lot of rural-to-urban migration, which will bring in demand for infrastructure in terms of housing, bridges, roads, sky-rises and hence, more steel. As he puts it: "Consider operating in a country with only landlines and someone asks you. 'What is the potential for mobile phones?' It's obviously tremendous."
Samir Chinoy
International Steels Limited (ISL)
Forty-one year old Samir Chinoy is Director, Sales & Marketing, ISL – a leading manufacturer of flat steel products in Pakistan. He is part of the third generation of a family that has been involved in the group founded by his grandfather Amir Sultan Chinoy and which comprises several businesses that include three publicly listed companies: International Industries Limited (IIL), International Steels Limited (ISL), and Pakistan Cables (PCL).
Chinoy went to Karachi Grammar School and then to Millfield School in Somerset. After his A Levels, he enrolled at Babson College, US, where he did a degree in finance and entrepreneurial studies. After graduating, he joined Wells Fargo and later Deloitte & Touche Tomatsu, a company which he said "offered a great learning environment."
Chinoy says the family believe that ownership and management should be separate and he felt no pressure to join the businesses, and the decision to return home came after a lot of soul-searching and a desire to be closer to his parents as he had been out of the country since he was 10. Back home, Chinoy joined ISL as a product manager at PCL. This provided an environment to acclimatise to Pakistan and gain exposure to the country's varied cultural norms as he was responsible for the entire general house wiring business segment. In 2007, he joined ISL when the family decided to establish a flat steel manufacturing complex in Pakistan.
ISL was established with an initial investment of $120 million and a capacity to produce 250,000 metric tons of flat steel. To date, over $250 million has been invested in the company and the production capacity has reached one million tons. Initially, ISL produced two kinds of flat steels; cold-rolled and galvanised steel. In 2016, the company added colour-coated steel to their portfolio. Flat steel is used in white goods and automobiles and various construction applications.
According to Chinoy, before ISL was launched, 100% of the flat steel was imported, but now, Pakistan is saving significant amounts of foreign exchange as the company has acted as a catalyst for several downstream industries by providing ready availability of raw materials at fair prices. Chinoy says that "although we are a technologically-driven company, with high levels of automation, people are the main drivers of the company." In his opinion, although it is important to hire people with relevant experience, it is more important to hire people who have a high level of integrity and self-drive, as technical knowledge can be learnt on the job. In the future, he says, companies will seek to hire people with high levels of emotional intelligence and who bring a fresh perspective, not necessarily from the same industry, because "tomorrow, is all about innovation and flexibility."
Last year, ISL launched their Artists in Residence programme in collaboration with Sameera Raja, Founder and Curator, Canvas Gallery. Under the programme, six artists lived in the ISL facility for two weeks and produced artwork in steel, which was later displayed at their factory. "Everyone thought it was my vanity project and my employees wondered whether I would be able to sell more steel through this project. There was a lot of scepticism, but once it was done everyone was very proud." The company won the Corporate Art Award (Italy) 2017 for this programme. The Corporate Art Award's mission is to promote best practices in collaborative initiatives between the corporate and art worlds.
Shayan Akberali
Amreli Steels Limited (ASL)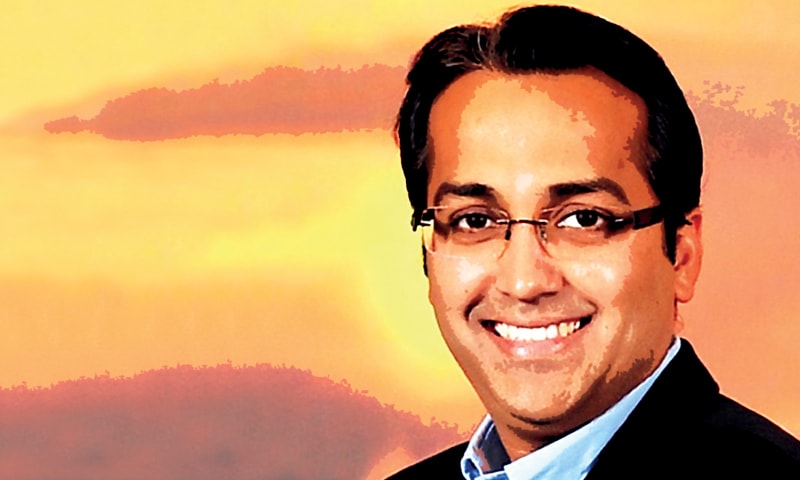 Forty-year old Shayan Akberali is the CEO of ASL and the son of Abbas Akberali, who established Amreliwala Hardware Industries with his brother Badaruddin Akberali in 1984, which later morphed into ASL.
After completing his schooling and A' Levels at Karachi Grammar School, Akberali did his Bachelor's in Electrical Engineering from Northwestern University, US. "I chose engineering because it gives you a broad outlook in terms of specific problem solving skills and this is relevant to the industry." Before joining the family business, Akberali worked for a year for Lehman Brothers, New York. He returned to Pakistan and joined ASL in 2001.
ASL (incorporated in 1984) is one of the largest manufacturers of steel reinforcement bars in Pakistan. The company began production in 1987, with a capacity of 15,000 metric tons, steadily expanding over the years (30,000 in 1992, 55,000 in 2000, 75,000 in 2004 and 180,000 in 2012). Following the last expansion in 2016-17, the company now produces 600,000 metric tons of billets and steel rebars every year.
In Akberali's view, among the many changes introduced by the second generation family was professionalism. "Earlier, decision-making was centralised; usually my father or uncle would take decisions as is usual in seth companies. When we came in, our mindset was to take ASL to the next level, hiring the right people and, most of all, separating ownership from management." In terms of technology, ASL have been the first company to introduce a semi-automatic mill in Pakistan (in 1987), as well as deformed bars, grade 60 bars, thermo-mechanical-treated bars and earthquake resistant bars. "It's one thing to say we make steel, but another to say that our steel has been used in buildings that have been standing for the past 30 to 40 years."
Earlier, the marketing and sales functions were not separated and the former was restricted to B2B. Then in 2004, ASL went into retail and has been working aggressively in this area since the last five years. "We decided to introduce branding and we hired experts to take the brand forward. Today, ASL's client base is made up of 40% retail and 60% corporate clients. Last year, they launched a major advertising campaign called 'Resilience' targeted at their retail customers. "We had been planning a campaign for a while, but we knew we had to back it up, so we first strengthened our distribution, supply chain, logistics and retail partners' network across Pakistan. Now, following our recent expansion to 600,000 metric tons, we have more capacity to service retail clients, so the time was right to launch this campaign.
According to Akberali, ASL have their hands full right now and considering the infrastructure projects and the dam building drive, steel has a lot of potential. Another expansion is in the works. "It takes three to four years to put together the feasibility, build a plant, order stocks and finally go into production. But we have begun the process."
The Amreli family recently diversified into the food segment with the acquisition of Hobnob headed by Akberali's brother Hadi Akberali, who is also COO, Strategy at ASL. According to Hadi, "diversification in steel can always happen within Amreli, but we were open to diversification outside the business." He picked the food segment because it was close to his heart; something he knows he can drive and professionalise to the point where it will become a thriving vertical on its own. "Hobnob needed a shake-up and we started by sorting the backend, putting ERP systems for better control and expanding our team." Hadi is now planning to introduce new products, open more outlets and expand to other parts of Sindh.