Published in Nov-Dec 2021
2021's top five memes.
1) Dananeer's "…pawri ho rahi hai!" Meme
The year started off with a meme that turned a relatively unheard of influencer into a national star. Dananeer Mobin's "Ye hum hein, yeah hamari car hai aur yeah hamari pawri ho rahi hai," became such a huge sensation that it not only took over Pakistani media, it started trending in India as well. Just as the craze here was dying down, Indian composer Yashraj Mukhate created a mashup of her video and the result was another trending video with 8.6 million views.
2) March 2020 vs March 2021 Memes
For most people, March 2021 was the realisation that it had been a full year in quarantine. Social media went crazy with this series of memes to share what has or has not changed in their lives in the last one year. My favourite one incorporates the most meme-worthy character in itself – Baby Yoda, who has been breaking the internet every year since 2019 with every new season.
3) Bernie Sanders Memes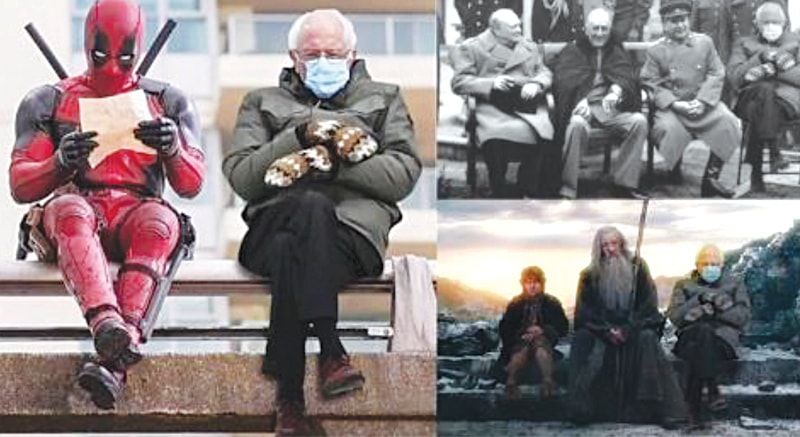 Who would have thought that at Joe Biden's inauguration, the star of the show would end up being… Bernie Sanders! It was freezing in the US Capitol and Bernie broke the internet with his fashion statement - large brown mittens.
4) 'For the better right?' Memes
Some memes last weeks, some months… then there is the Star Wars red flag meme that has been doing the rounds since 2002!
It was reenergised in June with a fresh round of creativity. The one above really hit close to home.
5) T20 Memes
After a month long Indian TV campaign aimed at humiliating Pakistan, the green shirts beating India in the T20 World Cup broke Pakistan's internet. For most Pakistanis, defeating India was bigger than winning the World Cup. This, the best one, didn't use a single word to express the mood in the Indian camp.
Syed Amir Haleem is CEO, Skale Interactive and Kueball Digital. syedamirhaleem@gmail.com