Published in Jan-Feb 2020
Bisconni's dunk into Chai Wala Biskut.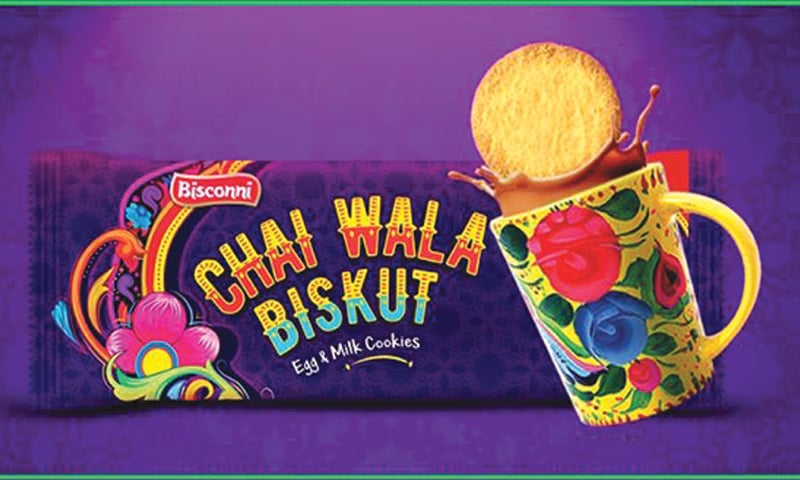 Like fish and chips, biscuits and tea go together – the latter not only for the English but for Pakistanis as well who are a tea loving nation. We consume tea by the cupful and love dunking our biscuits in it. Biscuits are also eaten as a replacement for regular meals or to curb hunger pangs. This is the reason why, despite the economic downturn in Pakistan, whereby almost all businesses have been affected, the biscuit industry has remained resilient. Brands are regularly introducing new products and variants in order to stay competitive in an industry which today is almost worth Rs 90 billion.
One such company is Bisconni (the biscuit division of Ismail Industries), which, despite the economic contraction has continued to deploy an aggressive market strategy. In the last 12 months, they launched a new product, Chai Wala Biskut, in addition to variants of three of their existing products (Chocolate Chip Cookie, Cocomo and Flo) and on Children's Day (November 20) they rolled out a CSR campaign.
According to Hamid Ismail, CEO, Bisconni and SnackCity and Director, Ismail Industries Limited, consumption of biscuits continues to increase and the company's marketing strategy is in line with their 3C agenda (consumers, competition and community). Now, with the launch of Chai Wala Biskut (a plain egg and milk cookie) Bisconni have also entered the plain biscuit category. Three SKUs are available for five rupees, Rs 10 and Rs 17 and are targeted at adults between 25 and 40 years across all SECs. In Ismail's opinion, the localised name and spelling is clutter breaking and will create brand recall among tea drinkers across Pakistan.
"We wanted a name that could communicate the functionality of the biscuit with as much simplicity as possible," says Ismail. "The word 'biskut' is a celebration of our heritage and we needed a packaging that could reflect this, which is why we chose truck art which is both vibrant and has cultural roots in Pakistan." He adds that the striking packaging has also helped the product stand out on shelves.
For Ismail, what sets Bisconni apart from their competitors (apart from quality) is continuous innovation. "We introduced Cocomo in 2002, which was both new and different. We were also the first to enter the black biscuit category (biscuits with a black chocolate shell) with the launch of Rite.
Over the years, Bisconni have expanded their production capacity (this is partially due to the establishment of a new factory at Port Qasim a few years ago) as well as their brand portfolio. Their products are exported to over 40 countries around the world, including those in Africa, Australia, Europe, the Far East, the Middle East and the US. The new factory has enabled them to introduce new variants, which says Ismail has allowed the company to increase its market share (currently at 30%). These variants include three flavours for Cocomo (orange and milk in 2007 and strawberry in 2019) and two for Chocolate Chip (Mini in 2018 and Mighty in 2019), and a white variant for Flo in September 2019.
To "give back to the community", Bisconni rolled out their CSR campaign #CompleteOthers on Children's Day, whereby with every Rs 10 pack of Cocomo, Chocolatto, and Chocolate Chip Cookies sold, one rupees was donated towards providing prosthetic arms for disabled children.
To this end, Bisconni collaborated with Viscous (an organisation that manufactures 3D products including printers, pens in addition to prosthetic arms). Thanks to the proceeds of the campaign, 10 children (between five and 15) were fitted with prosthetic arms.
Discussing the reason behind this CSR project, Ismail quoted figures from the UN's The State of Children in Pakistan Report that stated that there are between four to eight million individuals in the country suffer from disabilities, of which 1.4 million constitute children, who either are unable to attend school due to their disabilities and even if they do, they feel left out.
"There is no better feeling than changing a child's life," says Ismail, who also runs the Hamid Ismail Foundation. According to Ismail the Foundation has initiated plantation drives across Pakistan and set up medical camps and water filtration plants in different areas of Karachi in the last 18 months.
Going forward into 2020, the company aims to build Bisconni into Pakistan's fastest growing biscuit brand. They are focusing on expansion and increasing sales, despite the challenges of a price sensitive market, where an increase of one or two rupees can result in a significant decrease in sales.