Published in Jul-Aug 2012
Senior Concept and Copywriter, JWT Pakistan, picks latest advertising campaigns.
Criticism has become quite a national phenomenon. Be it entertainment, politics or sports, it seems like we never have anything good to say about our country. It's even sadder to see young professionals, who are the future of our industry, criticising work confidently, without providing a solution or looking at the positive side of the campaign. Yet, there are some good things taking place in every industry and happily our advertising industry is not far behind. So while reviewing recent print ads for this article,
I came across some good work at par with any international campaign, bringing in fresh ideas and new executions.
Looking at these ads has given me, as a young creative working in this industry for the last few years, hope and courage to think out of the box when developing campaign ideas. It's good to see brands developing a campaign based on 'one idea' and bringing in different elements to create harmony.
---
BRAND: Dalda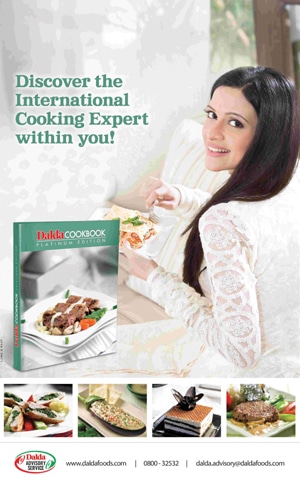 Campaign: Dalda Cookbook
Message: Become an international cooking expert for your family.
Effectiveness: They say you can win your family's heart with great food and what better way to do so than with a cookbook that will turn you into an international cooking expert as Dalda promises.
A refreshing and simple, clutter breaking ad. The tasty looking food garnished to perfection is well photographed and really makes you want to learn how to cook it, or at least eat it. Having said that, a glimpse of the book's contents or a few lines to highlight the key contents in the body copy would have helped the audience better understand what makes this cookbook different from all the others available in the market.
Verdict: This ad will entice housewives to buy the cookbook.
---
BRAND: Wall's
Campaign: Wall's Fruttare
Message: Ditch your mid-day snack for something new with a twist.
Effectiveness: Two successful, diet conscious television celebrities are perfect role models for our increasingly health conscious audience. Pakistanis are paying more attention to healthy, low-calorie foods and Wall's cashes in on this new fad. By promoting low calorie snacking, the campaign is not only doing us a favour it is also doing itself a favour. The promise of juicy real fruit with no artificial additives in a frosty ice lolly, true or not, is a dream come true!
Verdict: Fruttare makes us believe that we have a healthy way to indulge.
---
BRAND: Coca-Cola
Campaign: Ho Yaqeen
Message: Promoting optimism in Pakistan.
Effectiveness: This ad comes across as a beacon of hope. The theme 'Ho yaqeen tou khullain khushiyan' effectively communicates the message of hope and courage. What we see in this ad is a blend of positive words forming the shape of the bottle that shows Pakistan at the heart of everything Coke does. We rarely see such typography-dominated campaigns coupled with a strong message and brilliant execution.
Verdict: Overall an ad that deserves 10/10.
---
BRAND: Levi's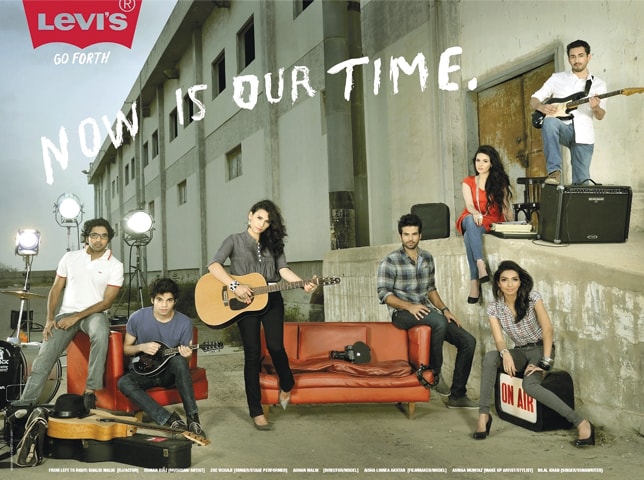 Campaign: Levi's Go Forth
Message: Time for the youth to shine.
Effectiveness: This ad was a breath of fresh air. It grabs attention by its simple, clear and catchy message. As a young person, I can relate to this ad because of its young, casual and rebellious feel. Smart up and coming celebrities decked up to perform, give a feel of continuation and motion to the print ad (which are generally static and bland). I only wish they had used a better location and made these young celebrities smile to further pump up the energy of the ad.
Verdict: The fresh new talent brings across a timeless brand's timeless products in a brand new way.
---
BRAND: Dawn Bread
Campaign: Looking at the bigger picture
Message: Know what you're eating.
Effectiveness: Finally a brand has tried something different in this category other than the usually stressed mother forcing her child to eat a slice of bread. What grabbed my attention was the simple yet aesthetically pleasing combination of words forming the slice of bread. Without adding too much detail or a human element, the ad communicated the message loud and clear.
Verdict: Clutter breaking ad that will be remembered for trying something different in this category.
---
Maria Riaz Mahesar is Senior Concept and Copy Writer, JWT Pakistan.
maria.mahesar@jwt.com